Come on a fall road trip with us! We're headed on another fall adventure with Ford Canada, and we hope you enjoy this Ford Expedition review.
The beginning of school always comes with some relief, tension and anxiety all mixed together. And now that school is really in full swing, the boys have been feeling the routine of their homework and tests a little more. So, to break from the standard weekend, we decided to take a road trip and see something completely new as a family. We were given this opportunity to enjoy the fall weather and a beautiful road trip experience, thanks to Ford Canada. So far, I have reviewed the Ford Fiesta, the Ford Flex and the Ford Explorer. This time, we had the opportunity to learn all about the Ford Expedition.
Long Drives in New Neighbourhoods
I don't know about you, but taking long drives around different neighborhoods, small towns and new cities was something I grew up with.  My father and mother would pack us in the station wagon with a box full of cassettes and some snacks and sandwiches, and we would enjoy a day just discovering things. We would admire architecture, pretty homes, fall leaves and landscapes…it was a chance for us all to be together and chat about what we saw, as well as anything else on our minds. I have fond memories taking road trips with my family, and I am grateful to do this with our children now.
Our Fall Road Trip to Upper Canada Village
It took some suggestions and some research to decide on a destination, but we opted for a little something traditional combined with something new to us. If you are a regular reader, you know our love for visiting Pumpkinferno in October for Halloween, at Upper Canada Village in Ontario. So instead of driving to and from this amazing activity in one night as we usually do, we decided to discover more around the area. Right nearby is the Upper Canada Migratory Bird Sanctuary, as well as the scenic Long Sault Parkway. Both are beautiful discoveries for the fall season.
Our drive began from Montreal to Cornwall just after dinner. When I told the boys we were surprising them with an overnight stay near Upper Canada Village they were thrilled. But it was this comment that made me laugh; one of my twins asked why we needed a hotel stay when we could enjoy a night in the Expedition to sleep instead! Yes, they loved the sweet ride.
The Spacious Ford Expedition
He had a point – the Ford Expedition is BIG. Built on the F150 frame, the Expedition is large in size with a spacious interior. Each passenger has ample leg room, enough to have a bag at the feet and not be bothered by it. Each seat is comfortable and roomy, allowing up to seven people to enjoy a road trip. As a driver, I was pleasantly surprised.
The Ford Expedition: Platinum Edition
The Expedition we got to test drive was a Platinum, so it was equipped with the extra accessories and my boys took full advantage of that. On our drive, they were spoiled with a Halloween show on the dual headrest rear seat entertainment system. After our leisurely road trip to Ontario, we tucked ourselves in at a local hotel and had a good night's sleep. In the morning, we took our time getting ready, enjoyed a relaxing breakfast and then took a swim in the hotel pool. As soon as the weather changes, we miss our outdoor pool, so this was a nice treat.  We extended our checkout, took a quick shower, and got ready to enjoy the day.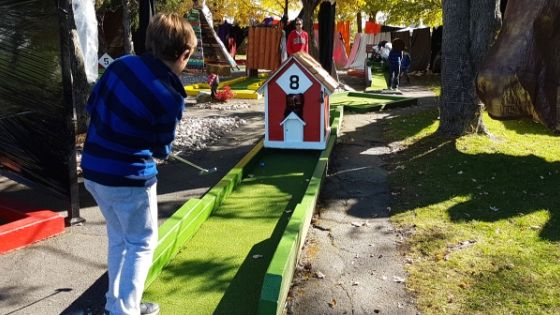 How We Spent Our Fall Road Trip in Upper Canada Village
Mini Golf at Archie's Family Golf Center
Our first stop was Archie's Family Golf Center, called Graveyard Golf for Halloween. The owner has been decorating the 18-hole mini golf in spooky Halloween décor for years. In the daytime, it's fun for kids, but in the nighttime, it is only suggested for an older crowd, since they have creepy music and people popping out of different places to scare you silly.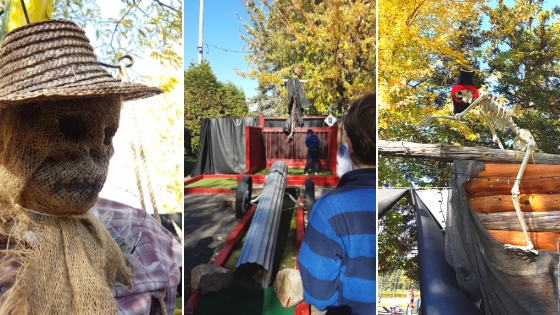 We hadn't gone to play mini golf for a long while, so it was a great start to our outdoor experience. Of course, we got competitive and took score! But it was all good fun!
A Scenic Route on Highway 2
Next, we drove highway 2 and took the scenic route of the Long Sault Parkway. It didn't take much more time, and the view was well worth it!
As we learned, the parkway consists of 11 islands or high points of land connected by causeways.  It was created as a result of the flooding for the St. Lawrence Seaway project in the late 1950s.  There is even a stop by Macdonnell Island near Lock 21 where you can see part of old highway 2 as it disappears into the water. We couldn't have picked a better day to drive through the parkway and see the fall foliage.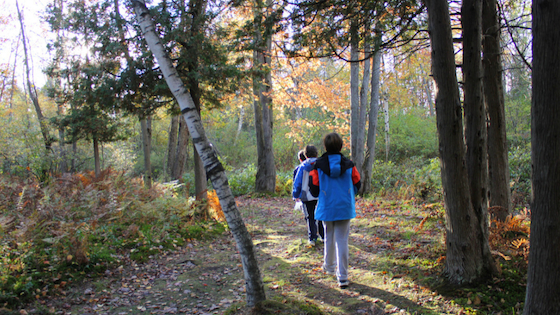 Upper Canada Migratory Bird Sanctuary
The drive brought us the Upper Canada Migratory Bird Sanctuary, and this is where we got to discover something completely new as a family. We love watching animals and discovering all about their habitats, especially while we are in the country, in the Eastern Townships. We usually see deer and turkeys, and since the suggestion of blogger friend, Andrea Tomkins (A Peek Inside The Fishbowl), we have been admiring small birds, cardinals and even blue jays right at our window at home with a suctioned bird feeder. But never have we ever had the pleasure of feeding a bird right out of our hands! This was an experience like no other! We purchased some sunflower seeds and as soon as we were on the first of four trails, we lifted our hands up and had chickadees fly to us for food.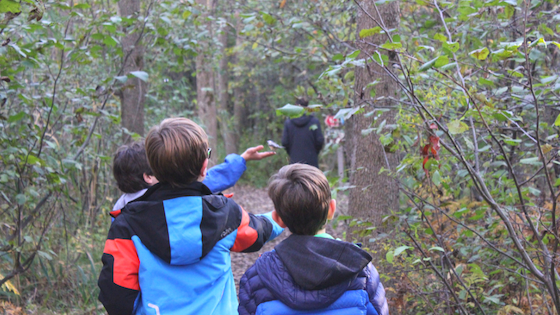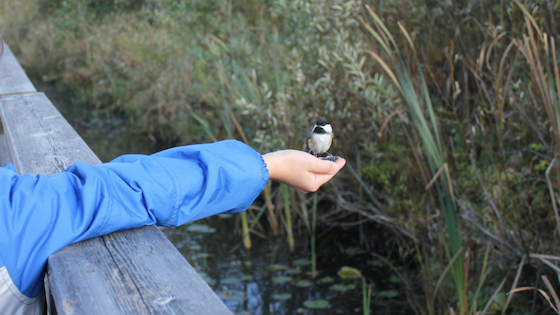 We timed the activity perfectly to see all the Canadian geese as well. Thousand of them were there, and then shortly before sundown, they flew away in groups. The sound was overpowering as their day ended and they took off. September and October are the best times to visit the sanctuary since it became a migration station for the Canada geese, created by the sanctuary itself. The 9000 hectares have a variety of wildlife that live together in harmony. While we didn't see any other wildlife, our experience was made magical by feeding the chickadees.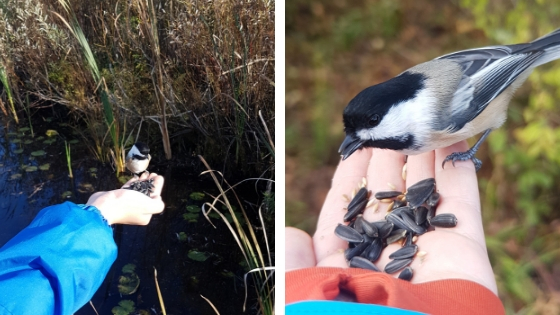 If you have the chance to visit, take it! It is such a fantastic family outing for young and old. I highly recommend it. For more information visit their website here. From what I can tell, the sanctuary is open year-round, and the trails are perfect in the winter for cross-country skiing and snowshoeing.  I'm hoping to take the boys again the late spring when the campgrounds are open. They have a luxurious treehouse you can stay overnight in! How cool would that be?
Look for part 2 in our family getaway experience, check back tomorrow for all the fun we had at Pumpkinferno this year.
Disclaimer: My family and I were invited by Ford Canada to experience this weekend getaway. All opinions, as always are my own.
Looking for more of my travel stories? Follow my adventures through these blog posts:
Gifting Memories For Christmas – A Road Trip to Quebec City