Just before the summer break, I worked with Outaouais Tourism to give the boys the ultimate birthday surprise. It involved arranging with their teachers to secretly get them out of school and organizing for any missed work. After the teachers assured me all was good, I concocted a story to take them out of school on a Thursday for lunch.
I was so excited to get this plan in motion! While the boys were at school in the morning, my husband and I filled our cooler with food for our BBQ dinner and breakfast the next day, and packed each boy an overnight bag with their pajamas, clothes for the next day, flashlights, their drawing and painting material, and a new empty drawing book.
Even though the drive to our destination was only an hour away, the boys were asking so many questions that we ended up telling them where we were going. The good thing was, they really didn't know what was in store for them at Omega Park. And the real surprise was that we were staying overnight!
I made this video and it's nine minutes, which is much longer than most YouTube videos but there really was so much to show! In this video, you will see animals getting their dinner, the Bear Cabin where we stayed, some education on the wildlife and the Omega Park Trading Post:
Mr. Serge Lussier was our amazing tour guide for our visit. We learned so much, it was such a wonderful experience not only for the boys but for us as well! When visiting Omega Park, groups can have guided tours in the park's tour busses. If you are visiting with your family, you can take your own car around. There is a radio station available while you drive to get stories and information about the animals and the park.
On top of the drive through that area, there is a First Nations pathway; a magnificent trail that allows you to see the park in a different way. During our visit, Mr. Lussier explained how each First Nation is represented within Omega Park and any new developments are made to honor the First Nations.
There are over 15 species of animals represented at Omega Park in various environments. During our visit, we even saw a wild blue heron that came to fish. It showed just how welcoming Omega Park is to wildlife!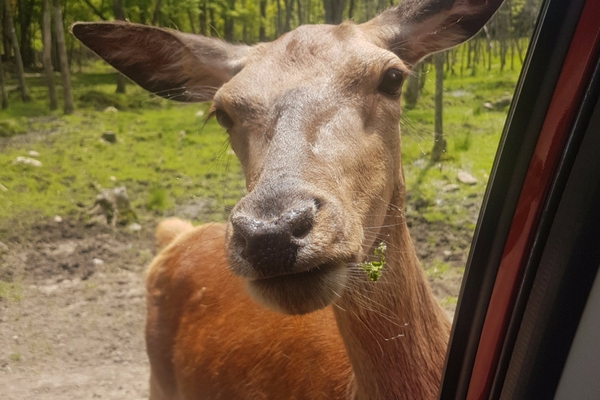 We discovered Omega Park is also home to nearby "rescued animals". Mr. Lussier explained that people bring baby animals to them, thinking they have been abandoned by their mother. In reality, most babies are taught to stay put while the mother goes off to get food. So, when a human approaches them, they seem to be hurt since they don't move. It's an unfortunate misconception, but luckily Omega Park is equipped as a rehabilitation center. They help these animals once they have been displaced. They have even helped a moose and a white-tailed deer. Near the restaurant, there is a little house made for their rescued raccoons.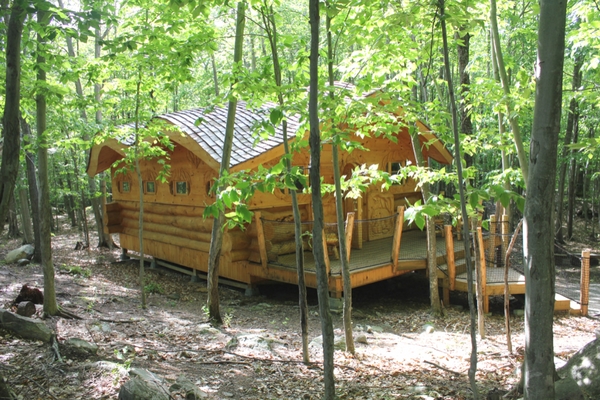 Staying Overnight
Being able to stay overnight at Omega Park was something incredible for us all. The service is well organized and every unit has the essentials you will need; towels, toilet paper, water, bedding, etc. Our unit was the newest of the cabins created, called the Bear Cabin.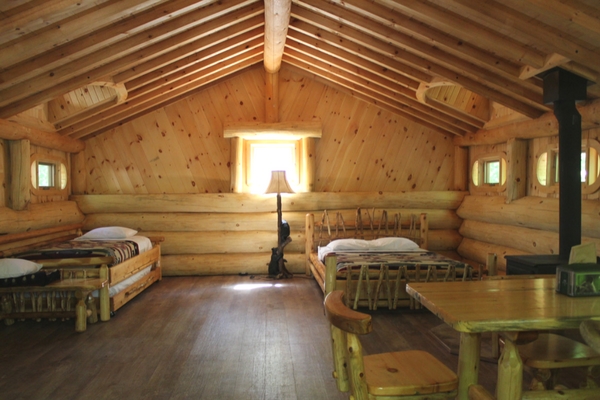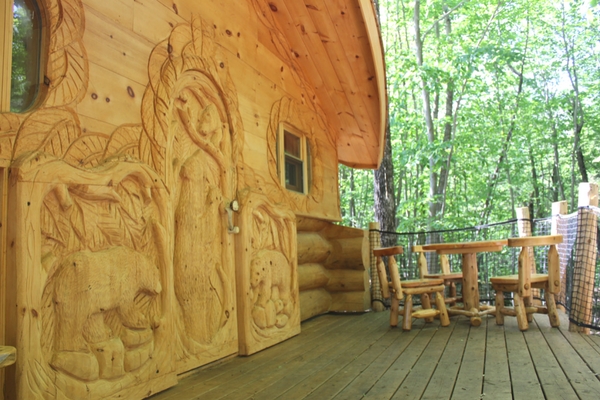 The beautiful carved cabin had solar power for a lamp inside and there was an outhouse just steps from the cabin itself. We had neighbours but they were a pretty big distance away from us so we truly felt like we were alone in the middle of the forest. We had a camp BBQ complete with corn on the cob, hot dogs, and of course, s'mores!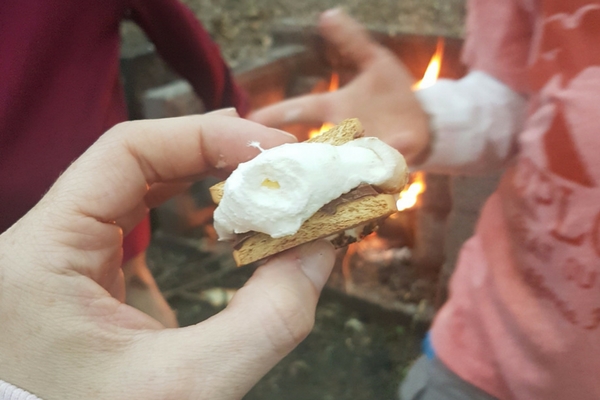 After that, we enjoyed our comfy cabin and talked and the boys drew until it got too dark. There was internet access further away from the cabin which became a pleasant surprise for us since we couldn't work. We HAD to relax, lucky us!
I downloaded a movie on my tablet before we arrived as a surprise once it was dark, and after it was off to bed. I had gone camping in the past with tents and sleeping bags, but I have to say, this new form of 'glamping' is pretty nice! We still got to enjoy the great outdoors, but had the comfort that you miss from sleeping on the ground. The cabin also had screens on the windows so we weren't bothered by mosquitoes during the night; something I am prone to.
We loved waking up to the sound of silence in the forest. We were hoping to hear the sounds of the wolves calling each other but no luck!
Omega Park is open year-round, and I am certain we will be heading back to see the animals and the foliage at different times of the year. I can only imagine how beautiful the fall season must be there!
With the new school year starting up soon, I highly encourage you to suggest Omega Park to your child's school for their school outing. Not only is it an incredible thing to come so close to the beautiful animals, but there is such an educational aspect to the park that children will come away with a ton of knowledge about Quebec history, and natural wildlife.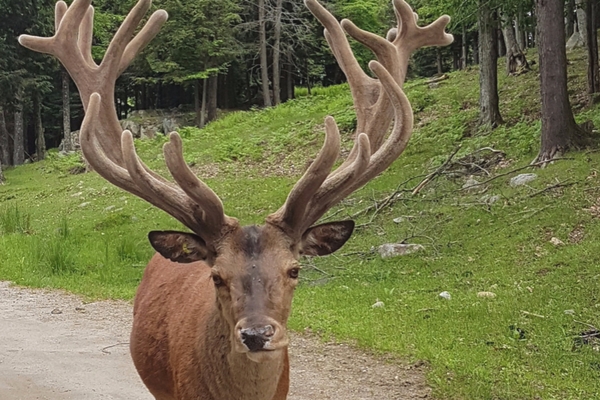 For more information on Omega Park, click here to visit their website.
A special thank you to Mr. Lussier and the amazing Outaouais Tourism team for setting up this very special birthday surprise for my boys!
Disclosure: Omega Park invited us to stay on the grounds and visit the park to facilitate a review. All opinions are, as always, honest and my own.