Mother's Day is around the corner, and I am so happy to share some new additions to the Hallmark gift collection. As you may have read, I have loved shopping at Hallmark, long before I became a #LoveHallmarkCA Ambassador. I know if I'm looking for a sweet gift that is thoughtful, Hallmark is the place I will stop.
I particularly like Mother's Day gifts at Hallmark because they always have a touch a femininity, with meaningful words and beautiful artwork. Here are my favourite pieces for Mother's Day in the new collection (above). The Mother's Day frame is also available with the names 'Nana' or 'First Mother's Day', at $16.95 each. And please remember to add a special picture in the frame! The notepad is a nice addition to a bouquet of flowers or chocolates, at $5.95. The 'Love and Laughter and Hugs' insulated travel mug is so pretty for spring and summer, and dishwasher safe, at $12.95.
And if your mother enjoys gardening or if you have a family flower garden, the new fairy collection called Gardenfair is so sweet! The boys were excited to receive the True Nature Fairy Door.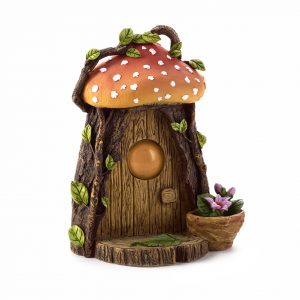 We are going to add it to our backyard, Mother's Day weekend when we add perennial flowers. (And PS,  that saves me a DIY fairy door I probably would never have been able to make as beautiful as this!)To see the whole collection and all the wonderful Mother's Day gifts available, visit the Hallmark website.
I hope you all have a special Mother's Day with your family! And don't forget to pick up a card for the mamas in your life. My cards from my mama are the things I hold on to the most.
Giveaway
Since I am in a Disney mood these days with our trip to Walt Disney World, I thought I would do a Hallmark giveaway with a Disney theme. If you didn't know by now, Hallmark stores have many Disney gifts ideas. I picked up a few things for our trip to Walt Disney World, and this journal is perfect for everyone.
This giveaway is open to Canadian residents only. A winner will be chosen randomly, and deadline to enter is 11:59pm May 17th, 2016. Good luck to all!