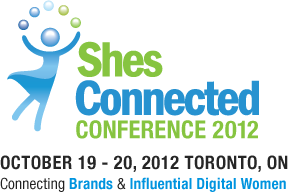 Last year I went to SCCTO as a newbie blogger and had an amazing time. The staff, brands and other bloggers welcomed me with open arms. I was blown away with the magnitude of the blogging community. It was so refreshing to hear from the veteran bloggers as well as the brands that this was a bonafide direction for collaborations and careers. Coming from a writing background, it took me a while to wrap my head around it, but once I heard Ammar Khan from Ford, I finally got it: "we can get the journalist to write something for us in the Toronto Star, but we want you to be able to write solid reviews as women who have tested the (product) and connect with your community."
That was last year. A lot has happened in one year for my blog, and I have to say it really stems from ShesConnected. Before the conference last year, I wasn't 'in the know' on how to connect with brands as a blogger. I had approached brands for years as a freelance writer, but as a blogger, that was different. In this past year I have been able to work with top brands in their blogger campaigns, pay it forward by teaching women basic social media skills in my community, and connect with fellow bloggers in a very real and collaborative way. In that aspect, the blogging community is much friendlier than any other business I have worked in. And that makes all the difference to me as a writer and as a mama. I started blogging to connect with other women and to continue my passion for writing, and I am doing just that.
This year, SCCTO was back and better than ever. The conference was divided into categories with difference expert speakers in different niches, a lot of which were my fellow blogger friends! My only problem was that I wanted to attend more than one session each time! I think every aspect of the blogging world is very interesting, and I am happy to write in many different categories as well. I can't wait to delve deeper into what I learned and apply it to my blog.
As you may have seen, I was generously sponsored by the Chicken a Farmers of Canada to attend this year. ShesConnected has had various campaigns with brands throughout the year, and I participated in one with the Chicken Farmers of Canada (click here to read my post). I couldn't be happier to have represented this brand! With all the various recalls lately, I have been able to rely on chicken dinners for my family. Just tonight we had a great chicken dish. I never go wrong with chicken for my kids.
Being away from my children for three days was hard. Last year when I attended SCCTO, it was the first time I had slept away from them. And this was the second time I slept away from them! But this three day trip away from my family was also exhilarating, nerve racking and exciting at the same time.
So get ready for great new posts, fantastic brand collaborations and a new design in the works for Ask Mama MOE. I will have more posts coming about the ShesConnected Conference and who I met in Toronto in the weeks to come. Stay tuned!