It's a strange thing, really, this Halloween thing.
I used to love it as a teenager. It was a moment of liberty, filled with parties, late nights, friends and scary costumes. We used to decorate the house with handmade tombstones on the front lawn (before they were available at every store under the sun), and stuffed up clothes tagged with scary masks…it was fun.
But now that I'm older, and now that I'm a mama, and more related, now that I have lost both my parents, dressing up the house with death is not at all a fun thing to do.
Insensitive Halloween Decorations
The words actually came out of the mouth of my oldest. He was asked at school to write what he liked about Halloween and what he didn't like. He wrote:
"I don't like making fun of cemeteries because my grandma is in a cemetery and it makes me sad". Yep, out of the mouths of babes. You could imagine my heart breaking when I heard that.
There are neighbours near us that start decorating their house mid-October with…death. It's the only way to describe it. There are skeletons, fake blood everywhere, severed body parts….it's disgusting. What's worse is their house is on the route to school for the kids. I purposely drive the long way to school and back just to avoid that place. In daylight the kids say they like it, but my little guys are susceptible to getting scared easily and I know that we will not be going there on Halloween night. The neighbours jack up the fear factor with music and people dressed up, jumping out at trick-or-treaters.
The Intensity of Halloween "Scariness"
I get that Halloween is a time for scary shows, and dressing up in scary costumes. But is it just me or has the "scariness" of Halloween gotten more and more just plain gross? You know what I mean; the zombie walks, the severed limbs at the dollar store…and the pop-up Halloween warehouses on every block. And it lingers for the whole month, or more.
I made the mistake of bringing my kids into the costume store the other day. Yes, it was a mistake. Because the plan was to stay in front of the store to find a funny/non-scary costume and get the heck out of there. But the scary (and in my opinion, disgusting) stuff was everywhere. Right in the front of the store, my oldest caught a glimpse of a mask that looked like a massive hook had been lodged into a person's neck and mouth. We RAN out of the store. Poor thing couldn't get it out of his mind and had a really hard time going to sleep. I'm grateful the twins didn't see it.
I ended up going back in there myself to pick up a couple of things for them at another time. We try to make our costumes most of the time, and maybe this is part of the reason why.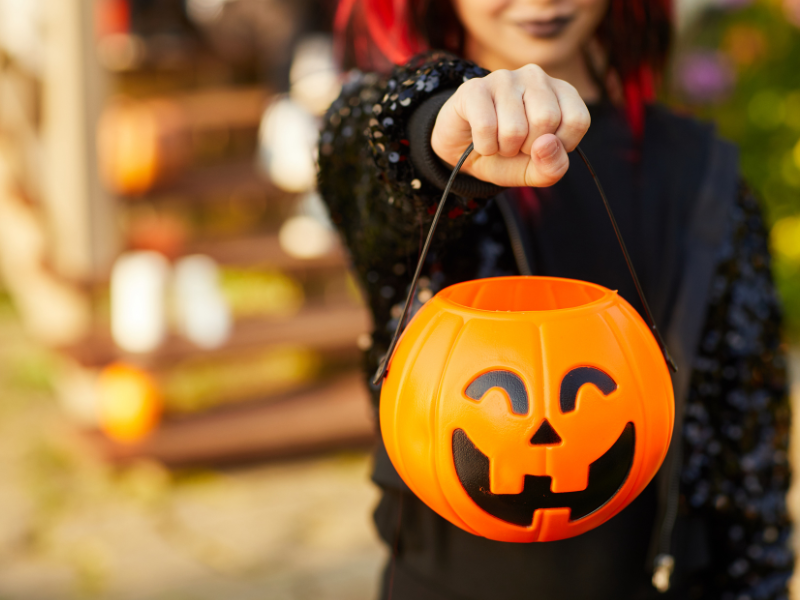 How to Avoid Fear and Sadness on Halloween
Avoid Costume Stores
Do NOT go into a costume store like I did. I would like to think the scary stuff could be left in the back of the stores, but they are not. So if your child is not ready for the gross masks and scary costumes, don't go together.
Avoid Other Stores Like Dollar Stores and Grocery Stores
Avoid dollar stores, grocery stores (certain aisles), etc. because those severed limbs are freakin' everywhere. For real.
Skip the Streets With Scary Décor
If you know a certain house or street is uber scary, skip it. There's no reason to go down every road in your neighbourhood. Most young kids only last a little while anyway, especially if it's cold. Scope out your neighbourhood and see if there is an area that is more kid-friendly to trick-or-treat.
Make it a Social Experience
Go with a friend or neighbour and make it a more social experience. It will let your kids see their friends in costume and enjoy the trick-or-treating more.
Kid-Friendly Movie Nights
Tag on a kid-friendly movie night to the evening after they have collected candies. Invite some friends over and let them stay up late as a special treat. (Another bonus is if someone really scary comes to the door later on in the evening, you can give the candy out while they are engulfed in the movie.)
Not-So-Scary Halloween Movies for Kids
There are a slew of great Halloween movies that are NOT so scary on Netflix and ITunes. My suggestion is to read CommonSenseMedia.org's review of a movie before watching with your children. The reviews are honest and very accurate. It's an added help for parents in this day and age of easy streaming and instant viewing.
Honouring Those That Have Passed
Another thing we do as a family is honour my parents, especially my mother. Her birthday was on Halloween. We light a candle in memory of them and have a cake after dinner to celebrate my mother's life. It may be worth noting that one reason this 'holiday' continues to exist is because of people honoring the dead in different cultures and religions. Perhaps bringing that sense of memory to the day and night can create a new tradition that the whole family can appreciate.
Wishing you all a happy and safe Halloween 🙂
More Halloween Content
If you want to read more of my Halloween-themed blog posts, be sure to check out:
What to do With All That Halloween Candy
Disturbing Halloween Decorations: Has Halloween Gone Too Far?