Ok, ok, ok. I know, you know, we all know. January flew by and that health kick we were all going to get on ended up being only a little tap on the butt for a couple of days and then poof! It was Valentine's Day! And now it's the end of February, spring is on its way, and you're starting to feel like that health kick should really be put into place.
Or is that only me?
Either way, I decided to #TakeTheLeap (get it? Leap year and all…) with TELUS and get my butt in shape.
If you have been reading Ask Mama MOE for a while, you know that I went over a year ago for a full checkup and got a surprising result. I would love to say I have made a conscious effort every day to get healthier, but the reality is it just didn't happen.
However! I do want to point out to all the mamas out there who may be feeling they aren't doing enough (oh, that mama guilt!).
If you are strolling your baby every day
If you pick up your baby and carry them around all day
If you play with them (dancing, moving, getting up and down with them)
If you take the kids to the park or activity and are active there
If you go skiing or swimming or sledding as a family
THIS ALL COUNTS.
I wasn't giving myself enough credit for this, especially when my twins were little, but honestly, look at a mama taking care of babies and toddlers and you can get exhausted just looking at the action!
What has been lacking for me is my cardio. I need to get my heart pumping. What really made me understand just how active, or inactive, I was being, was taking a look and monitoring my steps with a FitBit. Working from home has its many advantages, but one disadvantage is that you can get into a habit of…not…moving.
I can get into the zone and type and follow up with e-mails and be so productive, without realizing I have not moved from my desk in hours! So along with the Fitbit monitoring your steps in a day, another great tip is that it can give you little reminders throughout the day to get moving! You can create calls to action with your app.
What Makes You Take The Leap?
When you decided to have a baby, it was a massive leap of faith. You had to consciously decide to trust in something greater than you and go for it. And if you are like me, you might very well have been scared. The unknown is scary! (And I say unknown because no matter how much you know, having your own baby is your unknown!).
And you know what else? When I was pregnant I ate right, and went to swimming classes, I walked, I moved, and it was all for the benefit of baby. So what is preventing me from taking that much care now – for myself?
Makes you think.
So the good people at TELUS are helping me with their awesome gadgets, geared to help you get fit. What I love about TELUS is you can go to their Learning Centres and get the best information and advice for your lifestyle and gadget needs. Not tech savvy? TELUS experts will help you set up your gear to get you started. Here's what I'm going with: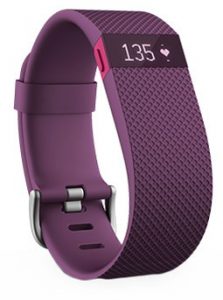 My Fitbit is perfect for helping me check myself and get moving more. Like I said, I'm setting reminders during the day to help me get up and move. I'm also tracking my sleep because I know I need to sleep more. The Fitbit Charge HR also tracks your heart rate – perfect for workouts.
The Fitbit Aria Scale is my newest gadget available at TELUS, and it works with the Fitbit. Not only is it a digital scale, it also tracks your BMI (which is more important), as well as a slew of other amazing features, such as checking your air quality in your room!
I'm getting myself hooked up and ready to get fit for my health, for this new year, for my children, for my future. Here are some little facts about fitness gear and wearables, and what they can do for your motivation:
The majority (57 per cent) of consumers said the ability to self-monitor was a major factor in their purchase of a fitness wearable (Nielsen)
Fifty-two per cent of wearable owners primarily use their devices to stay motivated to exercise and stay healthy (MaRS)
Nearly three-quarters of current exercise app users are more active than those who stopped or never used their apps (Journal of Medical Research)
GIVEAWAY!
TELUS wants to help you take the leap this year so they are offering my readers a chance to win a FitBit Charge HR! This is a fantastic wearable, perfect to start your journey in getting healthier this year.
This giveaway is open to Canadian residents only and will end March 14th at 11:59pm. Good luck to all!!
To enter, please fill the form out below: