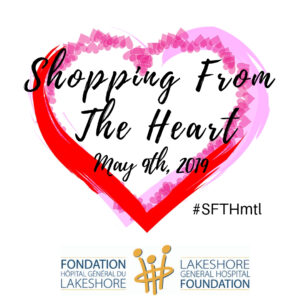 Our annual Shopping From The Heart event will be taking on May 7th, 2020 from 5-9pm at the Chateau Vaudreuil!
To read all about last year's results, click here.
So, what exactly is Shopping From The Heart? If you have never been before, let us give you some information.
Shopping From The Heart ( #SFTHmtl ) is:
a way to help your local hospital (proceeds go to the Lakeshore General Hospital Foundation).
an evening supporting local women in business (over 25 women ready to help you shop for Mother's Day, teachers gifts and YOU!)
a pampering event for women (and families) to enjoy spa treatments, drinks and food – ALL included with your entrance ticket
a chance to win crazy, amazing prizes from local businesses
a silent auction that will guarantee to WOW you
a night out with friends and/or family
a chance to meet Donna Saker and The Beat Squad
a Mother's Day event, a women's event, a community event!
This event cannot be summed up in a few words! It really is something special, and you have to get out and enjoy #SFTHmtl to really know what it's all about. Vendors and attendees keep coming back year after year because this is an event everyone LOVES. Click here to read more about how #SFTHmtl began and why it has lasted so long.
Stay tuned for more details of our 10th anniversary event in May 7th, 2020!
If you are a woman entrepreneur and would like to be a vendor this year, REGISTER HERE.
Proceeds go to The Lakeshore General Hospital Foundation
For the forth year, the wonderful Donna Saker was our MC and The Beat 92.5 squad was there to play music and hand out goodies!