Has Halloween decorating gone too far? With recent disturbing Halloween decorations, the spooky celebrations might be a little too frightful – especially for younger trick-or-treaters.
As a mama of three children that have now grown into teenagers, I have been through many different seasons of Halloween decorating. As well, I have seen the transition of just how gross décor has become in stores. Now, everywhere from the dollar stores to specialty party stores carry decorations. Halloween is BIG, however, the fear factor is at a level I don't think we all appreciate. Has Halloween decoration gone too far in the last few years?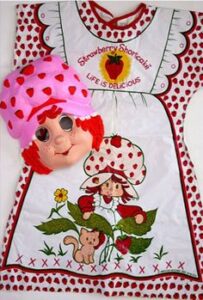 Photo from http://www.liketotally80s.com/2015/10/80s-halloween-mask-costumes/
The Good Old Days
I grew up in the 80s, where kids got to choose a plastic mask and apron of various hit cartoon characters at their local grocery store or pharmacy. Plastic Strawberry Shortcake or a plastic Smurfette costume? What a time to be alive! Whatever you chose, you could hardly see or breath, but they were new and fun, and most were under ten bucks. Since we couldn't see in them, masks were strictly for once we got to the front door of a house, the rest of the time it was on top of our heads. And did I mention we most likely had snowsuits on underneath? Ah, the good old days. My mother was in incredible creative and could use her sewing machine to make anything. Sewing patterns were still the rage, especially for costumes, so she whipped up two costumes a season, one for me and one for my sister for a few years when we were younger. Lucky us!
If you didn't purchase the plastic costumes, or have a magician mama like mine, it was up to your creativity to use what you had around the house. Once I was an old lady, another time I was a gypsy, and another time still, I was a "rocker" whatever that meant to me at the time. I remember getting orange spray for my hair…wild. It was a glorious time, and we were grateful for what we had.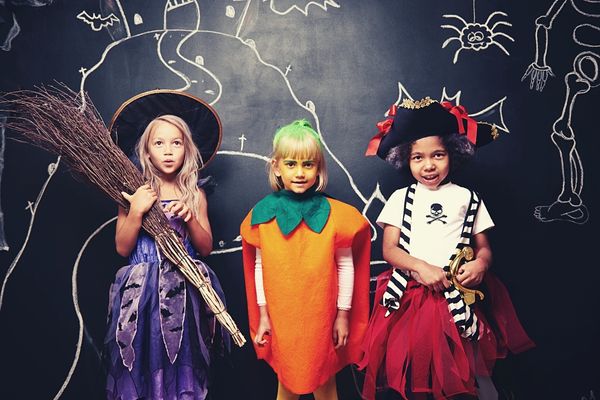 There were no specialty lights or projections, no way. Decorations were almost all made from scratch, unless you had the classic paper decorations for your door (found at relics like Zellers). We had paper decorations for the dining room table and streamers from the ceiling. And then, when we got older, we were allowed to take my parents' old clothes to make spooky scarecrows outside. It was simple, it could be scary, but mostly it was fun.
What Has Decorating Become?
A while back, I wrote about making Halloween less scary for little ones – it's a good read with good suggestions. In the post I talk about remove the death in decorations. But as I mentioned, now I have teenagers. And teenagers want to be scarry and experience scarry, at least mine do. And if I am being honest, that's how I was at that age too. So where do we draw the line?
In my humble opinion, I believe Halloween decorations and costumes have gone too far in the fear factor. After having my children, I lost that desire to be scared. I don't love scary movies, in fact if I can avoid them, I do. So when I went to the Halloween store with my kids to find a costume, I couldn't understand or stomach the "decorations" available now. Friends, when did it go from spooky skeletons and scarecrows to zombie babies eating body parts? I'm not kidding. I was nauseous when I saw them.
When it comes to decorating the front lawn for our community to enjoy for the Halloween season or for Halloween night, I think we should be respectful of everyone, not just what we think is cool or scary. As a whole, we have gone through some serious traumas in the last few years, and many of us have dwelt with death in one way or another. So when death is on display for fun, it can be triggering to a lot of people, especially little ones.
How to Decorate Respectfully and Without Disturbing Halloween Decorations
As I mentioned in my other post about things to be careful of for Halloween, little ones are out there trying to have fun and get candy. For some children, it might be their first Halloween going door to door. The last thing they need is trauma. So here is a suggestion, and it is something we do now at our house.
We decorate with spooky ghosts and goblins leading up to Halloween (about a week before). Nothing that is too scary, and nothing that is far from our front door. This way, little ones can get a kick out of spooky stuff that is not in close proximity to them as they walk by.
Closer to the night of Halloween we amp it up with lights and cobwebs so in the evening, it looks even spookier.
For Halloween night, we have a system. My boys dress up and take turns scaring the older trick-or-treater ONLY. It's an easy thing to do if you pay attention to who is coming up your driveway. When it's little ones, masks are off, we compliment their costumes and give them their candy. Nothing too scary for them.
Then my boys go trick-or-treating themselves as well, because all kids deserve to enjoy Halloween, young or older.
Going Door to Door with Little Ones
Of course if you are the parent bringing your child to a home that is highly decorated, you be the judge. Maybe your young child only needs to walk by the scary house and enjoy the decorations from far away. Maybe you skip those streets all together. If your child is very young, another suggestion is to know a few neighbours you can rely on for a few great candies and fun decorations and only go there. Little ones won't want to be out that long anyway, so having some go-to houses is a perfect amount of nighttime fun.
As for the families wanting to go all out for Halloween night and decorate to the max, I truly believe walking by severed heads and body parts with fake blood is just no fun. And while it is everyone's prerogative to decorate the way they want to, it sure would be nice if children could go out and not get traumatized on Halloween by very disturbing Halloween decorations. Because isn't it for children anyway?
If you have older kids looking for scarier things to do, most cities have haunted houses over the week and you can reserve a time. I'll be doing that with my boys (wish me luck!).
In The News
Recently, there was a Montrealer that made headlines because his 'decoration' was so realistic that some neighbours called the police. And while it can be argued that it looks fake, it is still triggering. With domestic violence and violence in general on the rise, some harmless Halloween decorations can be emotionally harmful.
And in Illinois, another family made the news multiple times because of their "floating Max" decoration. If you have seen the Netflix series, Stranger Things, you know about the famous Max scene, where a favourite character is levitated above a cemetery. A family in the US (and definitely not the only one) decided to recreate this floating Max for Halloween on the front lawn.
They shared it on social media and the biggest question everyone had was "How did they do it?" because there were no wires showing! Click the link to watch the segment: https://youtu.be/buiSNI9J9vc
Unfortunately, an unhappy neighbour caused the family to remove Max for a while. Here is a link to the recent report: https://youtu.be/6PjtJmBfTVQ . Now, things have been resolved and the family can display everything for Halloween.
The odd part about this story, though, is that Max is the LEAST scary thing in the family's display. Stranger Things is chalk full of really scary creatures and this family has recreated them all. Of course, people have been travelling near and far to get a glimpse of this family's display. And if you are not a fan of Stranger Things, scary movies and characters or you have little ones, this house can be avoided all together.
One thing is for sure, there are many people that love to be scared, love to go crazy for Halloween and love to, basically make a haunted house on their front lawn.
The point I guess I'm trying to make is I would love to see regular stores carry normal Halloween stuff like nostalgic posters and masks, and specialty stores can have it all but with a clear sign at the door to maybe not go to a certain area  if you have young children. And for the love, why are zombie children a thing at all? Do we need this in our world? Seriously?!
I would love to know what you think. Has Halloween gone too far? What should be a cut-off for decorating?
More Halloween Articles
If you enjoyed this Halloween-themed blog post, then you should definitely check out the following:
Avoiding Fear and Sadness on Halloween
What to do With All That Halloween Candy
Halloween Potion for Little Ghouls