The holiday season is a beautiful time of year. Follow along these Christmas traditions with young children to create the best memories for your family.
The holiday season is upon us and when you have small children, it can get overwhelming.
Those weeks and days leading up to the Christmas holidays are special, but they can also cause some stress. If this is your first time implementing traditions with your little one, you might find the need to do them all. And my answer to that is don't!
It's normal to want to do the firsts of everything, but let's be honest, that's hard even without children! Adding children to the schedule of the holidays makes it a happy challenge but a challenge all the same.
How to Create Christmas Traditions With Young Children
I've compiled five tried and true ways to help lower the stress of the holiday season, while still including your little one in everything. Of course, you can do more (or even less) depending on what feels right for you and your family. But the point is to keep it real.
Bake Together
I know it can get messy, but let go and have fun with it. I have never met a child that has not wanted to get into the kitchen and "help out". Baking can be done with every age of child. When my boys were just babies, I had them in their highchairs and would give them measuring spoons and cups while they watched mama get the ingredients. I would talk to them and tell them each step to the special baked good, and they never really got bored. When they got a little older, they knelt on chairs or stood on stools. My little chefs would put on their aprons and roll up their sleeves and get right into the process. Now they stand and do the measuring, the pouring and the mixing with pleasure. The key to baking with children is finding one or two recipes to do at any time. More than that and they will lose interest. Baking is a fantastic family activity that encourages independence, helps to implement reading and math skills and the results are always delicious!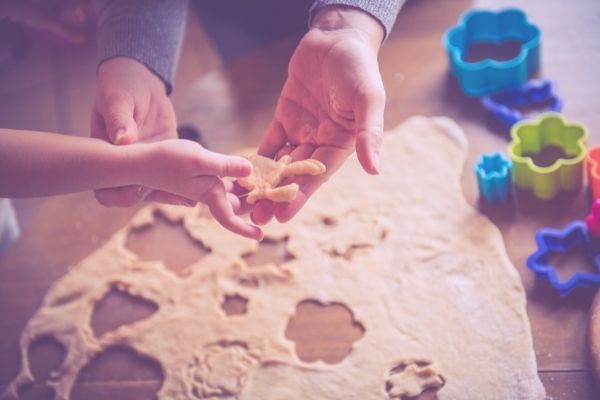 Music Makes the Home Happy
Nothing gets our home into the Christmas spirit like holiday music! Usually, our first time to play Christmas music is when we trim our Christmas tree. If you have some classic Christmas albums, put them on as background music and watch how everyone's eyes begin to sparkle! Music puts my boys into a warm and fuzzy Christmas mood and they even sing and dance together (sometimes)! A few family albums we love for Christmas include those by Roger Whitaker, Michael Buble and Bing Crosby. If you don't have those, there is always the radio but adding a few classic albums is also great for car drives to visit family and friends.
If It's Not Your Thing, Ditch the Elf
Don't start a tradition that will leave you stressed and resentful! Just because social media is filled with that darn elf, doesn't mean it has to be your tradition too. You don't want to be the sleep deprived parent you didn't move the elf and have to come up with excuses to your little angel! Instead, opt for a simple Advent wreath or candle lighting in the evening as a family. It will give you a moment to communicate with your little one about their thoughts on the holidays.
Choose One Activity and Make it Special
The holiday calendar can fill up quickly. When your children are little, maneuver your activities based on naptimes and snack times. It just makes it easier to enjoy the day. But most importantly, enjoy one meaningful thing each day. Planning too much can bring out the stress! Whether it's visiting a Christmas tree farm, seeing family, going sledding, having a family game night or watching a holiday movie, if you circle your day around that one event, it makes it that much more special.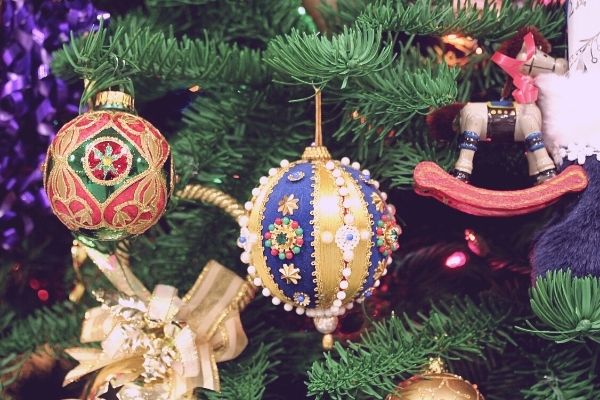 One Ornament
This tradition began from my mother and now I have passed it on to my children. Every year, I buy one special Christmas ornament for each of my children. I gift it to them either on the day we decorate the tree, or on Christmas morning. Their one ornament each year becomes their collection later, when they will move away and have their own family tree to decorate one day. I still cherish my ornaments and remember many moments with my parents when I look at each one. Even if your child is young, it's a nice tradition to start right away, to make a special collection for years to come.
I hope this helps lower the stress and up the family fun for your holiday! Wishing you all a family-friendly holiday filled with peace and joy!
More Christmas Inspiration
If you're looking for more holiday ideas, be sure to check out these blog posts:
Books to Add to Your Christmas Library
Six Easy Christmas Ornament Crafts to Make with Kids