Christmas is just around the corner and I know some of you might be looking for that extra special "wow" gift for your kids. Hasbro has stepped up its game in the tech department and I have three suggestions that are new and amazing.
DropMix – Created in collaboration with Harmonix Music Systems Inc. (Rock Band and Dance Central), this is a gaming system that plays with a smartphone or tablet. Think of it as a personal DJ system that can also be used to play as a game between up to 4 players. There are thee modes, Clash, Party or Freestyle.
If you have a musical child, they are going to love the chance at playing DJ with songs they already know. The music gaming system comes with 60 Dropmix cards. Each of these chipped cards can be placed directly on the system and mixed together. The cards can play instruments or voice on their own or together, so you can combine songs just like a DJ. For example, you can choose the voice Ed Sheeran's Sing, the drums of Cake's Short Skirt Long Jacket, the keyboard of Sat-N-Pepa's Push It. Hard to imagine, right? But the gaming system and the app create a seamless mix that sounds like it was meant to be together.
The gaming system is suggested for children ages 16 and up, and I understand why, since the songs may or may not be appropriate for younger children/ Plus, the cards are delicate and you need a phone or tablet to play, along with the downloadable app. Even though my kids are younger, I see this as an awesome game and toy to test their inner DJ. I can't wait to have this playing over the winter break. I foresee an epic DJ battle on New Year's Eve ahead of us!
Price: $129.99 at Toys R Us (with additional Dropmix card packs ranging from $7.99 – $24.99)
You can see the full list of Dropmix cards and details of the system on their website. https://dropmix.hasbro.com/en-ca#
Transformers: The last RC Autobot Squeeks – If you have a fan of the Transformers movies, they will love having their own friendly robot at home to play with. Similar to WowWee MIP that was introduced some years ago, the Squeeks robot can talk, dance and his eyes light up, along with his blaster. The blaster can be removed from his hand if you prefer and he also moves around and talks even when you are not playing with him, making him a little more relalistic can cool for the kids.
To see him in action you can watch the Hasbro commercial:
Price: currently on sale at $49.99 at Toys R Us
Furreal Roarin Tyler- with 100 sounds and motion combinations, this is one of the most interactive fur animals toys I have ever seen. Tyler the tiger has sensors on the muzzle, forehead and back to allow him to respond to touch in fun ways. I'm a child from the 80s so my closest interactive toy was Teddy Ruxpin with a cassette in the back, and I loved him! I can only imagine how kids will feel with this soft robotic exotic animal as their toy pet. One thing to note, kids can play with this Furreal pet and it will bend down and stretch, however it does not walk. A major bonus to me, Tyler does not have creepy eyes (as a parent you know what I'm talking about!). And did I mention it roars back at you if you roar at it?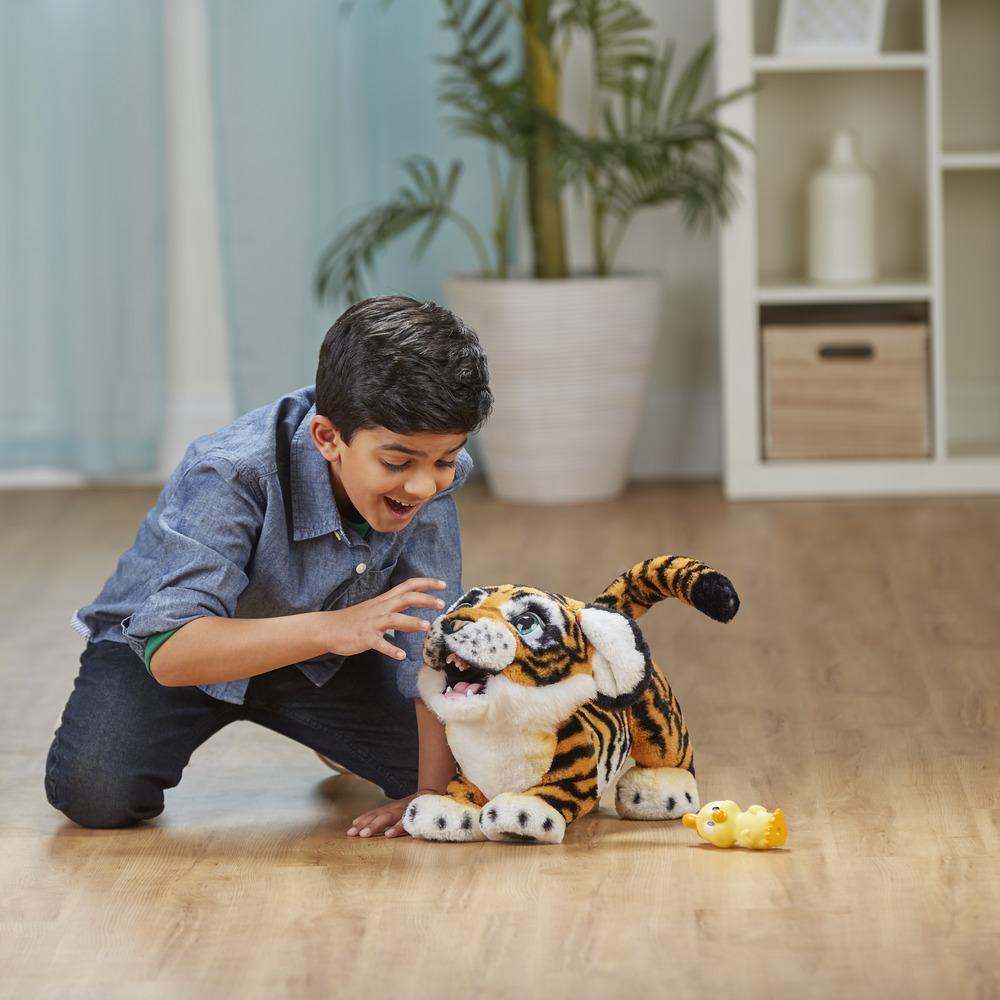 For ages 4 and up (I say, way up, because I know older kids will love this too), Tyler is priced at $129.99 and can be found at most big stores.
I hope this helps you with ideas for "wow" filled toys to gift your kids this holiday. These are definitely out of the ordinary and I now any child would be thrilled to receive them.
Disclosure: I received products to review from Hasbro to facilitate this post. All opinions are honest and my own.