Celebrating Easter at home may be the new normal for now… but that doesn't make the holiday any less special. Here's how to make the most of it from the comfort of your humble abode!
This Easter Sunday will not include going to Sunday mass. It also won't include family and friends coming together to have a special meal. THAT IS OK.
In fact, it's more than ok. You know why? Because we are teaching our children that celebrations can still happen, and Easter can still be a special day even without our 'normal' ways of doing it.
In this difficult and strange time, when children are being told to stay inside and not see their friends or go to school, it is a good time to explain to them that change can be made, and celebrations are still important to mark a period of time, either for a person or a holiday.
Understanding our Children's Actions, Reactions, and Emotions
The other day when I pulled out the Easter decorations and asked my boys for help, one of them asked me "why are we even decorating"?
Sometimes, this isolation period has caused arguing, frustration, and sadness. And as all mamas know, the actions of children do not always mirror the emotions they are having. Laziness can be a sign of sadness, yelling can be a sign to confusion and uncertainty, it's up to us to have the patience to listen and see what they are truly feeling. We all laughed at my son's comment and I reminded him, we have always decorated for us as a family, and not many people have come to see our home during Easter anyway.
Celebrating from Afar
Like many families, we are a nuclear family that has no extended family in town. My husband and I have siblings, but they live across Canada or in Europe. Our children's 'nonni' live in Switzerland and have for years, so Easter has not been celebrated with them in person for some time. And my parents have passed away, so we cannot celebrate with them as we did when they were little.
How to Celebrate Easter at Home
Celebrating Easter at home may seem different from your usual tradition, but keeping your family safe is your number one priority. As a mother, I can understand this 100%. Current situations have not been easy as a parent, but I can assure you that we have all been doing our best. You are doing a great job!
Here is how we've been celebrating Easter under current circumstances:
Make the Most of Video Calling/Video Chatting
For those that we can reach, we plan to video call them during the day. The kids from all families have prepared a performance for everyone and we most likely will chat together for a while to talk about our day. In one way, I hope that this new-found mode of chatting, especially with older people, will stay long after this isolation period is over. Because for us, it's a sweet way for our boys to stay in contact with their cousins as they grow.
Mail Out Easter Cards
We sent out Easter cards to our nieces and nephews (some will come much later as certain countries are not accepting mail right now). But it was something special we could do to let them know we are thinking of them always. Children love getting mail, I know I did! A big thank you to Hallmark Canada for sending me the most beautiful Easter cards once again. I have written little messages to my boys for their Easter morning surprise as well.
Celebrate with a Small Easter Surprise
It may be hard to convince your child to commemorate a holiday, if there is no real celebration happening outside the home. Luckily, mamas are so clever and creative. We have been celebrating with our children long before they had outside friends, and so, this is a time to go back and think of how we did that then. Making it simple is great and making it special is all that is needed.
My boys are convinced that there will be no chocolate for them on Easter morning because we have not left the house to get any special things, nor have we shopped online for anything except groceries. Well, it turns out I have a very small stash of treats I purchased long before this isolation period started. It will be much less, but just having anything will be a surprise.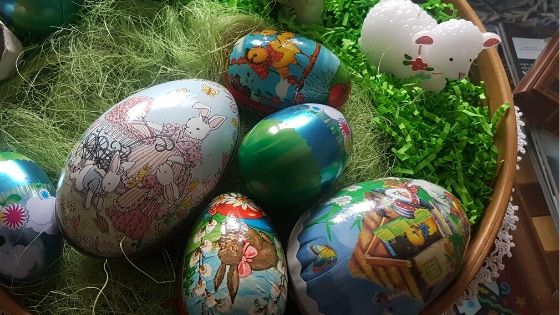 Set Up an At-Home Easter Treasure Hunt
Since this is a different Easter, instead of hiding the chocolates in our reusable plastic eggs, I am going to make a treasure hunt in the home. The boys will have to work together to get the clues right and get to the final gift. This is not going to be super elaborate, just good old-fashion fun. If you are looking to do something similar, Pinterest is a great source. Just search Easter treasure hunt. Otherwise, just make your own clues.
Attend Mass from Home
Taking time to focus on the true reason for this holiday is important, especially since mass in church is not an option this year. We will be tuning in to a live broadcast at the Vatican. I wrote about celebrating mass at home, and there are links there for you if you are looking to do the same.
Watch "The Bible" Miniseries
Another suggestion would be to watch the last episodes of the miniseries simply called The Bible, on Netflix. This is the first year we decided to watch a real depiction of the Passion and Resurrection with our boys. I must mention, it is not easy to watch, and not appropriate for young children. But it did hold my boys' attention and made them understand the Bible stories they have read in a more concrete way.
Watch More Easter Specials
For some fun family-friendly viewing for little ones, here are some suggestions.
It's the Easter Beagle, Charlie Brown – Peanuts is always fun for children.
Bugs Bunny Easter Funnies – goofy and full of laughs.
Here Comes Peter Cottontail –  much like the Christmas specials, this stop-motion film is short, fun and filled with songs. Danny Kaye, Kasey Kasem and Vincent Price will be familiar voices.
Winnie the Pooh: Springtime with Roo – a cute film with all the characters from Winnie the Pooh.
Classic cartoons such as The Berenstain Bears, Franklin, and Little Bear all have Easter shows as well. Finding them is not too hard on Youtube.
Prepare a Special Easter Feast
If you are like me, voluntarily going to the grocery store for special ingredients is not something I want to do these days. Instead, I searched through my pantry and freezer, and decided what I could make that would be extra special for Easter Sunday. The morning will have French toast, lunch will have deviled eggs, hors d'oeuvres and veggies, and then dinner will be a hearty chicken meal with special sides. Dessert is where things will feel like Easter: bunny shaped sugar cookies and carrot cake. More than enough to feed my family of five and the boys are helping me prepare everything.
I can't be sure if they will be into it, but I have decided to suggest we dress up for dinner, just for fun. Because why not?  If Easter Sunday is not a day to dress up, then there won't be much dressing up at all for the rest of isolation!
Since the isolation period began, we have tried to incorporate our faith through various ways. Lenten season is a special time of reflection, and I suppose this strange and difficult period has been nothing but reflection. Now as we head into Easter, this Sunday will be the beginning of celebrating. Spring will give us fresh blooms, birds are starting to sing. These are signs of new life, and hope.
To Summarize
Holidays are being celebrated at a smaller scale nowadays… and Easter is no different! Here is a quick summary of how we suggest celebrating Easter at home:
Make the most of video chatting
Mail out Easter cards
Organize a small Easter surprise for your kids
Set up an at-home Easter treasure hunt
Attend mass from home
Watch "The Bible" miniseries
Watch some family-friendly Easter specials
Prepare a special Easter feast
Happy Easter, everyone! Most of all, I wish you all hope, happiness and lots of love with your families, near and far.
If you enjoyed this Easter article, then be sure to check out my other ones:
What to do With All That Easter Chocolate