It may be a long time ago, it may seem like it never happened.
It wasn't a dream, you were a child once.
If you are a parent, your memories come back to you on a daily basis if you let them.
You can see them in your children, and that can sometimes see your children with a sense of understanding.
When they play, yell, fight, cry, soar…you remember.
If there was ever a children's Disney movie that encapsulated the feelings of childhood, it would be the 1953 movie, Peter Pan. Think of everything that came from that movie that we still hold dear in our culture, fashion and trends; mermaids, the collar top, the original top knot hairdo, and let's not forget believing in magic and staying young at heart.
If you jump on Pinterest, you will see just how popular Peter Pan is still today. I made a board myself with inspiration, click here to have a look!
In preparation for the Disney Social Media Moms Celebration, I had ordered a Peter Pan inspired baseball cap on the Disney Store site that I ended up giving to one of my boys.
He loved it so much. He wore it the whole time. Unfortunately, I placed it on a bench just before his first time riding Tower of Terror, and with all the excitement of that ride, we all forgot the cap there is in the park! His birthday is coming up soon and I think I will get it again for him as a surprise. The details were so special. Embroidered on the inside of the cap it reads "Second Star to the right and straight on til morning".
When I look back, just from memory on the Peter Pan movie (that I may have watched once again with my boys a few years ago), I can think of certain things Peter Pan taught me. See if these ring true for you too.
6 Things Disney's Peter Pan Taught Me
With faith, trust and pixie dust, you can fly! While this may simply be the makings of a magical movie that made you believe you could fly, that motto is strong still today. It reminds us that you can do anything if you believe it.
Positivity is golden – "Think of the happiest things. It's the same as having wings." Could truer words be jus as prominent today? We are all looking for (call it what you like) greatness, success, or strength. And now more than ever, we are told your attitude is everything. Look for happiness and it will find you, right?
The most amazing, powerful and magical things come in very small packages – growing up on the shorter side, it is fair to say there were times I was picked on. Being seeing Tinkerbell was glorious! She was small and that didn't stop her!
Being goofy and playful will never go out of style – Los boys may have been rude and rambunctious but their freedom of expression is something we all hope to have in our lives.
Loss is difficult and missing someone is the hard – the true love that Wendy, John and Michael have for each other and their mother is tender at times. I remember them talking about how important a mother is. Keep in mind the role of a mother in in the 50s was different, and even more so when J. M. Barrie published the book in 1911. However, it was simple and something that stuck in my mind as warm.
Live your life – With all the movies and books that were created after the original, as well as extension to the character (such as the Tinkerbell series of movies) it is wonderful to see that one common theme has always been to live your life to the fullest. We may not be able to remain children forever, but we can certainly remain kids at heart. And what do children know how to do best? LIVE!!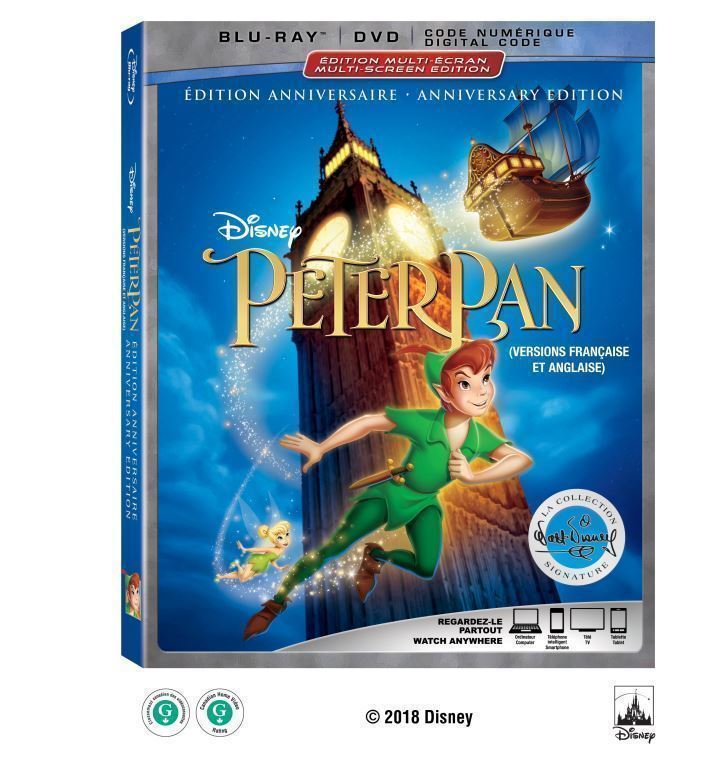 MAGICAL NEWS!
In celebration of its 65th anniversary, Disney's beloved flight of fantasy, "Peter Pan," joins the highly celebrated Walt Disney Signature Collection, landing in homes on Digital and Movies Anywhere on May 29 and on Blu-ray June 5. With a little faith, trust and pixie dust, every member of the family will let their imagination soar on this epic adventure to Never Land, sparkling with legendary animation, extraordinary music and both all-new and classic bonus features.
I'm looking forward to watching this movie again with my boys and adding this classic to our collection of Disney movies at home.
What is your favourite memory of Peter Pan?