Willow is a series I was excited to see the moment it was announced to be in production. Episodes are now streaming on Disney+ and continue the story of the classic cult movie from 1988 (also available on Disney+). Does it live up to the expectations of all its fans? Will the series intrigue a new audience? Is the series safe for children? I break it all down, based on the episodes I have seen, as well as the live discussion with the cast that I had the pleasure of attending.
What is Willow, the series, about?
I remember the movie, Willow, like I watched it for the first time yesterday. It was a film that made me excited about the impossible. Magic, adventure, wit, and romance – it had everything! So when I learned that there would be a series continuing the story of Willow, I was so excited. Here is the synopsis of the series:
From Lucasfilm and Imagine Entertainment comes "Willow," an all-new action-adventure series based on George Lucas' 1988 fantasy-adventure film debuting exclusively on Disney+ November 30, 2022. The story began when an aspiring sorcerer, played by Warwick Davis, is whisked away on a journey to protect an infant empress Elora Danan and vanquish the evil Queen Bavmorda from their world of Andowyne. Now, the story continues with Davis reprising his titular role as he leads an unlikely crew of heroes on a quest to protect Andowyne from an even larger foe than they had imagined possible.
Is Willow the series safe for kids?
If you are to compare the fighting and gore that is seen in most action movies, Willow, the series is mild in comparison. However, sometimes the things you cannot see and only hear are scarier. Think whispers, strange voices, creepy music, and a few jump -scares. These are prevalent in the first few episodes, along with two major fight scenes. Faces are transformed into evil, and characters are killed. Aside from action-adventure violence, there is also course language used and there are scenes of intimacy right from the start, that will raise questions from a younger audience. This series is about magic (good and bad), adventure, and action so that is what your child will see. As I always mention in my reviews, you know your child better than anyone., and you know what they will enjoy and tolerate. In my opinion, I think this is an exciting series for tweens and up. If your child likes stories such as Harry Potter, Merlin or Marvel, they will really love this series.
How does Willow, the series compare to the movie?
As much as I wanted my review out nice and early, my health had different plans, so I am a few weeks behind as the series has already been out for a short while. I will say this, superfans of Willow will love this continuation, and I am a superfan. There are times when sequels come out and you just know they were built solely around making money off of fans that will watch because of nostalgia. This is not the case. I love the way the story is unfolding and I keep holding my breath to learn more about what happened to Madmartigan and Elora as a child.
Viewers who may not know or perhaps remember the movie (how is that even possible?), need to catch up and watch the movie before the series. This is a continuation and there is a lot to know to understand the gravity that the characters face throughout their adventures. That said, the movie was made 34 years ago and much has changed in filming, environment and culture. This is clearly updated in the series and might be surprising to some.
This is a new era of Willow with new characters and new tones. The nostalgic fans might dislike the changes, but I personally appreciated them. The change also means new audiences can appreciate this storyline without it feeling dated. What we appreciated in films in the 80s cannot compare to today's films. With stellar CGI and other effects, as well as today's audience's shorter attention span, the series has taken these changes into account and each episode is more intriguing. I also appreciate the language used in the film, it's more familiar and has some sass to it.
Thankfully, Warwick Davis has reprised his role as Willow, and Joanne Whalley is back as Sorsha. True Willow fans will be happy to see other guest roles reprised by original actors, but I don't want to give anything away. That said, there are a lot of new characters to get to know, and while Elora is not a new character, we see her as new since she was just a baby in the movie. Loads of backstories need to be addressed and each character comes from a different situation. That said, I am excited to learn more about each character. They are all interesting in different ways.
The Willow Press Conference
I had the pleasure of attending a virtual press conference with some of the cast of Willow. There was Warwick Davis (Willow), Ellie Bamber (Dove), Tony Revolori (Graydon), Ruby Cruz (Kit), Dempsey Bryk (Airk), Erin Kellyman (Jade), Amar Chadha- Patel (Boorman), and Jon Kasdan, the writer and Executive Producer. To hear them talk about this project with such enthusiasm was pure joy.
Hearing Warwick Davis talk about his character from when he was 17 in the film, and now decades later, on set with his son and daughter was so amazing:
"..yeah, it was wonderful to have Harrison (my son) and my daughter Annabelle as part of the series. Annabelle plays Mims, Willow's daughter. And she's a brilliant actor in her own right now. And we had a lot of fun playing the scenes together. Obviously we've got that natural chemistry between us, which I think really shines in the scenes we have together. I'm immensely proud of her work. And also Harrison, for me, he's the most perfect stunt and photo double, he stands the same height as I do, looks just like me. And he's slightly disappointed now that he's never going to be recognised for the work he did, because as a stunt double, and photo double, you should not be known, you should not even exist." – Warwick Davis
How amazing it must be for them to work alongside their dad in his epic movie loved by people all over the world!
When asked "what is the appeal of 'Willow'? What is it that we love so much about this world, and these characters and this story?" here is what Jon Kasdan had to say:
"I remember the feeling of being eight years old and hearing that George Lucas was giving us a new franchise. And this one would have magic and wizards and sword fights, and it wasn't called Star Wars. That was a pretty unbelievable concept to an eight-year-old kid. And it… for me, it's sort of a miraculous thing that it hasn't been developed more and that it sort of remains as this artifact from a certain time in my life, with all this potential for more stories and more adventures."
Now decades later, we can learn the answers to the mysteries from so long ago. Willow is exclusively on Disney+ and streaming a new episode every Wednesday. As I write this, there are currently four episodes available to watch, and I can't wait to watch them with my boys and see their reactions.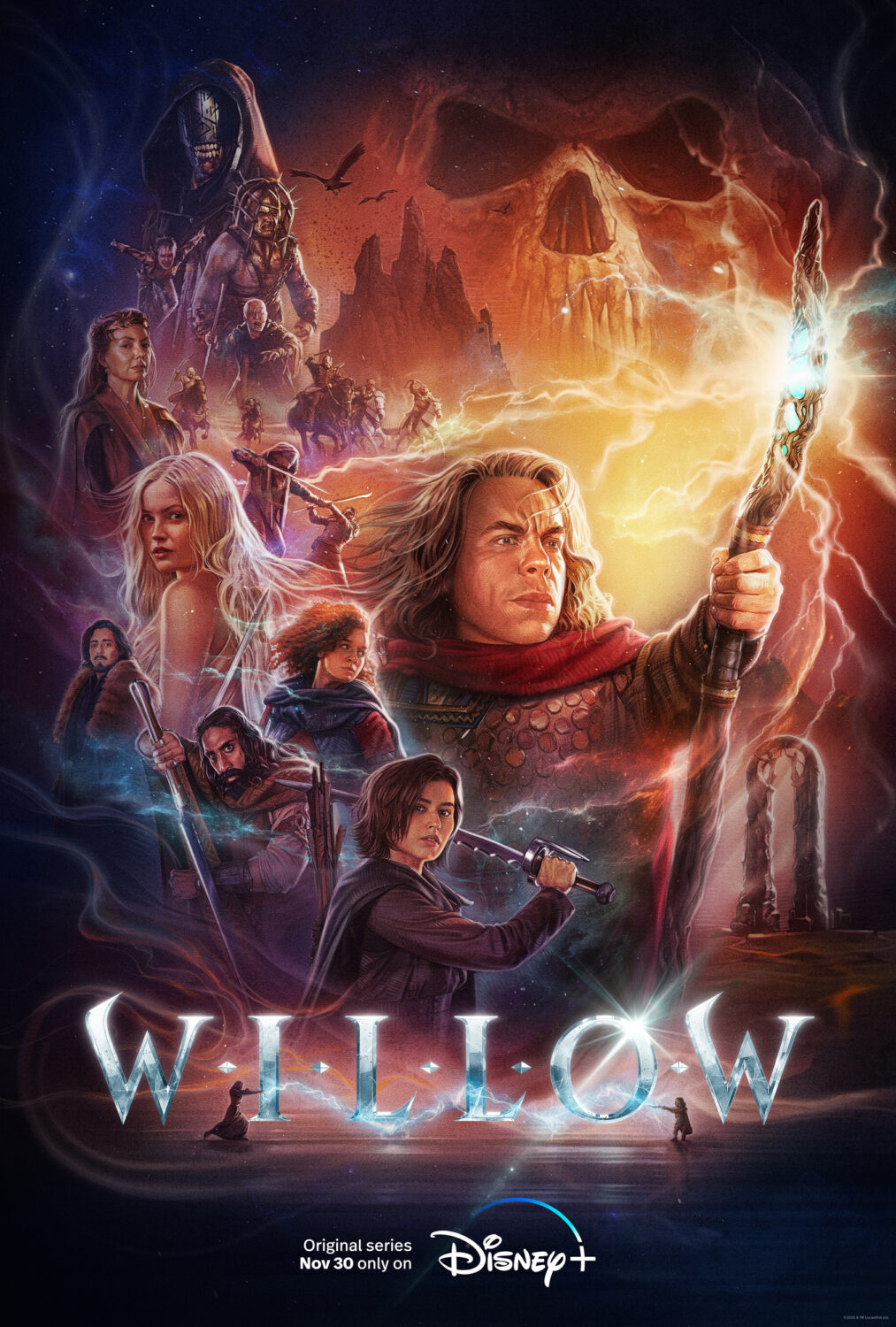 To follow along on social: Twitter: @DisneyPlus; @WillowOfficial Facebook: @DisneyPlus; @WillowOfficial Instagram: @DisneyPlus; @willowofficial Hashtag: #DisneyPlus
Disclosure: All images provided by Lucasfilm Ltd. and Disney+. I was provided a pre-screening of the series to facilitate this review. All opinions are my own.