I'm really excited to be getting more apps and games to review for myself and the boys. Yes, I actually did write that. My oldest is ready to take on the world with math games and PowerPoint for school this year, so like it or not, tech is hitting our family.
Being a blogger allows me to have an inside scoop on some of the latest and greatest apps and games coming out, which is great for a mama like me who wants to research and understand the games before my children get in front of them.
I was asked to review the new game Tree Story and when I found out how it works and what it does, there was no question in my mind that I would share it with all of you.
Tree Story is a game you can download for free on your smart phone or tablet and it is essentially the same idea as the virtual pet games. You get to choose your tree, name it, and you help it grow with different chores and games. There is one major difference to this game that trumps all other virtual games right now: each virtual tree that grows up will allow the partners of Tree Story to actually plant a REAL tree in various communities, schools and forests around the world. How cool is that?!
Here's a brief video:
So how does this process really work?
Zig Zag Zoom Media, the makers of Tree Story, sponsors tree plantings. This means that from the proceeds of the game (in-app purchases, paid version) they pay for the planting of the trees.  They do this with their partners: The Nature Conservancy, Arbor Day, U.S. Forest Service, Project Learning Tree, Alliance for Community Trees. An example of this is Zig Zag Zoom Media is currently working with The Nature Conservancy as part of its Plant a Billion Trees campaign (the place where I incidentally chose for my fully grown tree to be planted). In South Korea, partners have planted half a million trees across Asia! And in this small time since it was introduced here, sponsors have planted over 5000 trees in the US. Their goal is to plant a million trees! You can even sign up to become a tree planting partner in your area.
I tested it out first by myself to see if it was good for the boys.
It was easy to set up, simple to play and the results on caring for your tree showed up fairly quickly so for children, it is encouraging.
This year, the boys planted their very first vegetable garden. Prior to that, we already had a few raspberry bushes. My children understand how things grow and how they need to be cared for in order to do that. They appreciate the fruits of their labor, literally, and are very proud of their accomplishments as mini farmers. That said, taking it a step further and educating them on the need for trees to be planted all over the world to better the environment, through a game, is wonderful.
If you are not able to plant a small garden or perhaps you are considering it for next year, this is a great way to introduce your children to taking care of something. Even though the game is virtual, the real tree will be planted once their virtual tree is grown up. If you don't take care of your tree, it begins to wither and look sad. So like a real tree, you have to care for it every day to help it grow.
If you are looking for a first game for your children to play, this is a great one.  I had my children play while I was with them, however I think this is a basic enough game with good values for children to play on their own. I would love to see this game introduced to the young tablets like LeapPad, which is something they do have. It needs to be noted that I do not endorse long hours of alone screen time for children. I do, however think this game is part educational and part fun. It's a perfect combination and it is a great tool to introduce caring for the environment to children.
My little twins liked caring for the tree the most (watering the tree, trimming the branches, feeding it) while my older boy loved the games and the sound recording.
The food and potions offered to feed the tree seemed a little strange to me, but I can understand if the food was simply soil and water, it could get boring. I took it as a learning moment to explain which foods would be best for us. Their choices became fruits and vegetables, as well as water and juice.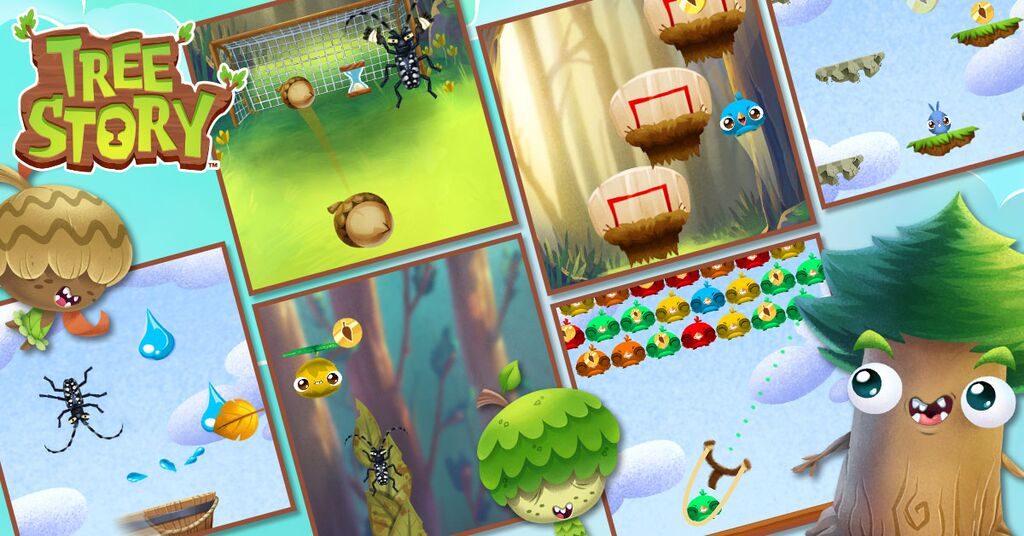 The voice recording was also an entertaining addition and the games were very fun as well. The idea of not having enough coins to buy food or play a new game was also educative for the boys. They needed to assess how many coins they had to keep playing.
All in all, I think it is a really fun game for children ages 6 and up.
To download the game, here are the options, depending on your phone or tablet:
The no ad versions of the game have an introductory price of $0.99 and are available if you don't want ads.
Disclaimer: I was compensated for my review of Tree Story. However, as always, all opinions are honest and my own.