Summer is on its way and my friends are already talking about having barbeques and enjoying parties on the deck. Sounds great, right? It does to me! Good food, good fun…One of the best parts about summer is being able to invite friends and family over to enjoy their company. Doesn't it seem that whenever you have people over it automatically revolves around food?
Well, what if you didn't have the money to have a barbeque? Or much worse, what if you were not even able to provide enough for your family to eat every day? When my husband and I became parents, it was one of the many things that crossed our minds more than once. Becoming a parent shines a light on all the fears you have for all the difficulties life can send you. Poverty can come at any time, hit any person or household and close to 900,000 Canadians need assistance from food banks each and every month.  It wouldn't surprise you to know then, that over 40% of the people using food banks across Canada are children. That means there are a lot of children going to school hungry. You know what else this means? It means that food banks need as much help as possible to help those in need.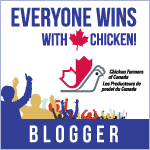 I was chosen as a blogger to spread the word about an important and unique campaign by Chicken Farmers of Canada and Shes Connected. I am thrilled to let you know how you can help spread the word and make a difference!
What To Do:
Visit the site "Everyone Wins With Chicken" to find out how you can reach your local Members of Parliament (MPs) and encourage them to submit the best chicken sandwich recipe for a chance to win up to $10,000 for their local Food Banks (2nd prize is $5000, 3rd prize is $2000)!
The winners are going to be able to make a great difference in three food banks across Canada. To top it off, the first place winning recipe will also be served to over 10,000 people at the 20th Annual Great Canadian Chicken BBQ in Ottawa on Canada Day.
To locate your province's MPs click here.
Once you find your MPs, send them a tweet or e-mail. Here's a sample tweet to get you going:
"Hey @MPxxx, our local Food Bank needs $10,000. Pls submit ur chicken sandwich recipe. http://bit.ly/HU9Zwu#WinWithChicken"
"TW-EAT In" Twitter Party!
Join me and many other passionate bloggers on May 9th from 8-9:30 in support of
HungerAwareness Week
! If you've never attended a Twitter party before, it's fast paced fun with prizes and loads of great conversation.
So leave a comment below letting me know you are sending your e-mails and tweets out to your MPs, and that you will be at the party. Looking forward to tweeting with you on Wednesday!
Disclosure – I am participating in the Chicken Farmers of Canada program by
http://shesconnected.com/
.I received compensation in exchange for my participation in this campaign. The opinions on this blog are my own.