Preparing for (don't hate me…) winter involves getting the winter gear out for the kids and assessing what still fits them and what doesn't.
I always prioritize their needs for school so that they are ready to go out with warm boots, mittens, jackets, hats, etc. the moment the first snow fall hits.
But guess who I seem to neglect? That's right…
So when Tana approached me to learn about their shoe and boot care products, as well as shop for boots…for ME, I took that as a very good sign. In fact, I was being assigned to go shopping for myself…what could be better?!
If you haven't heard of Tana, you may be surprised to know the shoe care products you have in your home are probably from Tana, and you just didn't know it! It actually happened to me. Most shoe stores and shoe repair stores carry the line and have been for many years because of the quality of the products. No two ways about it, Tana products work.
I was sent a package of care products to use for the shoes and boots my family already have. The truth was, I wanted to be schooled in the products. And Tana wanted me to as well. I always appreciate hearing how products can be used properly from an expert. Enter Hovig Ourichian.
Hovig has been running the family business of Cordonnerie Carrefour Laval for over 20 years. That said, he knows shoe care products and his store was filled with, you guessed it, Tana. I asked him to go over the products with me and he was so helpful.
There was such a great selection of winter boots, I had a hard time choosing: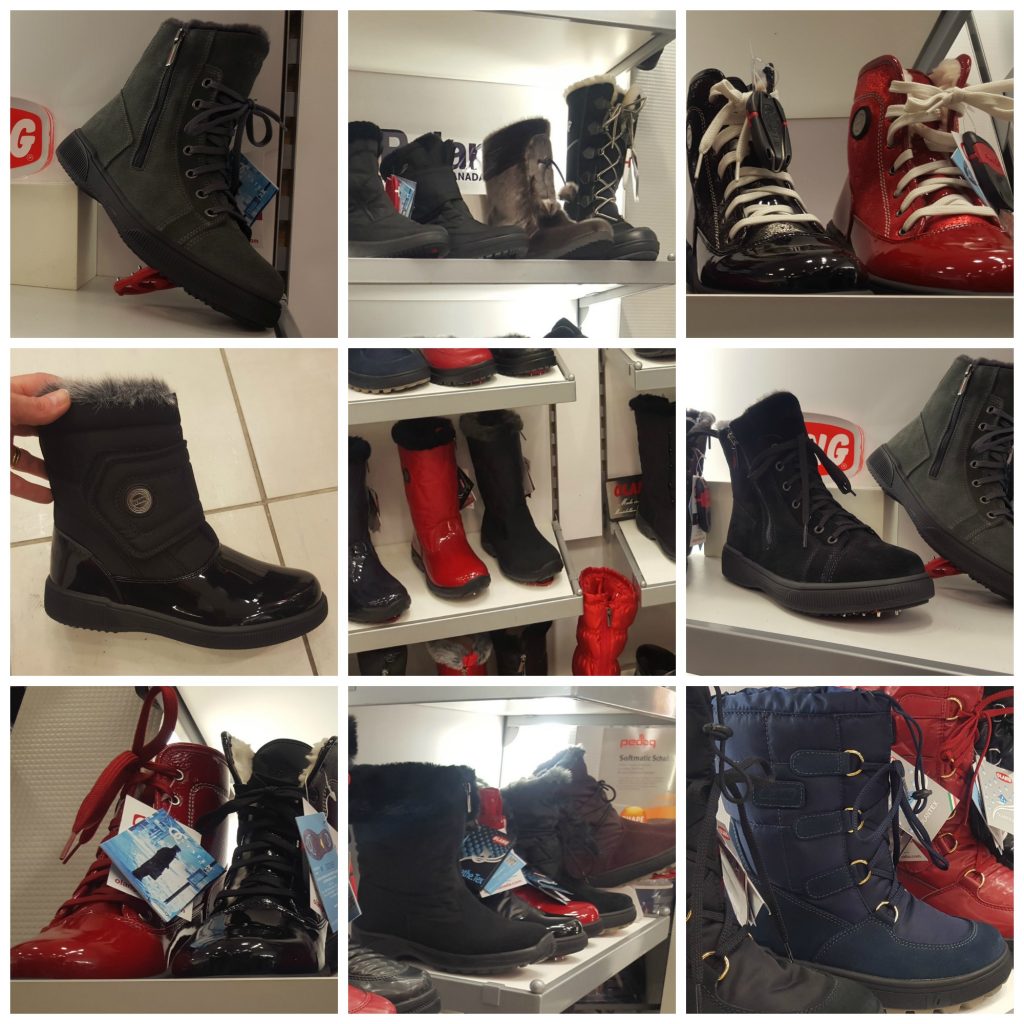 Here are Hovig's suggestions for caring for your shoes and boots with Tana:
A cleaning lotion should be the very first thing you use on your shoes and boots that need some TLC. It will remove the dirt that has settled into the leather and help the other products apply better.
Using the Tana All Protector is a great way to prepare your boots for all the weather that the winter season will throw at you.
Always use the All Protector 20 cm away from your shoes or boots. It is clearly marked, but Hovig says some people don't read the fine print and this can cause the protector to run, leaving a not so perfect final result.
Self Shine Cream comes in many colours to give new life to worn away colours, but neutral is a good colour if you are looking to clean up tan coloured shoes or boots (and if you have some summer sandals that could use a makeover, this is perfect for that – yay!).
Style 16 Protector is for more delicate leather, so if you have a really nice leather purse or jacket that is losing its luster, this product will help it become new again.
Protector should always be sprayed on top after the other care products have dried. It helps maintain the shoes and boots and leaves them looking all shiny and new.
Some other Tana products worth mentioning for mamas:
If you have children in sports, Tana Shoe Freshener is a product you need. It deodorizes the shoes with this unique design, spraying the product perfectly into the shoes. And let's face it, any runners you wear could probably use a refresher as well.
Tana Shoe Stretch is an ideal product for two reasons: first, if you are purchasing a pair of leather shoes that seem a little snug, but you don't need one size bigger, this will give you enough wriggle room to feel comfortable. And second, if you have a pair of shoes you love but seem to be too tight after your pregnancy (I know because it happened to pretty much all my shoes), this might save you from saying goodbye to them.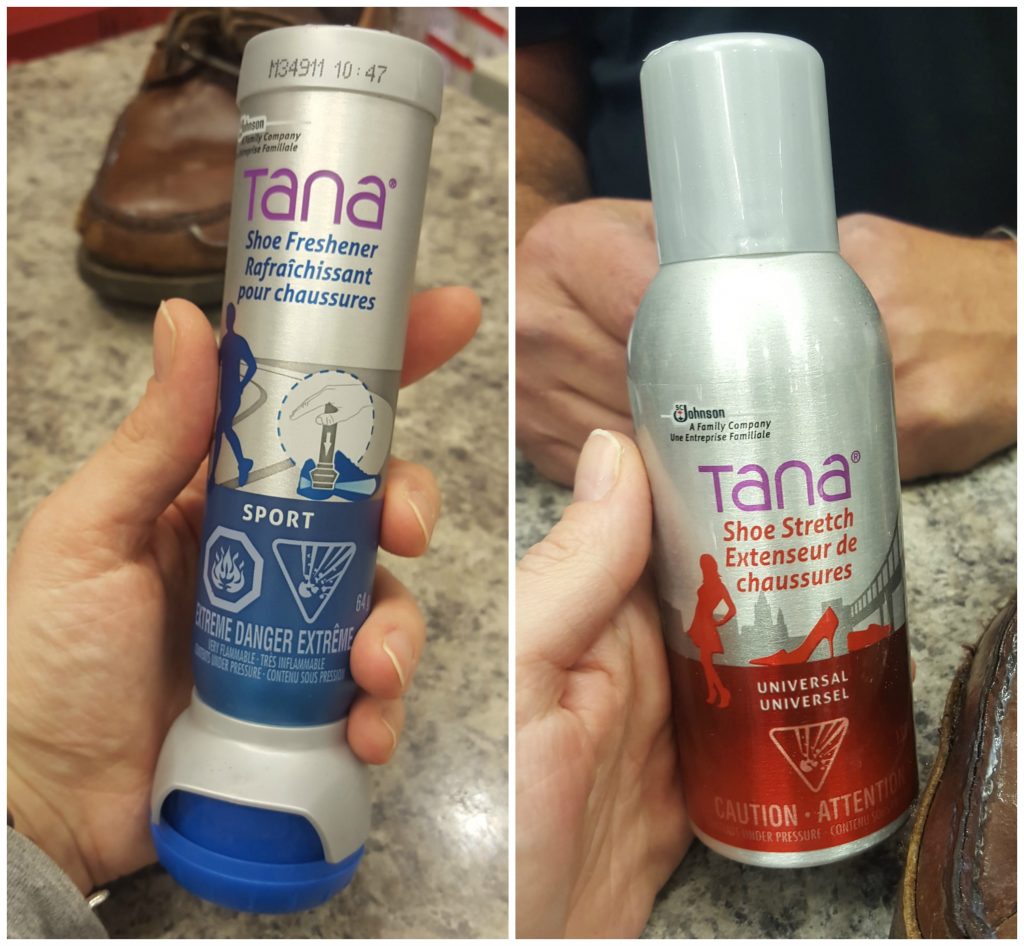 So without further ado, these are my awesome new Olang boots!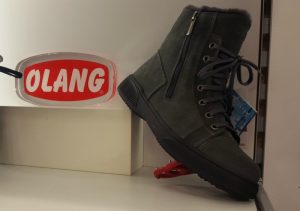 They are so warm, easy to put on (and leave the house quickly with my boys), and if I do say so myself, gorgeous!
But the best feature of all:
Many thanks to Hovig and the family team at Cordonnerie Carrefour Laval for their excellent knowledge and fantastic customer service. If you are in Montreal and in need of winter boots, they have the best and warmest! (And PS, I'll be back in the summer too because they have biggest selection of Birkenstocks I have seen in the city!).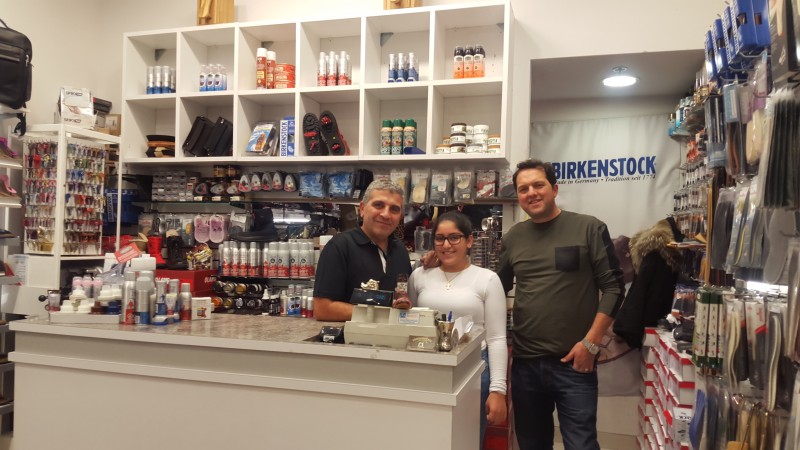 Here comes the good part for YOU, dear readers:
There is going to be an amazing Twitter Party, where you can win one of six $50 VISA gift cards or the grand prize of a $500 VISA gift card to do some shopping of your own! Be sure to RSVP here!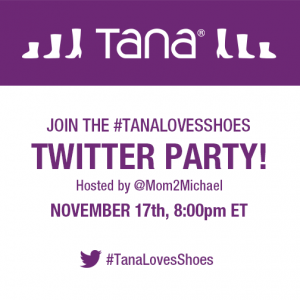 Other ways to win with Tana:
* For a chance to win weekly prizes of Tana shoe care products, share your pictures of what "shoe love" looks to you using the hashtag #TanaLovesShoes on social media. Extra entries to pictures that include a Tana shoe care product in the picture.
* Visit Tana's website here to enter to win one of five bi-weekly prizes of $500 and a grand prize of $2000!
Good luck to all, and tweet you at the Twitter party!!
Disclaimer: I was compensated to go shopping and write a review post of Tana products. All opinions, as always, are honest and my own.