In early spring I got to experience something very special as a blogger. I was invited to skate on the Bell Center ice with a Disney On Ice figure skater! I took one of my three sons with me and we got a lesson from Stephanie Steele, a longtime figure skater who has been skating with Disney On Ice for the last ten years! Stephanie grew up in Chatham, Ontario and has been figure skating since she was just five years old! When we met, she was touring with the show, Dare to Dream.
What a delight she was! Her energy and beautiful smile was infectious. She put my son's nerves at ease and helped me learn how to swirl (it's ok to laugh, I was chicken at first!). Have a look:
(My apologies for the lighting in this video, they were testing out the lighting during out chat.)
Here are few more tidbits on Stephanie and what it's like being a Disney On Ice performer and touring:
Q. What do you enjoy about performing?
A. I love to see the smiles on kids faces and the excitement they have each show.
Q. What advice would you give to kids who have a dream/desire to do something like skating?
A. Believe in yourself and never give up.
Q. How did you audition for Feld Entertainment's Disney On Ice?
A. I sent in a video and did a live audition with a Disney On Ice production near my hometown.
Q. What countries have you performed in while traveling with Feld Entertainment?
A. Japan, Colombia, Puerto Rico, Panama, Mexico, Guatemala, Dominican Republic, Canada and the US
Q. What have you learned by being on the road?
A. I've learned a lot about different cultures and to not take things for granted.
Q. What are your tips for frequent travelers?
A. Bring half as much as you think you need and twice as much money.
Q. What item(s) can't you live without on the road?
A. My computer so I can always keep in touch with my family back home.
Q. While on tour, what is your favorite thing to do during your free time?
A. Sightseeing and getting to know the city I'm in.
Q. What is your favorite memory on or off the ice?
A. The first time my family got to watch me perform in the show.
Do you ever feel you meet people for a reason? Stephanie and I shared a connection; we both lost our mothers to cancer. We shared a few words about our moms. Losing your biggest fan and best friend is so hard. But Stephanie is a positive and strong person who very clearly is honouring her mama by shining bright and sharing her incredible talent with others!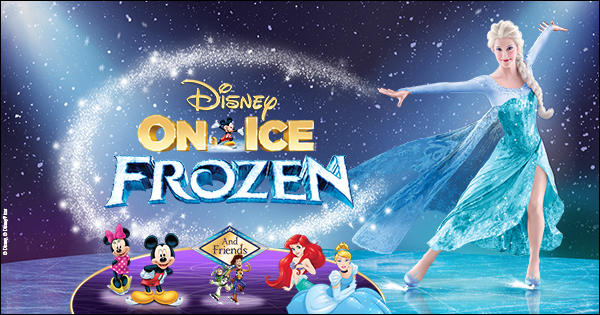 GIVEAWAY!
Disney On Ice is coming back to Montreal with a new show, Frozen and Friends! The show will take place at Place Bell in Laval from October 4-8, 2018. Thanks to Evenko I have four tickets to give away to the October 5th performance a 7pm in English. The giveaway is for 4 tickets to the 7pm English show on October 5th (make sure you are available for this exact date and time!). To enter the giveaway, answer the question in the comments below: who is your (or your child's) favourite Disney character of all time?
That's it! Make sure you include your e-mail address so that I can contact you if you are the winner.
For bonus entries:
Follow@AskMamaMOEon Twitter (leave your Twitter handle in a comment below)
Follow @Evenko on Twitter (leave your Twitter handle in a comment below)
Tweet this giveaway by retweeting this post with the message: "I just entered a giveaway w/ @AskMamaMOE to #win 4 tickets to see #DisneyOnIce #FrozenandFriends from @Evenko" (1 entry for every retweet, up to twice daily- please leave a link to the tweet in a comment below each time)
Subscribe to AskMamaMOE.com (leave your e-mail in a comment below)
Deadline to enter is June 11th, 11:59pm. The lucky winner will be notified by e-mail. Open to Canadian residents only. Remember to include your e-mail in all entries!
Good luck to all!
To find out more about the next Disney On Ice show, Frozen and Friends, and to purchase your tickets, visit Evenko's website here.