Planning a long road trip? I got'cha covered! One thing that has always worked well for my family is Road Trip Activity Bin. You'll be amazed at how a simple bin full of goodies can keep your kids entertained for hours!
As a family, we spend many hours on the road. Whether it is commuting from school or family visits, long trips to the country, or even longer trips anywhere from 3-9 hours (or more).
How Do I Keep My Kids Entertained During Long Road Trips?
Since the boys were little, I made it a point to have an activity bin in the car. Over the years, the bin has changed from wear and tear, and the contents of the box has changed too. One thing that has not changed is its magical powers to defeat the looming boredom of long travels. I'm so grateful to have the activity bin handy whenever we should want it.
Where Can I Put An Activity Bin In My Car For Long Road Trips?
Our bin lives near the front of the car, in between the driver and passenger seats. There is just enough room to wedge the bin there and not have it in the way of anyone's feet. Through experience, I have changed the bin to a dollar store plastic container, without a lid. This allows for any wet floors from rainy days and winter months to not damage the bin or its contents. Not having a top is just easier access, and one less thing to throw around in the car for no good reason.
What Can I Put In A Road Trip Activity Bin?
In general, the bin has always contained books, activity books, small craft activities and colours. Also included are wipes and a few non-perishable snacks. When the boys were younger, other must-haves were Play-Doh and placemats.
The contents of the bin have come in handy for more than you might think. A given is having it ready for the boys when they want something to do while we are driving. But surprisingly, we found it even more useful when we stopped.
Before we go into a restaurant, the boys choose a couple of things to bring in. When restaurants are not so family-friendly, we are prepared with crayons and paper. Long waits for meals are easy when the kids are occupied with fun things. While we wait, drawing sometimes includes where we are, what we just saw on our trip, and what the restaurant looks like.
Before going into church, they are allowed to bring a book to read in between prayers. For mass, it should be somewhat faith-inspired (such as a Berenstain Bear book). It gives them a sense of independence to have the freedom to pick something.
When my twins sit to watch their big brother play a soccer game the magical bin is perfect for passing the time.
We went to a party once that was going long into the night and the kids at the party were getting bored. Out came our activity bin from the car straight into the party and kids of all ages suddenly has something to do.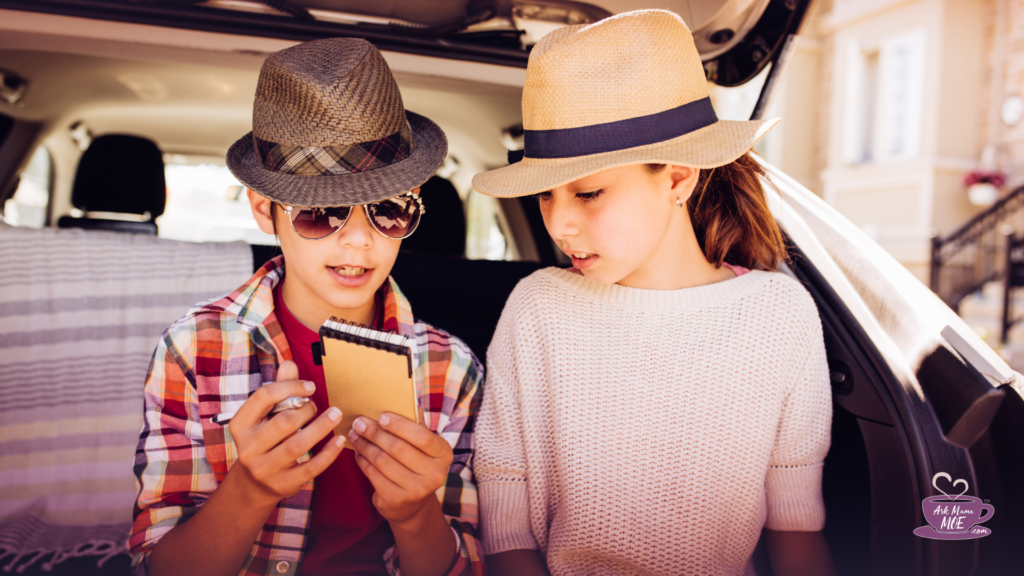 No Electronic Devices
If you notice, there is no electronic device in here. That's on purpose. As long as we can, we will continue to include fun activities and great books for our road tripping. It's not to say that we don't have movies on the ready when it's a really long road trip, but it's not the first place we look for entertainment.
Having an activity bin like this helps communicate with your kids too. Now, we have a deck of cards, a small board game, and books we can read together. As they change, the bin changes.
What We Currently Have In Our Road Trip Activity Bin
Road trip bingo by Janod (with extra dry erase markers and a dry cloth)
Travel foil art by Galt
Travel solving games by Smart Games
Wordsearch pad by Galt (each page also has a blank reverse side for drawing)
The Usborne Holiday Activity Book
A recipe box (from the dollar store) filled with crayons
Read-along stories
There are also approximately 10 more books in the bin, but I will save that list for another post about summer reading.
I hope this helps you in your road tripping this summer. It has been invaluable for us!
Loving this idea? Check out my other summer tips:
Bunch O Balloons Brings Summer Fun to a Whole New Level