Oh, Montreal. Why you gotta be so cold?!
Seriously, I am in full hibernation mode here. My boys are braver than me and can handle the cold better, for short bursts of time. But at -30°C no one should be outside for long. My poor husband was dreaming of skiing for the whole winter break with the kids, but that is not going to happen! Once we get back to a normal -9°C (what?!) or so, we will go out to ski as a family. Until then, I have some suggestions for you as a family to enjoy some fun indoors.
I love giving my kids Christmas presents that are conducive to keeping them busy for the holidays and beyond, especially with such cold weather. Our go-to favourites are Lego, board games and craft activities, but we have discovered some new favourites that had us in stitches! Be prepared to laugh with these suggestions.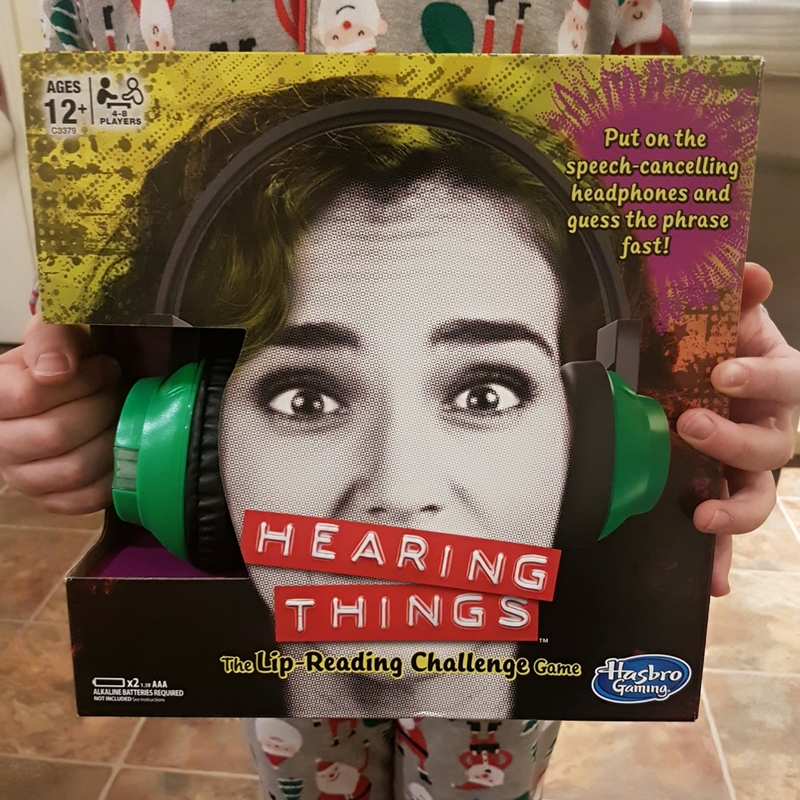 Hearing Things – I wasn't sure this would work at first, because there is only one size of earphones, but it's a perfect size for everyone. The game is basically the whisper challenge game, altered for a family so both children and parents can enjoy together. We were cracking up! At one point my husband had to read one of the twins' mouths and the words were "supposed to". He kept repeating "Apposed to?!" over and over! We motioned to him to try something else and he came up with "Nova Scotia" – we were on the floor! This is an awesome game to play with a group of friends too. We can't wait to play it on New Year's Eve!
Speak Out Kids Vs Parents – Oh my goodness, you guys. My brother and sister in law got this for us this year and we were crying we were laughing so hard! Have you ever seen your kids at the dentist? Probably, but I bet you haven't seen your partner in that mouth contraption! It's hilarious to see and then to try on yourself and then attempt to say things! The phrases are goofy and make you laugh even more. It's SO MUCH FUN. The game comes with 6 mouthpieces for kids and 4 for adults, so you can play with others.
Cranium Cadoo – Brand new to us, but out for a while now, the game is full of comical challenges. A combination of trivia questions, drawing, sculpting (hilarious!), acting out clues…it's so much fun. This is a board game, so you can have this game open for days over the break, but the game itself is not too long to complete with a winner.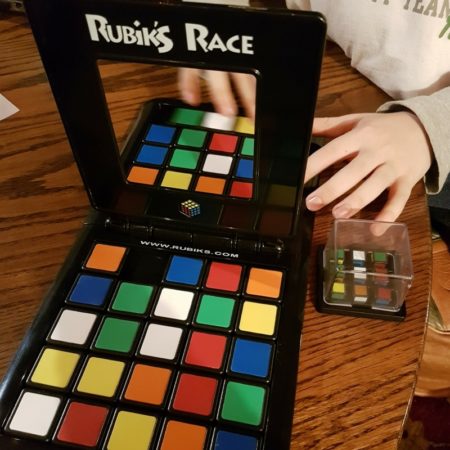 Rubik's Race – I wasn't sure this what to expect with this two-person challenge game, but there are many variations to playing and even the basic game is so much fun! Remember those slide puzzles you had as a kid? This is the same concept here and you must slide your squares to create a certain pattern. The first to maser the challenge wins. I also love that this game challenges the mind and you have think quickly and accurately.
Hedbanz – We have had this game for a while and it's still a winner. It's also a great game to play with friends, young and old. The only challenge it to follow the rules! My boys keep blurting out clues instead of just answering yes or no to the questions. It also brings on a lot of laughs!
Other things to do when it's too cold outside:
Visit a pool – This year, we took the boys with us to a spa with an indoor pool. An annual gift from my in-laws, this turned into a family activity this year and it was wonderful! I went for a facial while the boys went to the gym with Papa MOE. Then we switched and I took them swimming while my husband got a massage. Some hotels with pools offer the chance to visit the pool in the day, and there are also public pools in the city. It really changes your mind from the bitter cold!
Binge-watch a series of movies – We are trying to get through Star Wars over the holidays so I can take the boys to see The Last Jedi in theater!
Indoor skating at your local city arena – check free public skating times
Reading day at your local library – they usually have activities there, even more over the holidays
Create an indoor picnic – lay a tablecloth on the ground, kids love this
Fort-building – all day, every day! Get some sheets, blankets, pillows and chairs and you're good to go
Concert at home – Karaoke or pro, my kids are into performing songs with drums, piano and a microphone.
Puzzles – A family tradition for us every winter break! I gift each boy a new puzzle for Christmas.
Charades – so much fun with friends! Choose words that kids can manage and help them along depending on their age.
The Ellen Head's Up Game – this is a free app you can add to your phone or tablet. There are free collections of words and it's fun to play with friends. We let everyone blurt out things to the person guessing so everyone is playing together.
Minute to Win It games – we had a blast prepping for these at our last party. You just need a few household items to create these hilarious marathon games between groups. And it's really easy to modify the games for younger kids. Our favourites include the marshmallow and straw relay, the ping pong belt race and the cup stacking race. Look for all different ideas on YouTube.
I have more suggestions in another post here. I hope this gives you suggestions for the break and ringing in the new year.
Whatever you do, I hope you are having some great family fun while staying warm!!
A special thank you to Hasbro and Kroeger Games for supplying us with some new additions to our family game collection!