Since my first baby was born, I have been a hardcore fan of Weleda products because they are natural, not filled with perfume scents and work extremely well. (All Weleda products are paraben-free, preservative-free, SLS free, synthetic fragrance-free, phthalate-free and GMO-free.)
I always bought Weleda for my babies and gifted Weleda products to new mamas. But imagine my utter shock to find out their full lines of beauty care for women.  The company has been taken care of all skin types for 96 years, with plant and flower-sourced ingredients, so it shouldn't have been so surprising to me but it was. Perhaps it just wasn't on my radar to take better care of my skin (does that sound familiar, mamas?) since I was always focusing on my boys.
Well, as I continue to celebrate 40th birthday, I decided in many ways to take better care of myself. Weleda is helping me in the skin department. I met with the Weleda Canada team in the fall and since then, I have been testing out the products they gifted me to see what I liked and what I felt where making a difference in my skin. There are so many different products, there truly is something for every skin type.
The Weleda Story
Because I love learning how companies began, I had to let you know about Weleda. It seems that in this last century, we as a society are trying to find our balance and get all zen with the universe, right? Well, Weleda has been doing that since its beginnings in Switzerland in 1921 as a pharmaceutical laboratory with its own plant garden! That's right! Weleda began with a philosopher and scientist, Dr. Rudolf Steiner, "whom realized that the human body was a part of nature and believed that reconnecting with the natural world is the best way to bring ourselves back into balance." Pretty progressive thinking for a cosmetic company 96 years ago, don't you think? Steiner collaborated with one of the very first female physicians in Europe, Dr. Ita Wegman, to create "the first synergistic products orchestrated to reconnect the body with its natural rhythms. For the most active ingredients, they planted the first biodynamic gardens…following the rhythms of nature and the earth." Basically, the value of Weleda is that if we are balanced, it will show in our skin and our vitality. So, to find that harmony, we must go to nature to help us balance. Soil, flowers, plants and fair-trade partnerships are what is at the core of Weleda. Wouldn't it be fantastic if every cosmetic company had the same values?  A story like that makes me appreciate a company so much more as a consumer.
Now to the products. I have been testing out various products since the fall, and I have been pretty regulated on my testing so I could see what was helping my skin. Of course, not all skin types are the same, so I can tell you my skin has both oily and dry spots. I have very sensitive skin so the slightest perfume or strange ingredients will bother me a lot. Here's what I discovered for my skin.
Face Time
I never bought into the need to use the three-step program for the skin (cleanser, toner and cream), and forget night cream versus day cream…until now.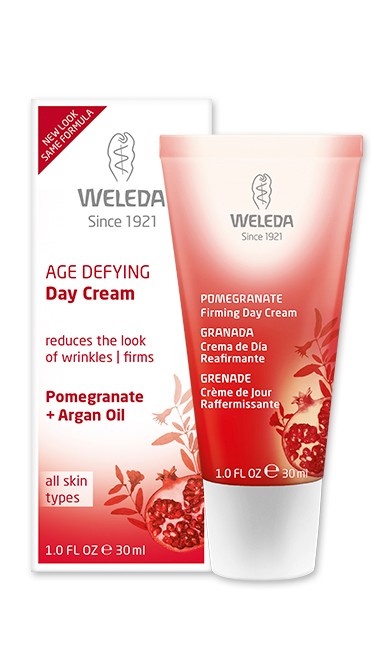 Based on my skin type, and what I was looking to improve (for me it was my deep wrinkles) Weleda introduced me to their pomegranate-based Age Defying line.
This is by far my favourite for my face. I have been using the day and night creams and I love them. I tried the Gentle Cleansing Milk but I felt it was too oily for my two-type skin. If you have very dry skin, it might be perfect for you, just not for me.
The good thing about Weleda is they truly have something for every skin type. I have been fortunate to test them out and see what works best for my skin type.
The pomegranate line absorbs well into my dry skin, without causing breakouts in the oily spots. I must admit, my skin had to get used to the new line, but I think I had the breakout at the start because of the milk cleanser. Without that in my routine, I have fewer breakouts and much tighter skin.
Eye Spy
My all-time favourite product I have tried in this line is the Evening Primrose Age Revitalizing Eye and Lip Cream
 . I use it every day now. I have to get better at drinking more water, and the first place I see the sign of dehydration is in my lips. They always look dry and get chapped easily in cold weather. It's another reason I've never been a super fan of lipstick because it never looks good on dry lips. Well, now I can wear all the lipstick because this cream is saving my lips. Now to drink more water…
Hand It Over
Hand cream is such a joke sometimes, isn't it? I mean, sometimes I feel like I flushed away my money to buy a scented, glorified version of lotion that wipes away the moment I wash my hands. The Weleda cream called Skin Food
is perfect for this time of year (considered their best beauty secret since 1926!).
I like the scent and it stays on (it's pretty thick) to help my dry skin heal.  It is worth noting that you need to rub it in your skin thoroughly so you don't get the cream on your clothes. I like to put it on and give myself a "met time" moment and not use my hands for a few minutes – glorious! Weleda gave me a pro tip for Skin Food. It can be used as a face mask. Apply it thickly before a long flight or before bed. Then rinse with a warm facecloth. Now is the perfect time to try this out with the cold weather. I put it on my face before heading outside for a walk in this crazy cold Montreal weather. I feel it's protecting my skin outside.
Another excellent hand cream is the Pomegranate Regenerating Hand Cream,
. I keep that with me wherever I go now. It absorbs quicker and my hands feel softer now. Pomegranate see oil has antioxidant properties so it improves the regeneration of skin. I'm kind of obsessed with the whole pomegranate line as you might tell!
The Weleda products range from $10 to $60 and can be found online at Amazon.ca (click on the links in this post) or directly on the Weleda website.
I'm going to continue using the Weleda products and let you in on more of my favourites. It's worth it to take better care of your skin this winter, you will feel a difference. I certainly have.
Disclosure: I was gifted Weleda products at a Montreal media event to facilitate this post. All opinions are honest and my own.