This year has been a challenge, to say the least. As mamas, we have been doing it all. Cleaning, organizing, cooking, baking…all the while making sure our family is safe and comforted.
Comfort needs to be given to you too, you deserve it. In whatever situation you are in, whether it is working outside the home, or working from home on zoom calls, or being a stay-at-home mama with your children, this year, you deserve a little special something.
If you are new here, let me fill you in on a Montreal-based brand I just love. Raffinalla is a family-run, luxury fashion company that is designed by women for women. They specialize in fashion and comfort for all body types. They are most famous for their Perfect Fit Pants and Comfort Fit Leggings. You can read all about my obsession with them in this post.
They have a full line of sweaters, tops, jeans, blazers, skirts and outerwear as well. So, given the fact that we are all in need of some comfort, but we deserve to feel stylish too, Raffinalla and I have collaborated to offer a giveaway for a cozy, comfortable and fashionable sweater to one lucky reader!
Right now, Raffinalla has a promotion going on, where all sweaters are 30% off until December 15th. It would be a fabulous time to send someone special a cozy, sweater for Christmas. AND for my lucky readers, Raffinalla is offering you 20% off all regularly priced items too! Just use the code MAMAMOE20 to get your discount until December 31st.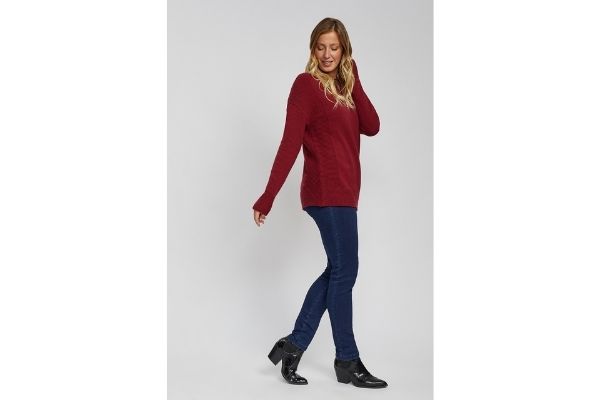 GIVEAWAY
One lucky reader will win this gorgeous, super soft boat neck sweater perfect for work zoom calls, holiday zoom parties or just relaxing at home, because it is that versatile and comfortable.  This Raffinalla sweater pairs perfectly with leggings or pants and it will give you a chance to upgrade your fashion, without losing out on comfort.
To enter this giveaway:
Comment below on your hardest working item of clothing right now. Is it a sweatshirt you have had since high school? Is it a pair of leggings in need of some patchwork? Maybe you have a sweater that is no longer fashionable but still cozy (but you could never wear it in public). We all have a less fashionable item we have on rotate right now, right?
Follow Raffinalla on IG and
Tag two friends on my giveaway IG post that would love a cozy, comfortable Raffinalla sweater too.
For extra entries:
Follow me, @Ask_MamaMOE on Instagram
Add my last IG post to your IG stories and tag @Raffinalla and @Ask_MamaMOE (so we can find it)
Subscribe to my blog (be sure to comment with your email below)
Subscribe to Raffinalla's newsletter (and be in the know for future promos) and comment below with your email
A random lucky winner will be chosen on December 15th (deadline to enter is Dec 14th, 11:59pm). You must be a Canadian resident to enter. Good luck to everyone!
* * Congratulations to random winner, Bita Guzman! Enjoy our cozy Raffinalla sweater!