Preface: I wrote this post during the big snowfall in Montreal, and then I got terribly sick with pneumonia, which is why my blog has been quiet lately. Since then, Montreal has turned into a slushy mess with days of rain. I couldn't think of a better time to write about BOGS because they truly do solve all of winter's problems for us.
* * * *
Right now, Montreal has been hit with over 30 cm of white fluffy snow and it is glorious!
Yes, you read right.
I know I have complained a few times about winter on my blog. I am a real beach mama. I absolutely love sand and sea…but I live in Canada. So I have to make the most of winter, right?
Most of the time, we end up getting a mix of mild weather, rain and snow, and then crazy cold weather (can you say -30 degrees?!) which turns everything into a dark, frozen mess. For kids, it's just no fun. In fact, there have been a handful of times that weather has been so bad, they don't even get to go out for recess and lunch.
So, that is why I'm happy about this weather! Right now, my oldest is off with his school in a cross country ski trip and he was SO excited about it this morning. Papa MOE is helping as a volunteer so that made it even more special to our son.
Our Winter Boot Go-to for Children
Ever since the boys were little, Grandma MOE bought the boys BOGS boots. They looked like galoshes so I was a little skeptical when she told me they would keep them warm for up -30 degree weather. But it's true! My boys have never complained about cold feet in the winter. And considering the weather conditions I just explained, that's a big deal.
BOGS have been at our front entrance since they were little and we always get them a new pair once they grow into the next size. Because of their excellent quality, we usually are able to extend the life of BOGS for two children and hand down one pair to the twins from my oldest. What we do, and what I recommend, is to purchase a new insole for the next little one so their feet feel fresh.
Did you know?
BOGS actually carry a large variety of boots for children for different weather conditions. There is no question, we always gravitate to the boots that keep them warm in the coldest weather. For us, given our location and weather conditions, it makes sense to purchase the boots that can withstand the coldest temperatures. But if that is not the case for you, BOGS carries winter or rain boots, as well as sandals and outdoor shoes (yes, you read right!). In case you didn't know, BOGS are 100% waterproof. For me, that's huge.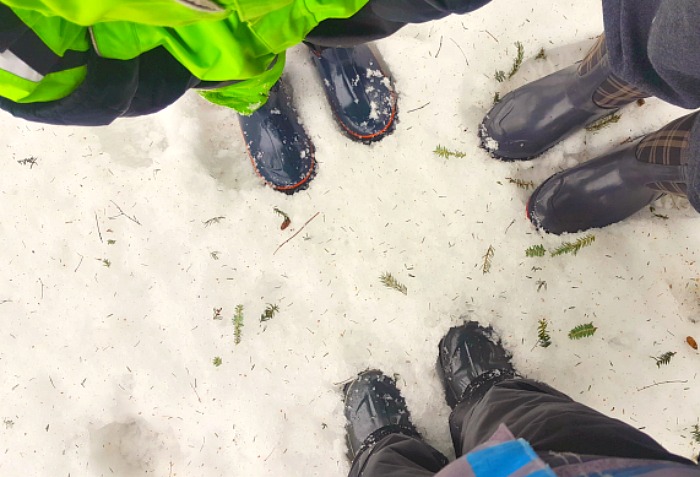 Our boys start wearing their BOGS the moment spring is in the air and mud is on the ground. BOGS boots are ideal for many situations my boys get into: walking through the forest for family walks, following creeks in the country (and sometimes stepping right in them!), sledding, playing in high snow, and of course, splashing in puddles. Something to take into consideration is that there is little air that circulates due to its design. Therefore, I was advised by a salesperson once to look for non-cotton socks for the kids, if they are prone to perspiring. Apparently, bamboo socks are a good solution, and I've recently learned of a new line of breathable socks which would work too.
If you are looking for good quality boots for your children, I highly recommend BOGS. I'm a firm believer in investing in good products that will last long. BOGS lets my boys enjoy winter in all weather conditions and as a mama, it gives me one less thing to worry about because I know their feet are toasty warm.
For more information on the different styles for children, visit their website: bogsfootwear.ca

You can also find them on social:
Twitter: @bogsfootwear 
Instagram: bogsfootwear
Facebook: bogsfootwear 
Disclosure: I was compensated in products for this review. However, I have been a big fan of BOGS for years and was more than happy to let my readers know about the brand. All opinions, as always, are my own and can never be bought.