I saw the Star Wars Trilogy when I was very young. The first movie, Star Wars IV – A New Hope, was released a week or so after I was born, in 1977. When I saw the first released movie (it's so confusing, but for the sake of argument, I'm going to write in movie releases, not in order of the storyline), I was hooked. The concept of a different, amazing world, where androids are compassionate, and a part of society thrilled me. Not to mention "the force"; are you kidding? As a young child that was bullied at school, I saw the force and the whole storyline to be something incredible that I wished I could have.
Now, forty years later, I am introducing my boys to Star Wars. Funnily, our first encounter with Star Wars up close was at Hollywood Studios, Walt Disney World. When we attended the first Disney Social Media Moms Celebration, the boys were, literally, engulfed in Star Wars. For them, it was cool, but misunderstood. For me, it was like having my dreams comes true – walking into Chalmun's Cantina with Jawas walking about was surreal! We also got to meet Chewbacca and give him a hug…I mean! It was so much fun!
Cut to this winter break. I had just seen a pre-screening of Star Wars: Episode VIII: The Last Jedi
, and loved it. It brought back so much of the nostalgia from the first trilogy that I knew I wanted the boys to see it. So we started with A New Hope. One of my boys wanted to see more right away, while the other two were lukewarm. I was surprised but realized that to them this might not be as cool as other amazing movies we recently watched (I know, bite my tongue).
But then it dawned on me, so many of the MEMEs and references made to Star Wars in my age group are from Star Wars V – The Empire Strikes Back. So, we started to watch it and then…as the movie was showing the credits, they immediately wanted to watch more. I had a billion questions thrown at me and I knew, they were fans.
The Star Wars Phenomenon
Star Wars has become something ingrained in our society. The beloved characters seem to show up everywhere, for every holiday and occasion. Because the fan base is so strong with people our age, the love for Star Wars has been passed on to our children. And now with new movies coming out frequently, there is more to share and discover as a family.
It took me a long time before I showed the boys their first Star Wars movie. And of course, they had seen the characters long before that. So, is Star Wars for everyone? And when is it appropriate for children to see the movies? Now that Disney owns Star Wars, as a parent, it is easy to assume all will be fine for little ones. Here are some suggestions on introducing your children to Star Wars.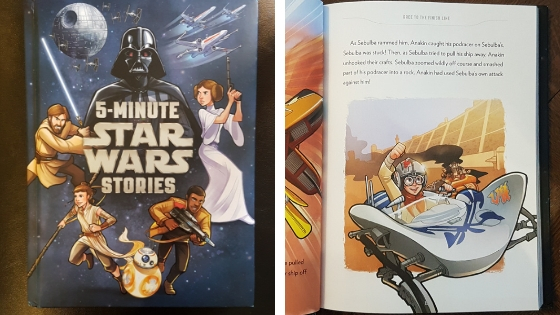 For very little children (elementary age, up to grade 3 or 4) there are fantastic children's books dedicated to the Star Wars anthology. Our favourite for young ones is the 5-Minute Star Wars Stories book. It also goes in order of the storyline, making it easier for children to understand who everyone is.
Knowing that there is violence with light sabers, guns and exploding air transporters, even the first movies are rated PG. That said, you know your children better than anyone. I knew that if my little one had seen Luke's arm sliced off, they would have been traumatized. So we waited as a family to watch when I knew they were ready.
I personally would start with the first produced movies. The trilogy can stand on its own and is less scary that newer fight scenes and action scenes. Watching it with your children is half the fun because, as I mentioned, they will have a slew of questions for you! It's also really fun to see their reaction to plot twists – you know the ones!
The holy grail, of course, is then taking them to Hollywood Studios in Walt Disney World. In fall of 2019, Star Wars: Galaxy's Edge, will open in Walt Disney World and I, for one want to see it the moment it opens. This construction was discussed in detail when I attended the Disney Social Media Celebration this year and I was literally jumping in my seat! The land they are working on is out of this world (see what I did there?) and there will be a hotel where every window looks out into space – I am geeking out about this!
Now, I must admit, and without any boos or hisses, please, I have not yet seen all the Star Wars movies. I know! I don't know how it happened! I've tried to catch up but with little success. So imagine my concern when I was invited to the pre-screening of The Last Jedi?! I went in half blind! But thankfully, it didn't matter, and I, of course, loved it.
And then when SOLO: A Star Wars Story
came out, and the boys saw the trailer, they wanted to see it right away! Unfortunately, we didn't get a chance to see this movie in theatres, so we are thrilled that it is coming out on digital and on Blu-ray this month!
We have planned a movie night in the near future and we can't wait to see Hans Solo before he became the scoundrel we all love. Watching Star Wars movies with the boys makes me feel like a kid again, and I love that we equally enjoy it!
Disclosure: I was invited with my family to the exclusive Disney Social Media Moms Celebration. As such, I am provided with various discounts and products. I was not requested to write this post, but am more than happy to share my new-found Disney knowledge with my readers. All opinions are honest and my own.