Children love balloons. It's a well known fact that even though they can cry if their balloon pops in their faces they will still be back for more. The colours, the way they float and the pure celebration of them keeps kids attracted no matter what their age.
Now, magnify that happy feeling that kids get by 100% and you will feel what it's like to attend the International Hot Air Balloon Festival in St-Jean-sur-Richelieu. An amazing experience for kids young and old, the Montgolfieres St-Jean-sur-Richelieu is the largest hot air balloon gathering in all of Canada.
The festival is packed with family activities, more bouncers than I have ever seen in one location, and fantastic performers every afternoon and evening (including Taio Cruz, Eric Lapointe and Owl City this year). Because the event has something for all age groups, the festival now draws some 500,000 during its nine day run.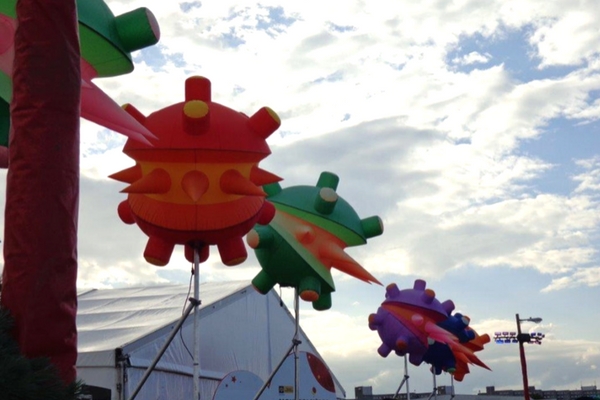 The festival began in 1984 from an idea to promote summer tourism in the region. Because of the region's geographic situation and climate conditions, it led way to a perfect place for a hot air balloon festival. In its first year the festival ran four days and pulled in 60,000 visitors. In 1991, the festival presented an international competition, making it the first in Canada, with over 30 countries competing.
To witness the hot air balloons take off is an amazing and beautiful thing. That happens at dusk and dawn, specifically, at 6 am and 6 pm each day of the festival. Since Canadian summers can be a bit unpredictable, and the hot air balloons need perfect weather conditions to take off, some days can be cancelled for safety reasons. With that in mind, try to scope out the week of the festival and aim for a day with the best weather scheduled.
In all honesty, my husband raved about this festival for years, since my father-in-law was the president for two year in the eighties. Every year for three years straight, we would pack up the kids and plan a day of it. And each year, the day we went was not perfect weather so the balloons did not take off. Finally, last year, after already trying one day with no luck, we came back a second day and experienced this: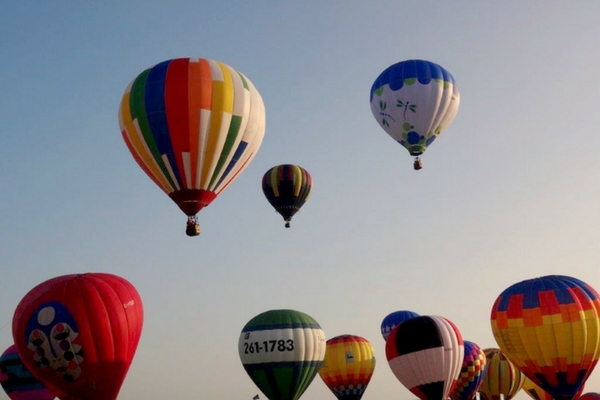 It was incredible to see some 125 hot air balloons take off almost simultaneously, filling up the sky with colours. My children were so excited, and so were we! If you can make it out to the festival, it's a Montreal must. You won't be disappointed.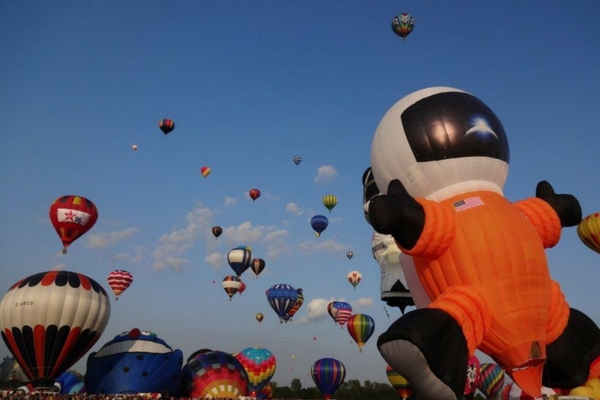 Tips & Tricks:
Bring the stroller – the festival covers 1.5 million square feet with places to sit and eat, bouncers, activities and shows. If you want your child to enjoy themselves and not burn out from the walking, bringing a stroller is must.
Name and number tag – Must so many bouncers in close proximity, it can be hard to keep a good eye on your child, or children if your have more than one. Just like any other big day out with lots of people, place a tag bracelet on your child with your cell phone number should you get separated. The festival also has a drop-off area just for this situation so show your child the location when you arrive.
Pack a lunch/dinner picnic – because the hot air balloons fly off at 6 pm, we packed a dinner and brough a picnic blanket. There are picnic tables as well as many food stations but for convenience and location, we opted to be close to the take-off area and save on packing our meals.
Bring water – your child will love the multitude of bouncers and won't want to stop, so bring some replenishment and pack a couple of water bottles.
Wear socks – since there are so many bouncers and your child will be taking their shoes off on and on to get in them, do yourself a favour and put socks on them. It will protect their little feet from anything on the ground and save them from getting so dirty.
In case of rain – if the weather turns cold or it starts to rain, run, don't walk, to the indoor face painting station. Last year when we went, we took our time and waited over an hour (I know, I know, but you try to explain to a child why we shouldn't wait in the tent for face painting when it's raining outside). Incidentally, I'm a little over waiting for face painting, as amazing as it is. I may just paint my children's faces before we get there!
Plan for down time – There are a number of activities and fun things to see and do at the festival. But just like any big day out with children, they can reach their maximum fast if they are over-stimulated and tired. Take some time in between bouncers and activities to relax, snack and just enjoy the view.
Look for the freebies – many brands such as Milk, Laurentian Bank and Jean Coutu are represented at the festival. Keep an eye out for coupons, samples and even little surprises offered to attendees.
Sincere condolences go out to the family of hot air balloon pilot, Maxime Trepanier who lost his life in a tragic accident this year while helping another team land their balloon.