Just the other day, we had my sister-in-law visiting with her husband and their little, adorable baby boy. My sweet nephew is not a fan of the car. Specifically, he hates when he is strapped into the car seat. This child will wail to get out of his constraints until they arrive at any destination. I am SO lucky we didn't have that issue with my three boys when they were all in infant car seats. I mean, what would I have done?!
My sister-in-law has tried everything; kid-friendly music, a mirror to see him and talk to him in the back, sitting beside him while her husband drives, and we can't forget the bag of entertaining toys. While they were staying with us, we went out to dinner one night and I decided to go into the car with them and sit beside their peanut to help him through the trauma of sitting still for the ride.
We chatted, sang, played, and as I did all these things, I remembered just how much work it takes to entertain a little one. One thing is for sure, there is no way around the safety of keeping him snug in his car seat. No matter how your child might plead, cry or wriggle, their car seat straps must be tight (only two fingers flat between your child and their collar bones) and secure.
The team at Evenflo offers these tips for understanding what car seat is right for your child:
Make sure your child's age, weight and height are within the requirements for any car seat you are considering for purchase.
Check the Transport Canada guidance to help determine what type of car seat is appropriate for child's size and development level.
For help with car seat installation and use, contact your car seat manufacturer or find a certified child passenger safety technician near you.
Did you know?
Your car seat is considered to be damaged as soon as you have an accident, even if it was simply a fender bender. And this damage could cause a reduced protection and performance in future crashes. I can tell you this was new information to me. Carstar, a company known for its high-quality auto body repairs across Canada and the US, reached out to me and I'm so glad they did, because I truly wanted to share this information with you.
Says Dean Fisher, Chief Operating Officer of CARSTAR, "Any time you're replacing sheet metal, bumpers, air bags and other safety systems, you've been in an accident hard enough to damage the car seat.  It's a cost that many insurance policies cover, so it's always smart to replace the car seat and ensure your child is safe and protected on the road."
And if you are thinking that there is no visible damage to the car seat so it's fine, think again.
"Crash damage to a car seat or booster seat may not always be visible," said Evenflo Safety Advocate Sarah Haverstick. "Damage can occur even if the child restraint is unoccupied during the crash. If a consumer has a question about whether their car seat should be replaced, it is important to contact their car seat manufacturer directly for guidance."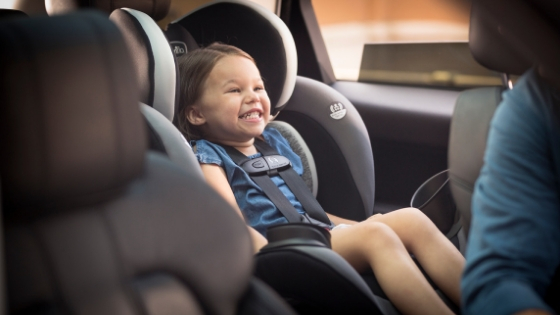 In fact, according to Transport Canada, we should dispose of a child seat or booster seat if it was in our car during an accident. I am so grateful to know these tips., and so happy to pass them on to you. We always want the best for our little ones, especially while driving. Taking these extra precautions with car seat safety is another way we can be sure we are doing the best for our children.
TV Host, tri-athlete and mama of twins (yay!), Shannon Spake has teamed up with CARSTAR and Evenflo to help spread the word about child passenger safety. "As a mother of twin boys, you always want to make sure your children are protected in the car," says Shannon, who covers football, basketball and motorsports.  "When your car is involved in a crash, it's just as important that you take care of your car seat or booster seat as it is to address the car damage." The biggest wake-up for me in this new information was understanding that even though there is no visible damage to a car seat, it is important to have it removed and assessed. Much like the sports events that Shannon covers, some injuries may be invisible to the naked eye. Taking care after is what is so important.
When I asked Shannon if she had any tried and true tips for driving with her twins when they were little, she said, "Music! I always had the boys' favorite songs on standby while driving in the car so that we could sing them together to keep them occupied. Regardless of the stage of their life that the boys were in, they loved to sing songs! If they got fussy in the car I would just turn up the music and start singing!" I agree, our road trips would be much harder without great music we love.
For more tips on driving and collision repair, visit www.carstar.com. And to learn about the innovative, creative and reliable Evenflo products, such as exersaucers, strollers and car seats, please visit www.evenflo.com.
Disclaimer: I was compensated for this post. I was delighted to share this very useful and important information with you. Photos provided by CARSTAR.