Dare I write the words down:
Next week, summer is officially over.
As hair-raising as I found the boys sometimes this summer, having them home with us is always so amazing. We learn a lot about them. In the midst of chaos, we get mini one-on-one conversations and discover their creative sides, thoughts and dreams. I miss that while school is in.
This summer, we experienced Venice, Italy, as a family. Seeing this city of wonder through the eyes of our boys gave it a whole new dimension.
We were able to travel a lot this summer, but Venice was definitely a highlight. So when Canvas Factory approached me to review their canvas prints, I knew exactly what picture I wanted to enlarge. We took a group picture on top of San Marco's Basilica with all of Venice behind us. I stood there a couple of times before; once with my father, once with my husband as I waved down below to my parents. I never thought we would be there again with our three boys.
Since I do not post pictures of my boys online, I cannot show you the final result of our print. However, to put it into perspective how much we love it, the moment we received the package in the mail, my husband was getting his hammer and nail to hang it in a central place of the home.
To be honest, I wasn't sure what to expect. I have seen canvas prints before and thought they were OK. I never gave it more thought than that. And since I live in a world where most pictures are stored in a phone or computer and shared online, lately I have been too lazy to get pictures printed in any fashion.
My CanvasFactory.com Experience:
Ease of order – there is no doubt about it, I do not like difficult e-commerce sites. They can be downright painful. This was not the case with CanvasFactory.com . The site is extremely user-friendly, and the options are quick and painless. My order was processed easily and I was able to see a preview. Shipping was fast (ours came within the week we ordered) and the price for shipping was reasonable as well.
The quality is top notch.  I purposefully chose a side wrap of the canvas that was coloured, not only because I thought it would look good, but because I wanted to see how it would turn out. The colour was a perfect match and it was wrapped seamlessly.
Detail – Whenever I have seen those canvas prints at big box stores, I always noticed they were grainy. So in my mind, I assumed that getting a blow up of a family picture from my phone would look the same. I was very wrong. The details of our faces are clear and there is no sign of a pixelated image. It stands to mention that I have an excellent phone that takes clear pictures, but even still, blowing up a picture off your phone can be beautiful.
I took a good look at the prices of the canvases and was pleasantly surprised. If you were looking to add decor to your home, it is easy to find it within your budget to add a few show stoppers without breaking the bank.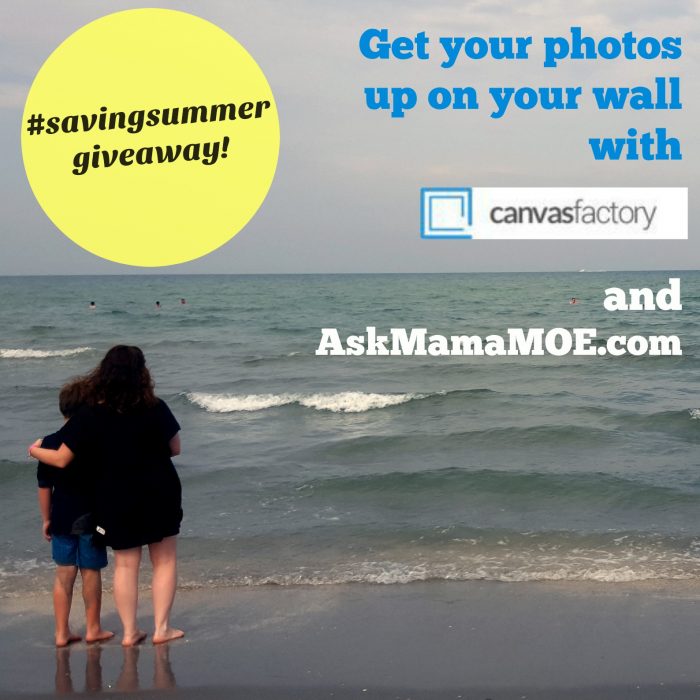 A #savingsummer Giveaway!
I've been #savingsummer with pictures online. (click here for my why in doing so). I have seen outstanding pictures of holidays and family moments from friends online. They are just beautiful! And sometimes, I write them to say "this picture needs to be on your wall!"
Of the hundreds of pictures you took this summer, I can bet you have a few that are your favourites. Here's your chance to get them out of your phone and onto your wall.
One lucky reader will win a 40×50 cm canvas print (like the one I received) valued at $50!
To enter, follow the steps in the Rafflecopter form below.
This giveaway is open to Canadian and US residents. Deadline to enter is September 29th, 11:49pm, 2016.
And be sure to share your #savingsummer pictures for 5 extra entries (you can enter every day!).
a Rafflecopter giveaway

Disclosure: I was compensated by Canvas Factory to write this post. My review, however and as always, is honest and my own.