Time to raise some bookworms! These are my favourite books for young children.
In an effort to close summer and start the next school year on the right track, here are some sweet books you can find at your local bookshop or library.
Benefits of Reading to Children
Kicking off the school year can be a lot of work – and extremely exhausting for the entire family. To keep kids interested in the new school year, why not start reading together as a family?
Some benefits of reading to children include:
Great cognitive development
Preparation for academic success
Vocabulary expansion
Stress reducer
Parent and child bonding
Expands imagination and creativity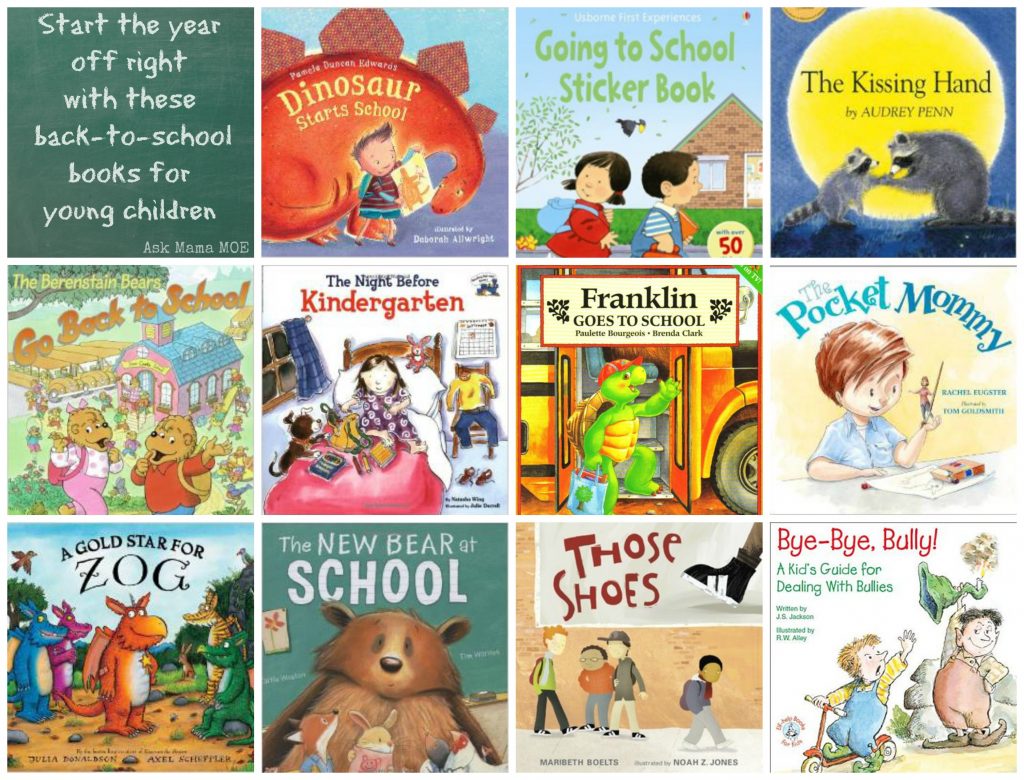 Back-to-School Books for Young Children
Let me know what you think of this list and if you have some favourites of your own in the comments below.
The Kissing Hand – This was recommended to me by fellow blogger, Patricia Oliver a.k.a. @PositivelyPatty, and it's a great one. It's a special book to help children feel more comfortable leaving their parents for school. My oldest now gives me a kiss on my hand when I leave the house too.
The Berenstain Bears Go Back To School – We love the bear cubs of Bear Town Country. Brother and Sister Bear are winners in our home and the story is thoughtful.
The Night Before Kindergarten – A simple poem in the same style of "T'was the Night Before Christmas", this book is good for children going into Kindergarten.
Dinosaur Starts School – 'What would you do if your Dinosaur did not want to go to school?' is the ongoing question in this cute book. What's great is that the child in the story comforts the Dinosaur through its nervous feelings
Franklin Goes To School – Franklin is now a classic with most children thanks to Scholastic Books. This story is a perfect explanation about how school will be like, and what to do if a child feels nervous or has a tummy ache.
The Pocket Mommy – The little boy in the story doesn't want to leave his mother to go off to school, and finds a mini version of his mother in his pocket. It ends up being an experience he isn't thrilled about, which in turn, helps him understand why going to school without mom is better for everyone.
A Gold Star for Zog – This is another great story by Julia Anderson. It helps children feel they accomplish things if they keep trying. It also helps children understand the value of friendship.
Going To School Sticker Book – Part of the Usborne First Experience series, this book has sweet illustrations and helps little ones see what each part of kindergarten or preschool will be like. The sticker book version is a great activity to do as a prep before school starts, where children have to replace missing words/pictures with stickers.
The New Bear At School – what starts as a story about segregation soon turns into a lesson on not judging people by how they look. Bear's friends realize that his big appearance doesn't match his kind heart.
Those Shoes – on a higher level of understanding, this book teaches children how to not criticize of make fun of other children.
Bye-Bye Bully! – If you want to deal with a specific subject with your children, but are having trouble finding the words, the Elf-Help series has it figured out for you. Centered on a spiritual explanation of reasoning, the series is Christian based. However even if you are not of that faith, you can easily replace certain sentences and still get the overall morals of the stories. This bully story was so well written, I leant it to my child's kindergarten teacher and she read it to the class. There is also a full book of school issues (called Keeping School Cool).
Are you and your kiddos excited that it's back-to-school season? Be sure to check out my other school-related articles:
Starting School in an Eco-Friendly Way
5 Ways to Simplify School Lunches
Tips for Getting Ready for Back-to-School