Looking for ways to stay eco-friendly for back-to-school season? Why not reuse school supplies?
This is not another blog post trying to convince you to buy more reusable bags, water bottles or containers. Don't get me wrong, we use all those things already, so our family is already being less wasteful. However, the longer my boys are in school, the more I realize, I'm in no need to get the latest pretty container or aluminum bento box for school lunches. It might sound counter intuitive, since I am, in fact, a blogger that reviews products for the family. But I can tell you that I have always been lean on what products come into the home. Now more than ever, I think it's unfair to always announce new products to buy before school. I mean, we are, after all, trying to teach our children to be friendlier to the earth, and be more conscious of what they do to the environment. In school, they have learned how to compost, how to garden and, most recently, how to host a school BBQ with little to no waste.
So why then should I be telling YOU to buy more things if I'm not going to? What I'm focusing on here, friends, is school supplies more than anything.
School Supplies are a Necessity
We can't get around it; in school, each child needs supplies, and depending on your school system, you may even be asked to help supply the classroom with items too. I am all for helping our teachers where we can because they deserve it. But after a few years of getting the school supply list, I quickly realized we were accumulating items year after year at home since they were never used up.
This school year, I made a conscious effort to reuse as many items we had in the home already. What that meant was gathering all the duo-tangs, binders, papers, pencil crayons, pencils, erasers and markers into a big pile and going over the items one by one. So, for example, if their supply list had 12 pencil crayons, we searched for 12 pencil crayons in different colours and I sharpened them all for them.
Is it easy reuse school supplies?
I can tell you honestly, there were some feelings that my boys had on various occasions about reusing their school supplies. One of my sons hated the idea. He wanted new things. He wanted brand new pencil crayons in a brand-new box from the store. Why? At first, I thought he was just being spoiled. And of course, I gave him a speech that any of you would do as a responsible parent – about knowing how lucky he was, how he should be grateful for what he has, etc, etc. Them after listening more, I realized it wasn't so much about being spoiled as it was about being nervous to not have the correct list of supplies.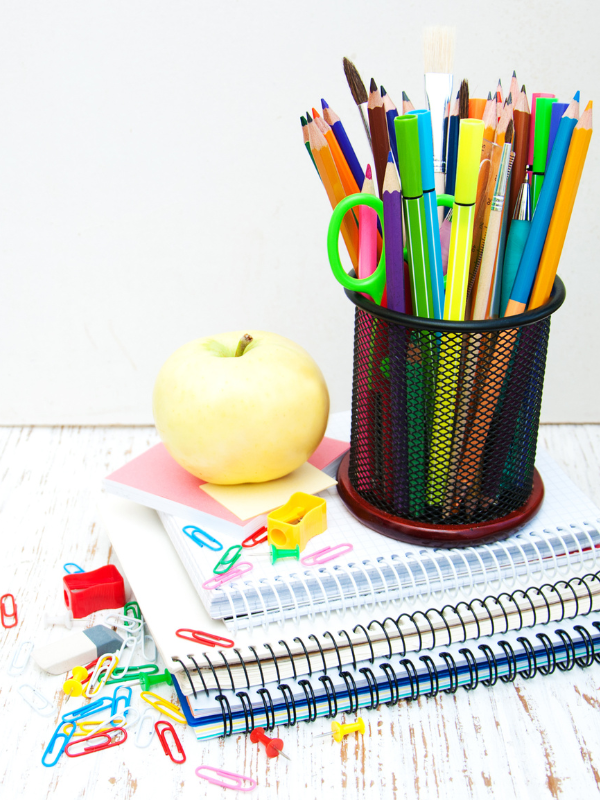 Going back to school is daunting for kids, and their list is the first and only tangible thing from school that they have to begin the new year. So, his anxiety was coming out in the form of frustration. He may have sounded spoiled, but I soon realized he wanted to be ready for school, and for him, being ready meant, conforming to the list given to him by his teacher. If the list had a pencil case with two zippers, he felt he needed to have that pencil case, even though we had others at home.
So, I had to have a deeper conversation about how we had been through this before, and the list is just a guideline to be ready for school. And I promised if he was missing anything, we would be sure to have it for him for school in the first week back.
Steps to Take to Reuse School Supplies
Once we had clarified the concept of reusing and how it would be just fine with their teachers, we arranged everything with the list in hand.
Checking-Off Our List
We checked off everything we had and set off to the store to gather the things we didn't. In the end, we did need more duo-tangs and binders, but we had a lot of things already. Convincing my boys that a half-broken eraser was just as good as a brand new one took a little while, but they got into it and realized just how much we had.
Donate The Remaining Supplies
And finally, we made a big bag of still really useful school supplies we didn't need and we will be donating them. It was very important to let me boys know just how grateful we were to be able to give them what they needed and not hold on to things we did not, so that others could have as well.
Making Old Things New
When it comes to backpacks, lunch bags and pencil cases, it is very tempting to get new, especially when the back-to-school flyers come in. We found a way to make their old bags extra special. For the last few years, wherever we have travelled during the summer, we have bought the boys a patch. Sometimes, their summers end with three or four patches from different places in the world. Then, we bring their backpacks, lunch boxes and pencil cases in to a shoes repair store or tailor and they patch them all on (you need a special machine to get them in small places like straps and pockets). It doesn't cost much, and the results are awesome. Their bags have been changing each year with new patches to talk about with their friends when they get to school.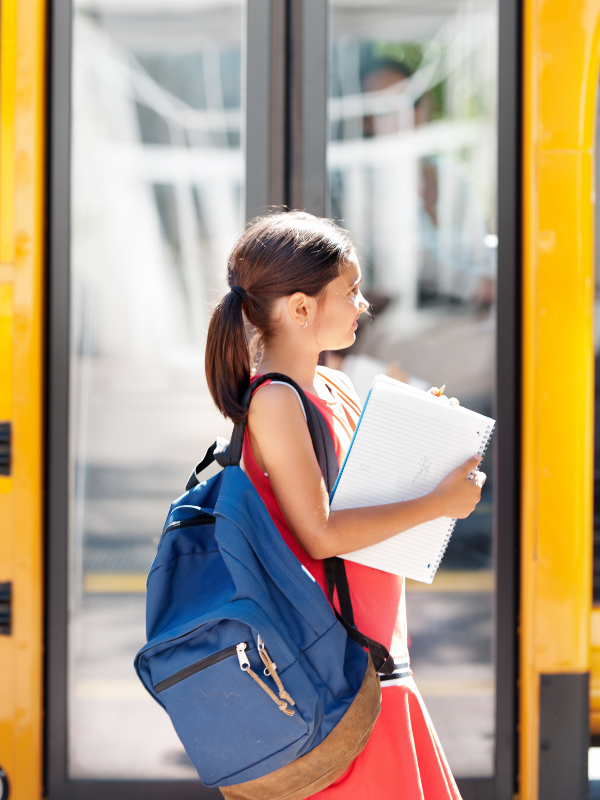 Fundraising for the school
Many schools have a program for students to order their supplies and it is a form of fundraising for the school. While I think this is a wonderful system and an easy solution for getting everything in one step, consider what you have already. Our school made it a point to make this program flexible, allowing parents to change the list to what they need, instead of forcing parents to purchase everything on the list. If your school doesn't have that option, you can always bring it up. And as a family, decide to help your school in other ways with fundraising during the year.
I hope this helps you think of school supplies differently. Every little change helps, and shows our children new ways to see how to help the environment as well as others.
Are you looking forward to the new school year? Be sure to take a look at my other back-to-school blog posts:
Back to School Sharing: Safety Tips for Moms
 11 Back-to-School Books for Young Children
5 Ways to Simplify School Lunches