Tidying up, decluttering, whatever you call it, the amount of stuff we have is taking over our homes and our minds. If you have not binge-watched the new Netflix series with expert Marie Kondo, one thing I can tell you is the one major influx of items across all families was clothes.
So. Many. Clothes.
I took a look into our own items after the show, and even before that if I'm being honest. I've been on a major decluttering mission with my good friend and organizing professional, Liz Cohene of Project Organize.ca. And although pairing down my clothes is nothing new to me, I can truthfully say I got something out of watching these families struggle with clothes. Shockingly, the families in this series didn't live in lavish homes, with fancy cars or other expensive items in their living spaces. You would think so, based on how many clothes they had. I think the reason we tend to have too many clothes is that they are relatively easy to buy, any one item can be budget-friendly, and you can suddenly have a new wardrobe or look without changing too much of your life.
Need Vs Want and Sentimental Clutter
I have been saying for years to my family unit and close friends that it is far better to pair down to quality items you love instead of a ton of clothes you kinda like (because it was on sale). It's so easy to say, but not so easy to do. I, too, hoarded away many (too many) items since I never really changed sizes over the years, except for when I was pregnant, and post-partum. And then after my mama passed away, I was left with many items that fit me (we were the same size) and were just too good (and too hard) to give all away. I found it difficult to give any of her things away for a very long time. But, time changes things and slowly but surely, I am passing things on to needy families and women's shelters. My mother would be happy to know that I am helping others this way.
Travel Takeaway
As a family of five, we travel a lot. We plan great and adventurous vacations and we love seeing new places and having new experiences together. We've never shied away from trips, and always pushed ourselves to discover more of this amazing, beautiful world.
But I can be honest with you, the longer we do these trips, the more I wish we could do them with less stuff. Travelling together isn't the difficult part, and usually, there is limited complaining on baggage and transport, but there have been sometimes that I wished everything we needed was in our respective backpacks, so we didn't need to carry or pull more luggage with us as we transferred to different locations, hotels, or planes.
On our last family summer vacation, some of our luggage got lost for four days! It was something that made me think more closely about what we bring with us. My husband, three boys and I planned a road trip from my family-in-laws' home to Austria for one week during that time. The itinerary was made, the days were planned, and it was summer, so I figure we could squeeze all our necessary things into one carry on. We couldn't do it! After that, I vowed that I would make it my mission to make it happen for our next road trip.
I had the utmost pleasure of attending WITS for the first time last year, where I met the brand, Encircled. Founder, Kristi Soomer was a delight, explaining her revolutionary designs and sustainability concept, explaining we do not need so many clothes to fill out our wardrobes. Right then and there, I was smitten. A Canadian company striving to use less and create beautiful designs with multi-style pieces, Encircled is 100% made in Canada. The company uses eco-friendly fabrics, is ethically made, sustainable, and sweatshop-free.
Why Ethical Fashion is Just as Important as Decluttering
I'm sure you have heard of the concept geniuses such as Steve Jobs and others implemented – always wearing the same things so as not to waste time or energy on deciding what to wear, giving more room to be creative in other areas.
I may not be a genius, but I would never be able to do that because I like clothes too much. However, I am very aware of where my clothes are made and what brands I purchase from. When you buy a top for $5 at a box store, just think for a moment how it can be so low in price and to what end did any one worker make to produce it for you. I'm always looking for eco-friendly, local companies making a positive difference in this world. Encircled is doing just that. To read more about each of the fabrics they use and where they are produced, you can read about it on their website.
While Encircled's items may have a bigger price tag (ranging from $49 for a top – $248 for a dress) than other everyday wardrobe pieces, the quality, and the fact that each item is ethically made, is why I am purchasing from Encircled over other companies.
Moving forward for my clothes and the clothes of my children, I want to know I am doing right by the environment and by those making the clothes. I don't want to be responsible for causing harm to people around the world, just so I can get a deal on yet another top. I need to be responsible for my decisions. If you read Encircled's page on their values, you will better understand just how much goes into making clothes, and how they are doing better.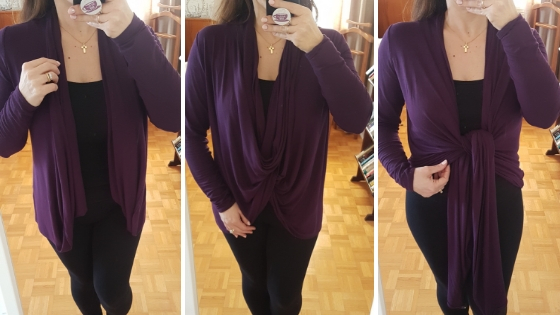 Quality Over Quantity
The fantastic advantage behind Encircled's Multiway collection is that each of the items can be worn in many ways. From dresses to tops and cardigans, the items are timeless and oh-so flattering. To be honest, I wasn't sure that would be the case, given that every woman is a different shape and size. I'm 5"1 so I was concerned my pieces would make me look frumpy or extra short since it seems like a lot of material. It's not the case at all. Each piece can be found in different sizes and the styles work for all body types.
I'm in the process of trying them all out and I have fallen head of heels for the Everyday Twist Top in my signature purple colour. I have had a lot of "ooh"s and "aah"s everywhere I have worn it. It is soft as butter and I love how I can wear it in all seasons. This will be the only cardigan I will need for travel in the summer and currently, it is perfect over a turtleneck or long-sleeve top for winter. I know the Everyday Twist Top will last me for years and dress up outfits for day and night. The comfort is high end and I am loving showing it off in all the different ways you can wear it.
Because it's winter, I haven't had the opportunity to wear out the Evolve Top yet, but I can tell you it is so comfortable, flattering and feminine, I know it will go a long way in my wardrobe. I haven't tried out the Chrysalis Cardi, but I am crazy excited about it! For someone who has always struggled to find that little black dress that works with everything, I know this will fit the bill. I literally cannot wait to travel this summer with these few items in my luggage, along with leggings, shorts and shoes.
Here's a video with Kristi showing you the different ways to wear the Chrysalis Cardi:
Have I convinced you to ditch our old clothes shopping ways? I hope with this review, you at least consider just how much you might have lingering in your closet and think twice about what to purchase next.
Expect more on Encircled in this new year from me. I have my eye on their Nomadic V-Neck and they are in the process of revealing an All-Day Jumpsuit (!). For more styles, information and capsule wardrobe essentials, visit Encircled.ca and follow them on Instagram.
Disclaimer: I was gifted items to facilitate this post. All enthusiastic opinions are honest and my own, as always.