I recently attended my very first Women in Travel Summit, practically in my backyard, in Quebec City.
A couple of years back, I attended the Canadian Food Bloggers Conference and felt a little out of place. I didn't, and I still don't consider myself a food blogger, as much as a blogger who writes about food for families. The experience was to get me out of my comfort zone, meet new people and experience a new conference. And you know what? It was fantastic! I loved every bit of it.
Since then, I have tried to attend at least one different conference each year to hear new speakers and learn new things from different people in different niches. The WITS conference was something I was eager to go to because now more than ever, I am itching to write my family travel experiences regularly. We are so lucky to be traveling as much as we do, and I am so excited to share our experiences as a family of five with you.
Prior to having our three beautiful boys, my husband I lived in Italy, and while I was there, I was a travel and fashion writer for various publications. It was such a fantastic experience and I learned so much. What I always loved from the beginning of my writing career, was finding the story. I wanted to learn the history of a fashion family, I wanted to hear the start of a restaurant business, I loved discovering bits and pieces of a city or town that no one really knew about, except the locals. I always look for a story to tell, even in a basic product review, for that same reason. I find it fascinating to know where something began.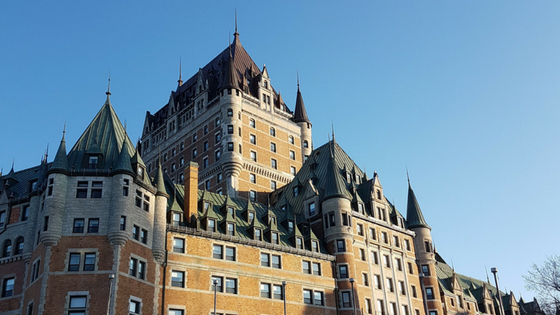 When I sat with the other 400 women in the ballroom of the grand Chateau Frontenac for WITS, I felt at home. So many wonderful women, with the same passion for travel as me, were all together in one place!
Here is a picture of some seasoned bloggers I have known since I began blogging over eight years ago! (Picture from Sandy of Canadian Blog House) It was so nice to see them in person and give them hugs!
A little late but I'm here! A1: Here are a few of my travel buddies…taken at #WITS18 this weekend: @AnnBac9 @inkscrblr @DownshiftingPRO @FlyingCouponer @Hannahlogan21 @turnipseeds photo courtesy of @AnnBac9 missing @CynGagen @AskMamaMOE and @montreal_mom pic.twitter.com/tfD4OjRoaQ

— Canadian Blog House (@CanBlogHouse) May 9, 2018
And as a sweet bonus, a small group of mom travelers connected at a break and we exchanged business cards to keep in touch.
Travelling alone, with a partner, with friends and with children are all very different experiences. Now, the majority of my travels are done with my family and we love adventuring around the world. It was refreshing to find part of my tribe of mama travelers at WITS. Since then, some of us have connected online and I can't wait to read more about them all.
Two mamas I instantly connected with were Iliah Gran Altoro of Negra Bohemian and Katrina Morrison of My Mommy Flies. Not only were they forces of positivity and joy, they had the same mindset of travelling with our children.
To us, it is so important and worthwhile to have our children experience new countries, cultures, and languages in order to open their minds and educate them on a global level. Pictures are great, and they are fun to share online, but they are NOT what create the lasting memories. When I see a picture of our family vacations, it brings back all the wonderful things we experienced on that trip. And so much cannot be captures in photos.
If you are looking for new travel mamas to follow, Katrina listed all the ladies in this photo in a roundup post. Click here to learn about each of them.
So, What is WITS?
The Women in Travel Summit began five years ago by Beth Santos, Founder of ShesWanderful.com, a network and homesharing site for women travelers. The summit was a natural extension from the success of women connecting all over the world thanks to Wanderful. Being able to communicate and feel supported by other women in any given location that you are travelling to is a fantastic concept and one I am proud to have been a part of this year at the summit. The world it quite literally at our fingertips now, and women helping women to facilitate their passion for travel is a beautiful thing.
Have a look at this video. Doesn't it make you want to pack your bags and explore the world?!
The next WITS will be in Portland, Maine and I am hoping to make it a family trip as well. I absolutely love Maine and I would love the opportunity to experience WITS again.
I learned so much and met fantastic women in Quebec City. I will be sharing more very soon. One thing that became brutally evident to me during this conference was to start and keep going. Many times during travels, especially with family, it is hard to sit down and start posting right away. And then, time gets away from you and you haven't shared anything! Well, not anymore! I have so many beautiful experiences and tips to share with you. I realize now more than ever, that sharing small stories will be my focus. If you have any questions about traveling with your family, leave them in the comments below, and I will get to them in future posts.
I'm so excited about what I have to share about travel here! Stay tuned.