At the beginning of the school year, I found out that our school needed a new speaker. Specifically, the gym teacher needed a speaker for his classes. When I saw what they were working with, I understood. The school had an 80's boombox that was just not cutting it anymore. A connection had stopped working so he was at a loss. Boomboxes were not equipped with Bluetooth. I knew the school needed an upgrade.
It makes such a difference in children's lives when they have a teacher they are comfortable with, who cheers them on, and who supports them as they grow. Because Mr. Lag has been at the school for so long, he has been able to stay with students from kindergarten until graduating grade six.
My husband and I have volunteered for different sports activities and every time, we have seen the love that Mr. Lag has for the students and his job. Whether it's the Terry Fox run, the annual cross country run, or the sports competitions he sets up for the students to attend, he is always ready to go and help them succeed.
One event that really stands out for the whole school is the amazing Pilo-Polo tournament. The sport was developed in another elementary school and Mr. Lag brought it to ours. It is cool, and fun and the whole school gets involved by watching the championships in our gym. Mr. Lag makes this competition amazing with his energy. The teams and players are brought in one by one as Mr. Lag belts out their name on his megaphone. The school goes wild for each player, making everyone feel like a pro star athlete. Before the tournament begins, two students sing the national anthem, and then Mr. Lag begins the tournament.
Making this tournament a real event in the school is something that truly brought me to tears when I saw it the first time. I was so proud to be part of a school that included everyone, and I was proud to have a teacher that made each student feel special.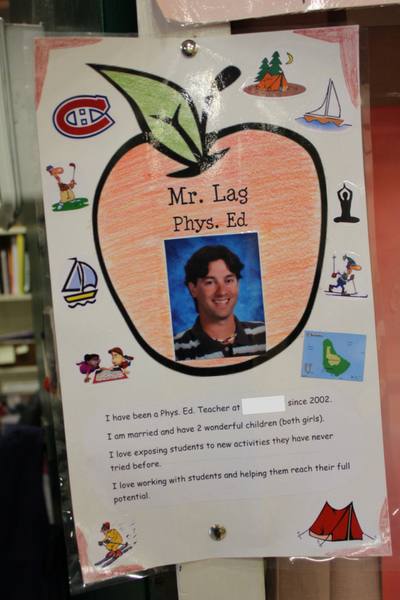 Here's what some kids had to say about Mr Lag:
 "Mr. Lag is really funny. He makes us nicknames from stories we told him, or if your name is place or a month."
Matthew – "When I think of Mr. Lag, I think of a very cool, fun, creative and an awesome teacher who loves his job. I also think of the hardest working gym teacher in the world. And everyone loves Mr. Lag!!!!!"
"Mr. Lag cares a lot for everyone, especially if they get hurt."
Xavier – "When I think of Mr.Lag, I think of some one really cool and awesome and so funny at times and an awesome teacher with fun games AND pilo polo!"
Ella – "Mr. Lag is an awesome and fun teacher who loves to encourage students to help them in their skills."
"He sets up the best games, like Mission Accomplished and Pizza Tag."
Alexandra – "When I think of Mr. Lag I think of an outgoing person who loves encouraging students to try new things all the time."
When the good people at Monster heard about Mr. Lag and his need for a new speaker, they came through. For me, it was the perfect match. I knew Monster could give quality sound and amazing volume in the open gym. The Dynamite speaker is small, waterproof and durable, allowing him to take it outside for outdoor activities.
I had some help from students to deliver the surprise: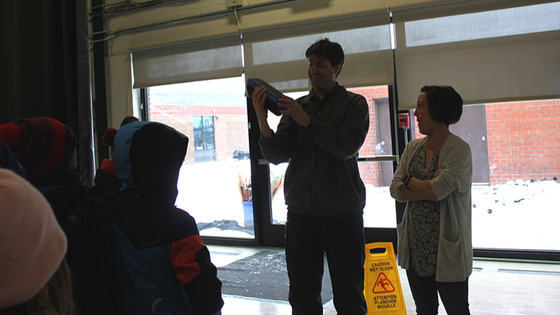 Now, with the tap of his phone, he is connected to any music he wants with the Bluetooth Dynamite speaker. The Bluetooth technology works miles away from a phone so he doesn't need to be right beside the speaker anymore.
Monster provided the school with this exclusive royal blue speaker, only available at Best Buy.  This speaker also comes in black.
The 4-speaker configuration and wide-dispersion 360-degree V-sound technology give strong, epic sound quality. The speaker also last 12 hours when charged, so he won't have any need to plug it in for at least two school days.
Now with the great weather for the last weeks of school, I know Mr. Lag will get even more use out of the Dynamite speaker outside. This speaker will last for years to come for our school.
To learn more about the large variety of Monster speakers and gear, visit their website.
A special thank you to Monster for providing the Dynamite speaker to our well-deserved teacher!