OK, mamas, this is a good one. A great one! I am so thrilled to announce this giveaway because it is so amazing!
If you haven't heard of Walking With Dinosaurs, the Arena Spectacular, let me tell you about it. The show is based on the award-winning BBC TV series. It was created with designers and scientists and it consists of 20 life-size dinosaurs. In the show, a paleontologist named Huxley will take you on a journey spanning 200 million years.
It came to Montreal in 2010 but my little ones were too little to enjoy the show. This year, they are the perfect age to enjoy it and I couldn't be more excited to bring them. As a special note, I want to mention that I was advised the show was for children ages 7 and up. However, every parent knows their children better than anyone else, and you can judge whether or not this show is OK for them. I personally think it is OK for children that are as young as five years old, so long as you explain that the dinosaurs are pretend.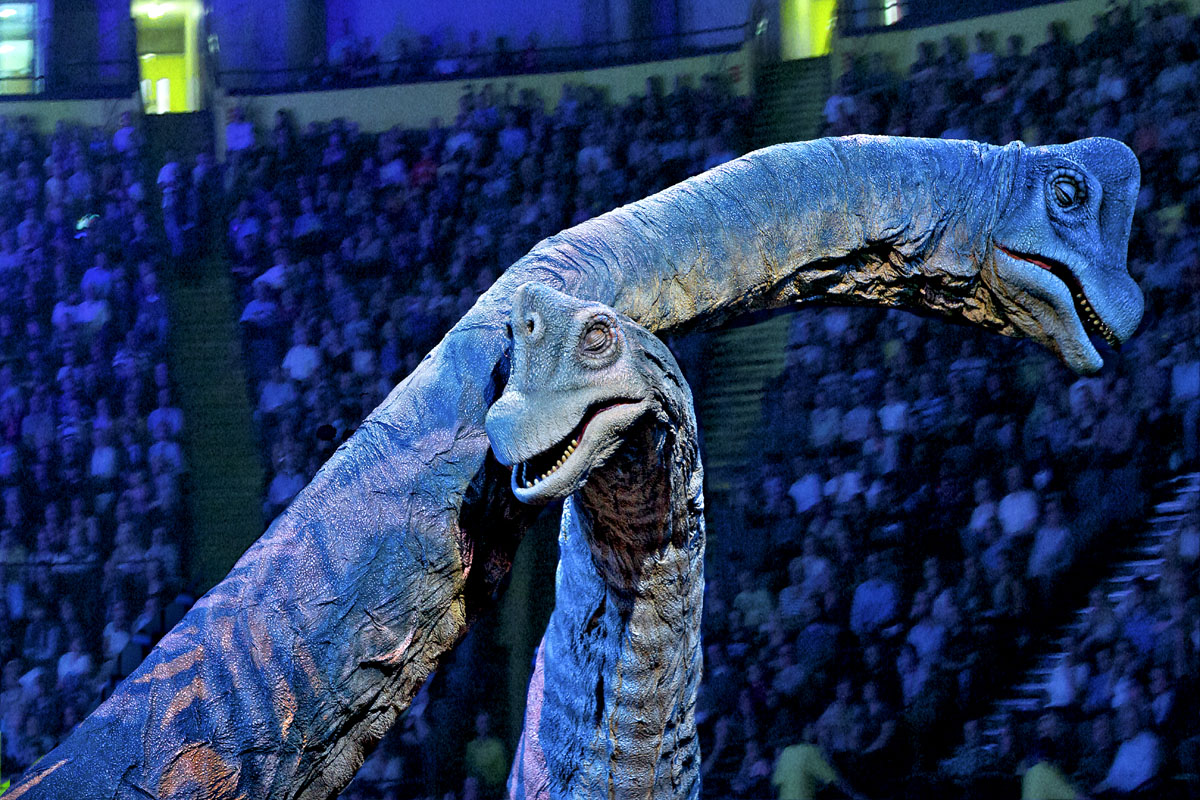 I've gone into detail explaining to my children just how these dinosaurs were made and how they work. First, because I think it's pretty amazing and my kids love to understand how things work, second, because it is preparing them for the show in advance so that they are not scared.
Here are some fun facts you can tell your kids about Walking With Dinosaurs:
The dinosaurs are actually giant puppets!
Really strong people are inside the puppets controlling them
The puppeteers can make the dinosaurs blink, walk and roar
If you look closely, you can see the legs of the puppeteer for some of the dinosaurs, but they are wearing camouflage
The people inside have to be very strong because the puppets they carry on their backs for over an hour weigh 80 pounds! That's like carrying around 5 bowling balls! It's also like giving a friend in grade six a piggy back ride for one hour straight!
The largest dinosaur in the show is 36 feet tall (about the length of a school bus!) and 56 feet from nose to tail.
You will see 20 life-size dinosaurs that were created with real scientists to make sure they are accurate in their dimensions and features
Be prepared to experience volcano eruptions, comet hits and earthquakes all simulated with lights and sounds!
What do you want to be when you grow up? It took a whole lot of engineers, animatronic experts, mechanics, artists and paleontologists to make this show. Imagine that!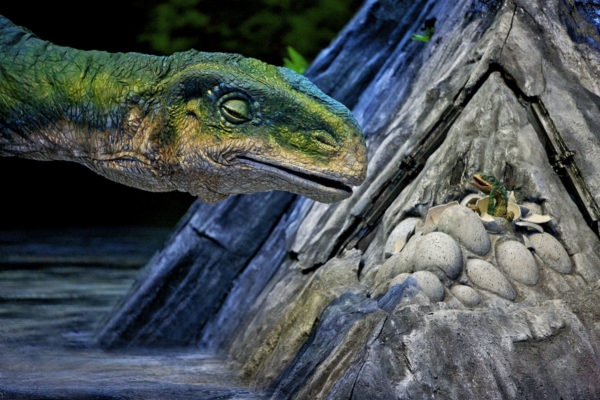 And now to solid facts about the show for mamas:
The show runs 96 minutes long with an intermission
The show is playing across Canada in nearly 100 venues and will be showing from August 13-17 in Montreal and the Bell Center
If you think your kids might be a little nervous about the real life dinosaurs, the best tickets are actually those further away from the stage. It will allow a panoramic view of the entire show.
There is no violence in the show; it is meant for families. However, the realism of the dinosaurs and the big sounds can scare children. Preparing them in advance is key. And if you know your children are sensitive to sound, a seat further back (and even some earplugs) is a good idea.
Tickets cost anywhere from $25-36 each plus tax
Taking photographs is allowed, but no flash photography
The show has been scripted based on BBC series and all content has been approved by real paleontologists.
Now for even more exciting news,  Evenko is giving one lucky family the chance to win a family pack of four tickets to see the Walking With Dinosaurs Arena Spectacular!!
Giveaway closed – Congratulations to Lori L. and her family! Hope you enjoy the show!