It's that time of year again when we are all getting ready for the holidays. As a Christian family, December 1st marks the beginning of Advent for us. Literally, the word Advent means 'coming', and the entire month is dedicated to preparing in anticipation for Christmas. That can mean different things to different people.
I was recently on air to chat with Natasha Hall on CJAD radio about Advent ideas, calendars, and her pet peeve…that elf. It was a lot of fun to give my thoughts on these subjects and ideas on how to celebrate Advent as a family.
Here is the segment. Have a listen:
Chocolat Favoris – I had never tried this decadent chocolate until this year, so when I found out there was an Advent calendar that had four (yes, four!) chocolates in each door, I was SO excited! Having one delicious calendar for us all instead of mediocre chocolates from the pharmacy is amazing. And if you think it's too expensive, it's not. At $34.49, a large family like mine gets to have really good chocolate and everyone gets a piece! OK, my husband and I will have to share, but I'm ok with that.
View this post on Instagram
LEGO – We have had a few Lego Advent calendars over the years, and this is brand new one. Instead of making a themed scene, this Christmas calendar has 24 doors that hold many mini toys to build. This is fun because each day is something the create and later can be added to your Lego collection. I love seeing my boys learn to share with this calendar because I know they all loved building but encourages them to take turns.
Reverse Advent Calendar – If you really want to bring back to spirit of Christmas, this is the way to do it. If you don't have a basket, use a cardboard box and wrap it with wrapping paper so it's a nice thing to look at, and easy to remember to add in every day. Reach out to your community to see where you can donate ahead of time.
DIY – There are a ton of ideas on Pinterest that I have pulled from, but some are downright unrealistic. But to make it easy, put together a small box or jar with written pieces of paper. Each paper can hold an activity for the day. Like I mentioned to Kelly, they can be simple! The important thing to remember is that every activity, big or small, can be done as a family. And of course, if one thing you choose doesn't work for your day (other commitments, etc.) pick something else for the day and put that one back. This year, my boys made their own little decorated box and wrote their own activities. It's awesome.
I've included a list of ideas here: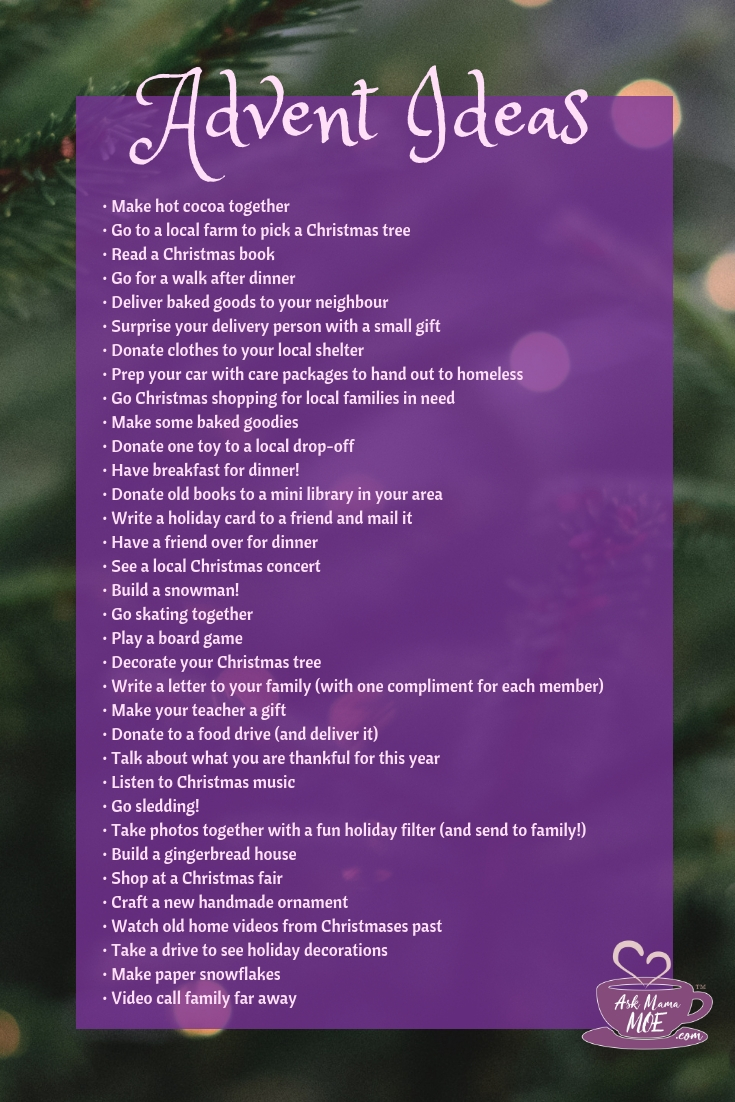 In school, we would colour a religious calendar with different references to the story of the Nativity, and different activities were suggested to give to others and show kindness. Now, we have many calendars going and fun treats each day, but the main point is love and kindness.
On Sundays, we light our Advent wreath and say a special prayer. If you are not familiar, there are four candles we light during Advent. There are three purple candles, one pink and some place one white in the middle for Christmas Eve and Day. Each Sunday, represents something.
The wreath is made of evergreen representing eternal life.
The first Sunday symbolizes HOPE for the coming of Jesus.
The second Sunday symbolizes FAITH in the journey to Bethlehem.
The third Sunday (pink candle) symbolizes JOY brought to the people from baby Jesus.
The fourth Sunday symbolizes Peace on earth, good will toward men.
FUN FACT:
Our Christmas begins on Christmas Eve and lasts until January 6th, the Epiphany, or the day of the Magi (the three wise men). That is why many people keep their decorations up until the 7th.
Something I didn't mention on the air was the showstopper I got this year.
Disney – I have been eyeing this Advent calendar for exactly three years. So, when it went on sale on Cyber Monday, I called a Canadian Disney Store and had it shipped over pronto. My boys are majorly surprised with this one because they don't even know it existed and they love small plush toys. Definitely on the high end (and why I waited years), the regular price for this calendar is $130 but I purchased it at $103. I consider these plush Disney characters to be a Christmas present themselves and it will add to their collections. It's pretty adorable to see their faces when they open up each day.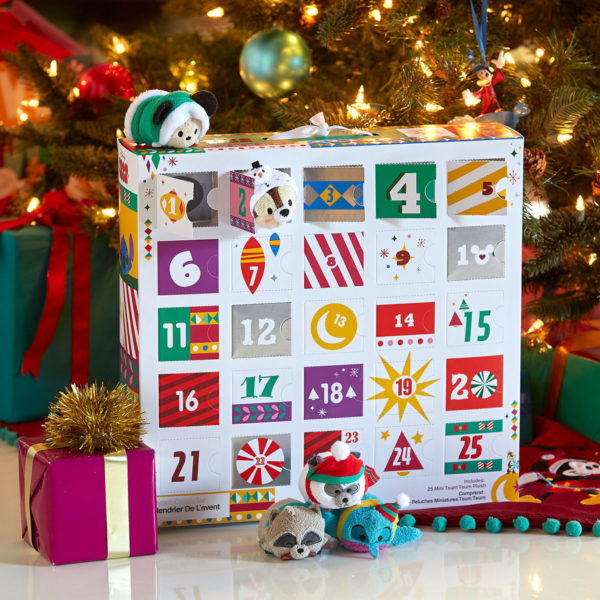 I'm sharing a lot of Advent on Instagram in my stories. Be sure to follow along there and see our boxes open and activities read!
Happy Advent everyone!
Oh, and if you want to laugh about that elf a little more, read this short post of mine 😉.