The newest addition to the 101 Dalmations movie collection has very little to do with those cute little pups. When I first saw the trailer for Cruella way back, I wasn't convinced this was a movie I would like. I love the happy endings, the fairy tales, the magic that Disney movies bring. I've never been one to enjoy the villains, and Cruella didn't seem like a character that needed to be explained.
Well watch out world, because Cruella is a new story, and it is FABULOUS.
What I can share:
Academy Award® winner Emma Stone stars in Disney's "Cruella," an all-new live-action feature film about the rebellious early days of one of cinemas most notorious – and notoriously fashionable – villains, the legendary Cruella de Vil. "Cruella," which is set in 1970s London amidst the punk rock revolution, follows a young grifter named Estella, a clever and creative girl determined to make a name for herself with her designs. She befriends a pair of young thieves who appreciate her appetite for mischief, and together they are able to build a life for themselves on the London streets. One day, Estella's flair for fashion catches the eye of the Baroness von Hellman, a fashion legend who is devastatingly chic and terrifyingly haute, played by two-time Oscar® winner Emma Thompson. But their relationship sets in motion a course of events and revelations that will cause Estella to embrace her wicked side and become the raucous, fashionable and revenge-bent Cruella. 
Disney's "Cruella" is directed by Craig Gillespie ("I Tonya") from a screenplay by Dana Fox and Tony McNamara, story by Aline Brosh McKenna and Kelly Marcel & Steve Zissis. It was produced by Andrew Gunn ("Freaky Friday"), Marc Platt ("Mary Poppins Returns") and Kristin Burr ("Christopher Robin"), with Emma Stone, Michelle Wright, Jared LeBoff and Glenn Close serving as executive producers. Two-time Oscar®- winning costume designer Jenny Beavan ("Mad Max: Fury Road," "A Room with a View") creates the dazzling and imaginative costumes, which take on a life of their own. 
What we thought about the movie:
My family and I were able to watch a virtual pre-screening of Cruella and I can tell you we all had different reasons for loving the movie. My husband I both thoroughly enjoyed the music. This movie was set in 70s London during the age of punk. There have not been many movies that have come out lately that I would want to own the soundtrack to. This movie had only phenomenal music throughout.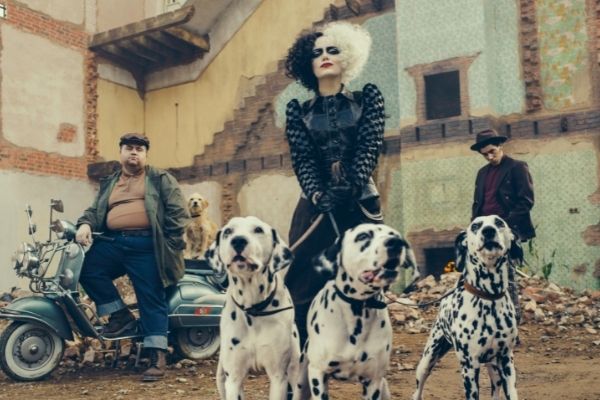 My dog-obsessed son was a little disappointed there was not a bigger feature of dalmatians and pups. And while they are in the movie, they do not take center stage. The two characters that take care of the dogs were his favourite, go figure!
My son that loves art and fashion was obsessed with the outpouring of creativity in the outfits for this movie. This is 70s fashion in all its glory; high fashion, haute couture, grungy punk styles, Cruella has it covered. Emma Thompson's wardrobe for this movie was phenomenal and made me want to dress up again, hairdo and all!
My oldest son took a while to get on board but loved when the story moved to the relationship between Cruella and the Baroness. The suspense grows throughout the movie and the element of mischief is reminiscent of a heist movie with sneaky behavior and clever deceit.
Is it a movie for young children?
As you may be able to gather from the trailer, this movie has a darker side. Granted there are no shootouts or gruesome scenes, but the storyline does focus on a potential murder. That said, you know your children better than anyone. I highly suggest watching with your children, whatever their age. Not only for them, but you will truly love this film.
Is Cruella a hero or a villain?
With Emma Stone and Emma Thompson as the main characters, I was very happy to see the strong female leads in this film. The chemistry between the two is fantastic and their dialogue is witty and full of expression. I cannot tell you if one is a villain or a hero. You will have to figure that out on your own when you see the movie.
Canadian Connection to Cruella
A Disney Cruella Collection was developed by M·A·C , part of The Estée Lauder Companies Inc. It's fitting that the bold reds and deep nail polishes can be found at our beloved Canadian company, something they became known for in the 90s. Since its creation in Toronto, Canada over 30 years ago, the brand's popularity has grown through a tradition of word-of-mouth endorsement from makeup artists, models, photographers and journalists around the world. As a person who attended fashion weeks in Milan for a few years, I was always happy to see MAC at the shows.
Cruella is now available on Disney+ with Premier Access. That means subscribers can get Premier Access for a one-time fee of $34.99 per movie paid directly on disneyplus.com or on supported platforms. If you are looking for a new movie for your family, I suggest Cruella!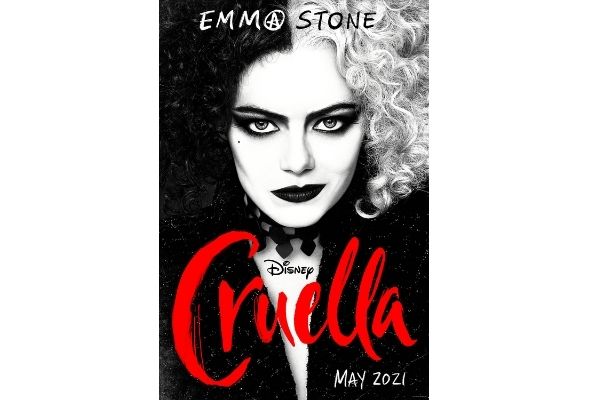 Follow along on social to see more and to learn about upcoming films:
Facebook: @WaltDisneyStudiosCanada, @DisneyPlusCA
Twitter: @DisneyStudiosCA, @DisneyPlusCA 
Instagram: @disneystudioscanada, @disneyplusca