You may have heard the acronym STEM used before as a form of educational style. The term was recognized in the early 2000s and has become extremely popular. But what exactly is it? Why is it so popular? And why is it so beneficial to our children at a young age?
STEM stands for Science, Technology, Engineering and Math. But the term means more than just its four subjects. The concept is very different from traditional schooling where each subject is taught exclusively. In STEM education, all four subjects are taught together and in doing so, students are able to see how the subjects are connected and related to each other.
When my oldest son started high school in the International Baccalaureate program, I saw that STEM was implemented into the curriculum. High schools are implementing this form of education to show students that subjects are combined in real-life situations. Teaching in this manner helps students see how real-life situations require you to think differently than traditional schooling and combine your knowledge of various subjects to solve a problem.
Implementing STEM Early on
Can you really teach your young child STEM? Absolutely! In fact, you probably do it every day at home with your little one. Think of the basics your little one loves. Has she/she ever played with blocks? Do they love stacking them up and seeing them tumble when they wave their hand across their tower? What about toy cars? Have you ever placed a toy car on a ramp of some sort? Does he/she love to see the reaction of the car picking up speed, coming down? One of our favourite things to do, still today, is to bake. Through baking, children learn about measuring ingredients, following instructions for the proper outcome, learning how certain ingredients can make a dough rise for example. Building curiosity and harnessing creative thinking is what STEM is all about.
So, you see, STEM happens around us in basic activities with our children. But what if are looking for something more advanced? If you have seen that spark in your child when he/she has worked on something STEM related, you undoubtedly are looking to fan that spark into a flame!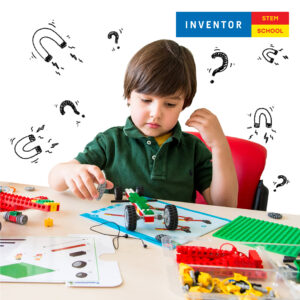 STEM Summer Camp
With summer soon upon us, children will require something to keep their spirits up, their mind stimulated and it must be FUN. Summer is a perfect time to introduce them to a STEM summer camp. Lucky for readers in my neck of the woods, there is a new camp opening in the West Island of Montreal called Inventor STEM School.
Kids will have classes with LEGO, robotics classes, science experiments and other STEM activities. But don't worry, this is not your 80s computer camp where kids don't see the light of day! I was happy to learn that the camp takes the children outside every day for outdoor activities. In fact, the days start outside for an hour, I love that. To read more about the school's methodology, click here.
Inventor STEM School has three components in their day: learning, physical activities outdoors and fun.
COVID-19 Safety Information:
Inventor STEM School is located at 4503 Boul St. Jean, suite 101 in DDO, and has been completely renovated to be COVID-19 compliant and safe.
With the current COVID pandemic, we will do everything possible to provide a safe and healthy environment for all campers and teachers. Our measures will include: minimization of traffic (only 6 children per class), frequent washing and sanitizing of hands, social distancing (only 1 child per desk), wearing of face masks where necessary. We will comply with all protocols put forward by the government.
On the 1st day at camp every child will receive his/her personal LEGO Set, tablet, laptop/computer, science kit, and kit for STEM activities. All the materials, pieces, kits or robots are not permitted to bring home and will be stored exclusively at camp location. Everything will be cleaned and sanitized at the end of the day. After the end of the session all equipment, sets, pieces will be thoroughly sterilized and prepared for the next week and new campers.
This is the reassurance I was happy to learn about from the school, for the safety of children and staff.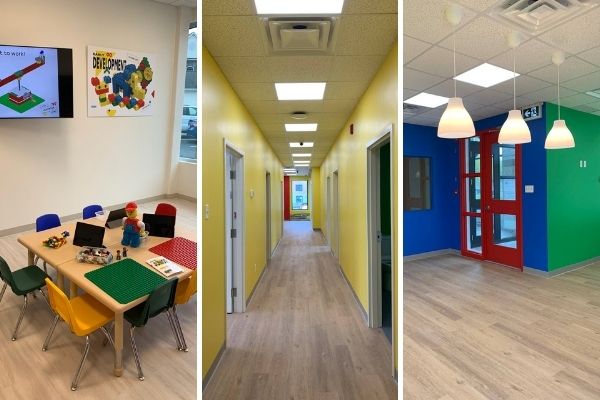 Summer Camp Details
The summer camp will run in three different age groups: 5-7 years old, 8-9 years old. and 10-12 years old. Depending on the age and class, the weekly prices range between $330-370.
If you have more than one child that you would like to register for, there is a sibling discount (yes!)
Camp weeks start June 28th, and the days are from 8am to 4:30pm with possible extended hours. Snacks are included, but lunch must be provided.
Classes include coding games such as Minecraft and Scratch (something one of my sons is loving right now), science experiments and team-building games.
Back to School and Online Available
For those of you that will not be signing up your children to a summer camp just yet, or if you are thinking of possibilities for after school classes in the fall, there are also these options with Inventor STEM School, click here to learn more. And for those that are looking for online learning instead, this is also available.
PROMO CODE!
For my wonderful readers: receive $50 off registration by entering the code: Inventor_askmamamoe
To register, visit: https://stemschoolinventor.ca/camp (please note: spaces are limited do to COVID-19 safety)
You can also follow them on Facebook and Instagram.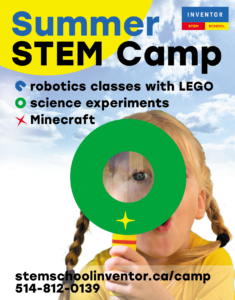 Disclosure: I was compensated to facilitate this post. All opinions are honest and my own.