I recently had the chance to hang out with friends and the conversation came up about princesses. One mother was not into getting her daughter princess costumes. One part of me got it, even though I have three boys. Sometimes princess dress-up can go a little overboard with full on makeup and nail polish…it starts to look like an episode of Toddlers and Tiaras.
But after attending the Disney Social Media Moms Celebration in May, I have a completely new perspective on princesses. You may have seen the campaign that Disney has run to support girls in strong roles with their Disney Princesses. The first time I saw it, I wept.
Oh that song! (The Script –Hall of Fame) Talk about a positive message! I just love this whole concept.
I think it's up to us as parents to show girls that being a princess can be a powerful and awesome thing. 
Disney princesses have evolved over the years and even the classic princess veterans have strong qualities if you take a deeper look at them. When I was sitting in a room full of inspiring influencers and cast members at Walt Disney World, I was overwhelmed with the idea of dreaming big. During the presentation, Disney also honored three inspirational girls making a big difference to the world.
On our last moment with the Disney Social Media Moms Celebration, on Mother's Day, we were invited to a beautiful breakfast in our honor and the room was filled with inspirational quotes from Disney Princesses.
Having the opportunity to be in a room honouring me as a mother was so incredible. There was a full buffet and a band playing and I can honestly say that at that moment I did feel like a princess. One of my sons absolutely loves everything Disney Princesses. And to our complete amazement, Princesses Tiana, Rapunzel, and Belle were in the room waiting to meet us! Before rushing to our flight back to Montreal, we managed to see them all; my son was star struck. That gift he received that day was better than anything I could have received for Mother's Day.
At Walt Disney World, my son was able to love his favourite Disney Princesses without any judgement. My wish is that one day, society will welcome boys and their love of princesses without any negative or critical implications.
A Personalized Book to Dream Big
When I found out that one of my favourite online stores, Put Me In The Story, partnered with Disney to create a personalized Disney Dream Big Princess book for girls, I was thrilled! It's no secret I love everything about Put Me In The Story. Combining reading and a personalized book is a brilliant idea and I just love giving these books to special people in my life.
I recently received my book in the mail (in one week flat) and it so perfect! I was hoping to build the book for my son, however it is only made for girls, so I chose to make it for my niece. Each of the 11 Disney Princesses (except for Disney's newest Princess of Elena of Avalor) is represented with a two-page spread with their story as well as questions for your princess to answer about herself, confirming her strength and creativity.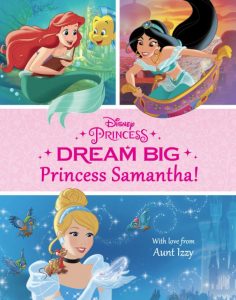 "Greeted with a personalized letter and Princess Passport, little readers can check off the back of their passport when they meet each princess throughout the book. Whether readers are filling in their own dream restaurant's menu alongside Tiana's or discovering treasures like Ariel, your child will learn that being a princess is more than just princes and castles…it's about being brave, honorable, kind, and hardworking. Your little reader is encouraged to write, draw, and imagine all the things they can be, led by the adventurous, independent, and ever faithful Disney Princesses!"
Discount for the Holidays
Disney's Dream Big Princess
 is regularly $39.99 in hardcover and $24.99 in paperback.  This book and many others in the Put Me In The Story Personalized Holiday Gifts Page
 make perfect Christmas gifts for the special people in your life.
If you are looking to build books as gifts this holiday, there is currently a 20% discount! Click on the links here or on the sidebar to be directed and be sure to use the holiday code.
I hope this gives you a little help on your gift giving! A special thank you again to Disney for making me feel like a Mama Princess!