When the weather changes and it gets colder outside, I tend to want to hibernate and eat heavy food. But I'm going back to my smoothie recipes and making sure I get the vitamins I need with fresh fruit and vegetables.
You may know someone like me; I become testy if I do not have my fruit and vegetables in any given week. I've noticed it time and time again. Without fruit and vegetables, I feel off. Just because I can't get my fresh local berries this time of year doesn't mean I can't enjoy them another way. I buy local frozen berries in bulk at Costco for smoothies and desserts.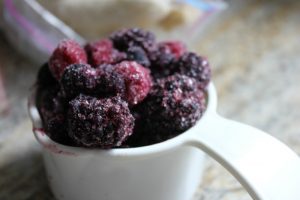 Here is an easy pick-me-up smoothie recipe that you can try. BONUS: my boys love it too.
You will need (per 2 servings):
In a blender, add the ingredients, making sure not to place all the solid or frozen ingredients at the bottom (it will take longer to blend, and potentially get stuck solid).
The Wave-Action Blender comes with a stir spoon that can help move more solid pieces around to blend easier. That helps a lot when you have big frozen pieces. Also, those spinach leaves are blended down so well that my kids don't even notice they are in the smoothie!
The only real thing missing from this healthy smoothie is a good source of protein. So, if you want to add a bit of a protein powder, my suggestion is a fermented vegan protein powder. You can get them without any added flavour so it doesn't drown out the flavours of your fruit and veg. But that's your call.
Smoothie Way #2
If you wanted a creamier smoothie, replace your orange juice with natural Greek yogurt. You may need some water as well, depending how thick your smoothie becomes.
Do you have a special go-to smoothie that you love? I would be so happy to learn about it in the comments below!
A big thank you to Hamilton Beach for providing me with the Wave-Action Blender. It is being put to very good use! And by the way, you can use your blender to make soups too! If you would like to read a post on a soup recipe, please let me know in the comments below as well.
To learn more about all the fantastic products available from Hamilton Beach, visit their website, and follow them on Facebook , Instagram and Twitter for all their recipe ideas, promotions and giveaways.
Cheers, everyone!