When little ones are ready to transition to the "big table" there are a few things you can do to make that change run smoothly. Giving them a personalized placemat will make them feel special and proud. And if you're lucky, it may even help them mind their manners that much more since they have a special place to look after.
In the past, I have used different options for toddlers as placemats. If you know that your toddler will still move around a great deal, placemats with suctions or tacky tape underneath are great options. But I found that when my boys were that young, just having a sturdy vinyl tablecloth on the whole table was easier. And let's not forget the importance of holding down the tablecloth with clips, because my boys were strong from the start and could clear a table with a quick pull!
The next stage to give them more independence is a great time to introduce something personalized. I had my boys help me prepare these placemats for their little cousins.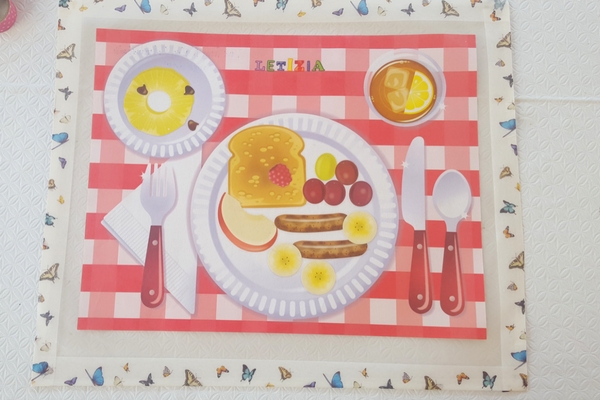 We used the Melissa & Doug Make-a-Meal Sticker Pad and the Reusable Sticker Pad
. The boys had grown out of them and it was a sweet activity to have them enjoy some quiet time and make something simple for their cousins.
Here's what you'll need:
Any kind of sticker set. The sets above are good because the papers are the perfect size for a placemat. If you are making your own, measure the dimensions of a standard placemat for the piece of paper or cardboard.
Clear shelf-lining (I used to use these for our school books, anyone else?)
Washi tape (my favourite!)
Scissors
Have your child create a scene of their choosing. My boys loved picking the foods in the Make-a-Meal set. I reminded them it was for their cousins so they chose things they would like to eat. We also added their names with letter stickers.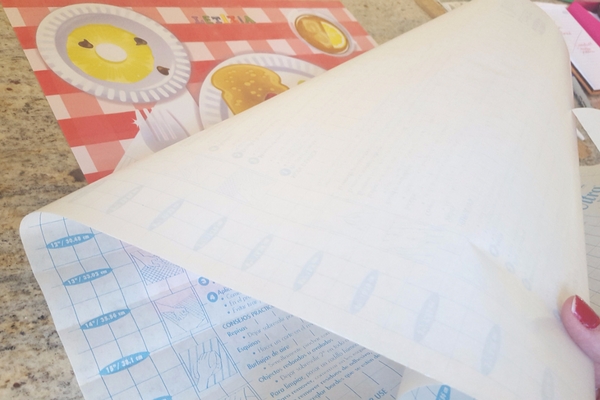 Once that is done, lay it flat and add the clear lining to the top first. Then flip it and do the same to the back.
Cut the edges about 1 inch away from the end of the creation to give a clear border (and more surface area to the placemat.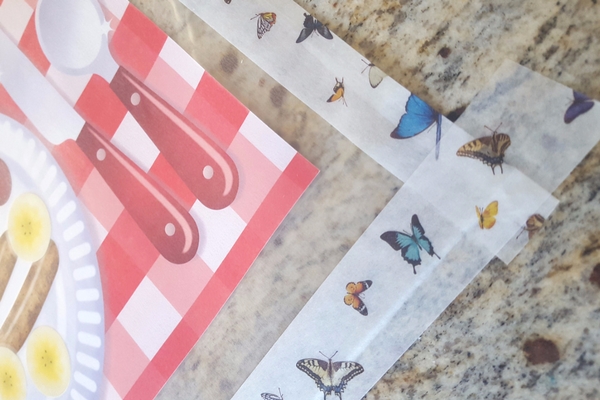 Finally, add your favourite washi tape
to the edge for a sweet border.
With both sides covered in the shelf lining, the placemats can last a long time. They are also great to use for craft time. We had fun creating these little gifts for my nieces. You could also make these with friends during a play-date.
Disclaimer: This post contains affiliate links and I will be compensated if you make a purchase after clicking on my links.