Ever since my three boys were old enough to eat solid foods, one of the very first things I introduced to them was bananas.
Soft and easy to swallow, sweet and nutritious, bananas have always been my go-to fruit for my boys. I added bananas to their baby cereal and have never stopped serving them this fruit. Now in elementary school, I make sure to have bananas on hand constantly and add them to their school lunches as a perfect healthy snack. We add them to smoothies, bake banana bread…we love bananas!
But what if I told you that for years I was essentially doing harm to others by choosing this delicious fruit for my boys each and every day? It is the honest truth and something I have researched and want to share with you.  It may seem like a non-problem, but the reality is that as consumers, we need to take responsibly for what we buy. The banana industry has a dark path before it gets to our hands in the grocery store. From the work on the plantation fields, to the production and packaging, to the delivery, there are many, many people (even children) that work in bad conditions to get us our precious fruit at a fraction of the price than its worth.
Hidden Costs
Just as young activists and scientists are opening our eyes to climate change and how our purchasing and use of products effect nature, so too is Fairtrade Canada taking action in helping consumers become aware of what we purchase and how it can affect production farmers and their families.
I know as a parent, I am always looking at how healthy a product is before I purchase it for my children. Sometimes, it is looking at how a product is packaged, or if a food product is organic, and more recently, how much something costs. Why? Think about it, if an item costs, say $5.00 and comes from far distances, how well then, do you think each worker was paid to get this low-cost item to you?
It is so easy, too easy to brush it off and chalk it up to saving money for your family. If you are like me and knew that your low-cost item for your children was produced unfairly by workers (and sometimes children) in another country, I know you would not be able to look at that item the same way again.
That's how I feel about a lot of things, especially bananas.
The world's most exported fruit has a very competitive market and therefore productions are being created with unhealthy chemicals, pollution and low wages to get these bananas out to us at a ridiculously low cost.
Fairtrade is the solution for both banana farmers and workers. It allows farmers to be members of co-operatives and stay organized democratically. This gives them more power as they know the true value of their products, it gives them a Minimum Price to sell at, and a Fairtrade Premium, creating a stable income, as well as prohibiting child labour in the supply chain.
Fairtrade stickers on your bananas mean a lot more than an increased price for you at the checkout. It means those bananas are produced with higher standards, less water wasted in the environment, no GMO's, and better work quality for their employees. Armed with this knowledge, we as consumers have the power on our side to improve the working and living conditions for families in countries in the Global South. It's hard to believe, but it's true!
In my mind, there is no other way, but to purchase Fairtrade whenever I can. There are 30,000 Fairtrade products on sale worldwide, so it is becoming easier and easier to help support this movement, which helps 1.5 million farmers worldwide.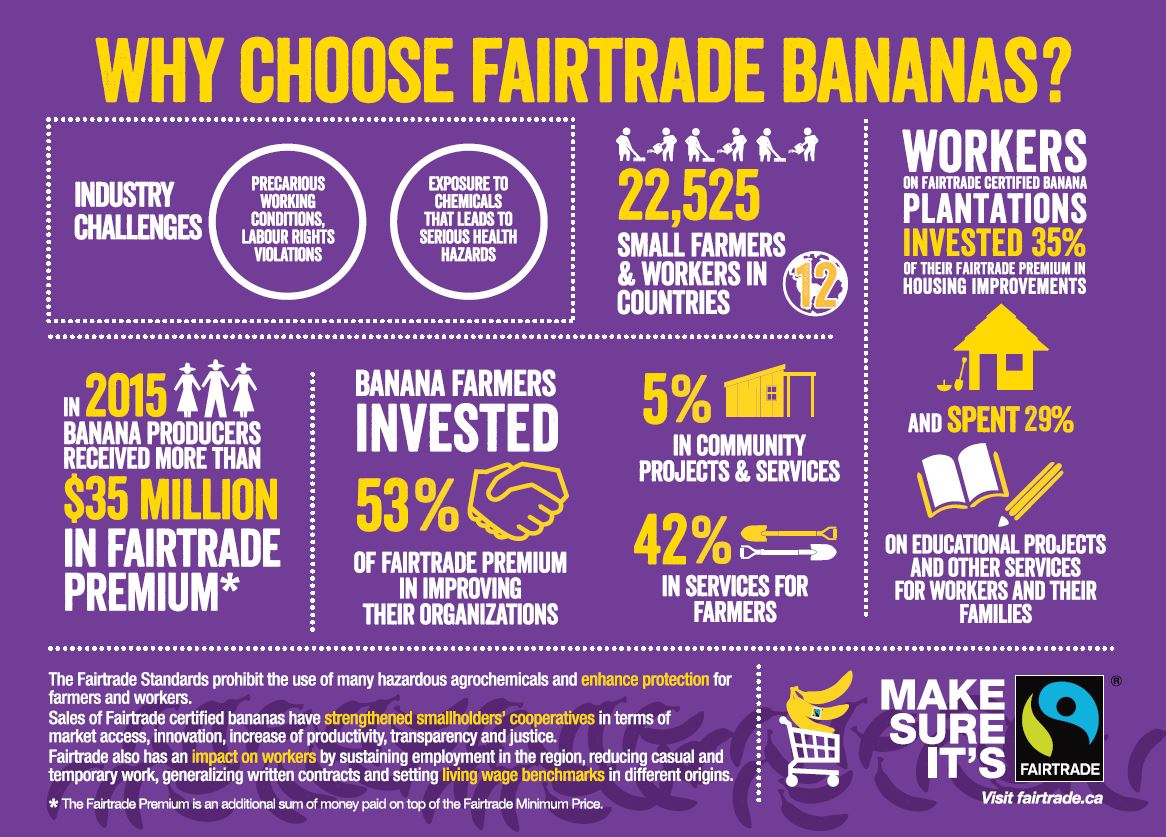 It's Up To Us
When you purchase anything, if the price is very low, consider the process from start to finish of this product. Consider what minimum wage is, consider working conditions, consider it all. We may have to pay more per banana, but let's be honest, we should have never been paying so little for a fruit coming from across the ocean anyway.
Ethically, I want to make the best decisions I can make for my family AND for the families producing the items I purchase. We as consumers must demand for Fairtrade bananas in our grocery stores and stop purchasing non-Fairtrade bananas.
A simple thing you can do is request that your local grocery store carry Fairtrade bananas only. Share it on social media so they take notice and others see it too. Here's an example:
"Hi, @Loblaws, please source only #fairtrade #bananas in your grocery store. We will pay a fair price so that farmers and their families can live in a healthy environment & receive a working wage that is fair. #behindthepeel @FairtradeCanada"
There is a lot more information with more details and personal stories available to watch and read now on Fairtrade Canada's site, BehindthePeel.com and you can follow the hashtag, #BehindThePeel . Consider watching the series with your children and make the switch to Fairtrade if you haven't already.
Giveaway!
One lucky winner will receive a super soft t-shirt and shopping tote (both made of Fairtrade cotton)! 
To enter:
Follow @BehindThePeel and @ask_mamamoe on Instagram
Leave a comment here on this post, letting me know one thing new that you have learned with the Behind The Peel campaign. (both mandatory to win).
For extra entries:
Tag a friend on my Instagram post that would love to win this t-shirt and tote too (More tags, more entries! One tag per comment)
Share this giveaway in an IG story and tag @behindthepeel and @ask_mamamoe (2 extra entries!)
Remember to let me know what actions you took to enter with your e-mail in the comment so I can verify 😉
One winner will be chosen randomly. This giveaway is open to Canadian residents. Deadline to enter is October 28th, 11:59pm. Good luck to all!
 Disclosure: I was compensated by Fairtrade Canada to facilitate this post. All opinions are honest and my own. This is subject I am passionate about and was more than happy to rite about it and raise awareness.
* Please note: The featured photograph of banana trees was taken in Colombia by photographer, Linus Hallgren.