What a morning!
I have major respect for the team and hosts of all morning shows, because boy, is there a lot of prep work!!
This morning I was up at 5am, hours before my kids. I got dressed in the dark, straightened my hair, put a full face of makeup on and was out of the house by 5:45am.
Not a sip of coffee.
Got to downtown Montreal, and was welcomed into Breakfast Television studios where I set up all the fun toys from Mattel and got myself ready to talk toys.
In between breaks, I was introduced to Joanne and Alex, the cameramen, the makeup artist…it was incredible!
I ran through the names of all the Mattel toys in my head, and then we were on at 7:20am. Here's how it went (click on the picture below):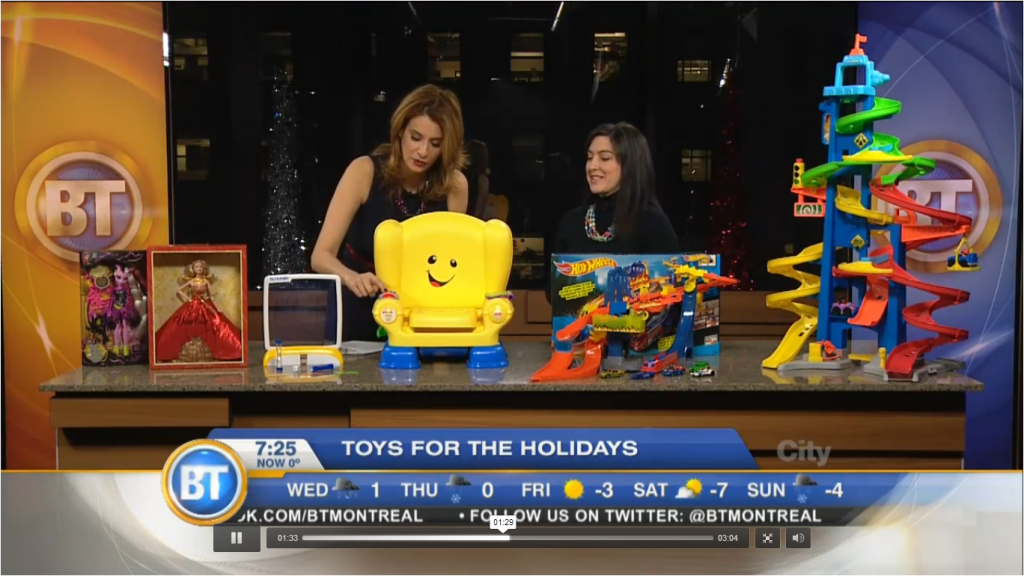 We were done my 7:25am!! Can you believe it? All the organizing, the prep, the butterflies in my stomach waiting for my spot…and you know what? It was amazing! I loved it all. The BT staff was so welcoming and I really felt special for those moments at the studio.
If you are wondering about how the staff at BT liked the toys…well, let's just say at every break, they circled my table and couldn't help but touch the toys! And why wouldn't they, they're fun! My kids loved being the product testers for them and I know exactly who I am gifting these toys to for Christmas.
To find out more about these and other top toys by Mattel, visit their special site for the holidays:  MattelHoliday.ca