This year, I wanted to write a post to spotlight some amazing businesses that are near me. I'm a big fan of supporting and purchasing from local businesses, especially women in business. That was the starting-off point for my charity, Shopping From The Heart. Listed below are great gifts for kids, hostess gifts and fashionable clothes to get your styled for the holidays.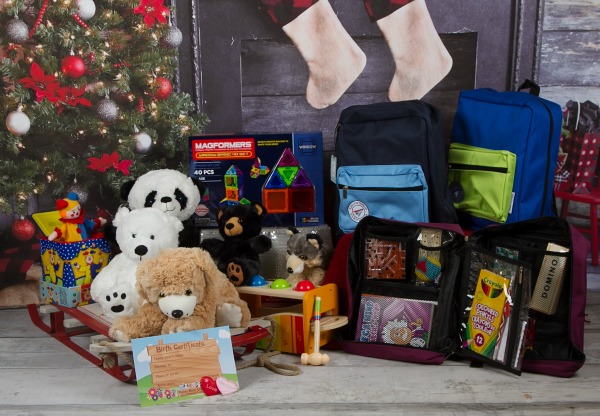 For the Kids
Teddy Bear Loft: Fellow twin mama, Xenia Paterson, is the founder and owner of Teddy Bear Loft. An activity and a lasting gift in one, Teddy Bear Loft has over 60 different kits online to choose from, so there is a stuff-your-own animal for every little one. There are no minimums to purchase and shipping is cross Canada and the USA. (large 16" kits:  22$ smaller 8" kits: 13$) Visit Teddy Bear Loft on their website, Instagram, Facebook, Twitter or Pinterest.
Jouets Choo-Choo: If you are looking for toys that are smart, educational, fun and well-made, you will find them at this local toy shop. This brother and sister team have their local shop in the West Island of Montreal as well as an online shop that ships to Canada and the US. Visit their website for brands and selections of gifts in any age for children.
Good Little Company: Mom to three, Cynthia Massa, designed these clever backpacks with traveling in mind. There are three different Good Little Traveller backpacks for various ages of children, and they come filled with creative activities for kids on the go ($54.99). Ships throughout Canada and internationally. Visit the website or Facebook page for more info.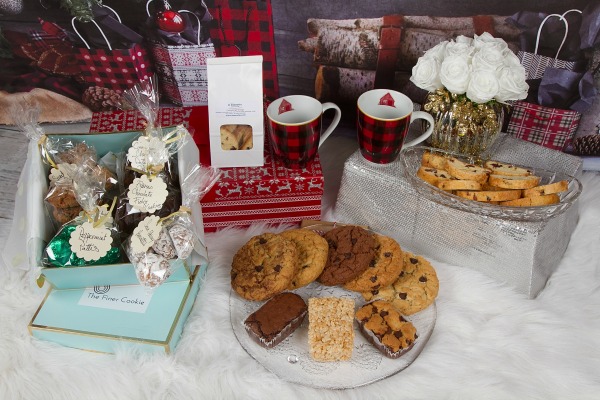 For the Hostess
If you are going to someone's home for any kind of holiday affair, you don't want to go empty-handed.
Rachel DiPalma's baked goods were such a hit with her family and friends, she decided to create Il Biscotto so that fans could enjoy her treats across Canada. The online shop has a selection of goodies including extra-large cookies, brownies (OMG), and of course, her unique biscotti cookies. For more information of packages and selections, visit their website.
If you are visiting a gluten-free family, Kimberlie Robert of The Finer Cookie has a beautifully packaged unique gluten-free selection (shown above) with treats such as Flourless Peanut Butter Cookies with Bacon and Sweet Potato Panellets. They also offer cookies that are not gluten-free as well. Shipping is free for orders $75 or more and delivery is usually within two days. Local shipments are delivered within four hours and you can even pick up at their Montreal location. Visit their website for more information.
If you are looking for a gift that can last longer, and decorate the home, Fleur et Sense is the perfect place to select a stunning bouquet. Modern and carefully designed, each bouquet is created by owner and floral artist, Carolina Merizalde. Her stylistic approach to flowers makes each piece stand out in a gorgeous way. Featured above is her Holiday Rose Bowl with preserved roses that last over a year without any water! How's that for a lasting gift? Deliveries are a flat rate of $12 in Montreal, or free pickup, and she also ships orders worldwide! Custom orders are also available. For a daily dose of beauty, be sure to follow her on Instagram and visit her website for more information.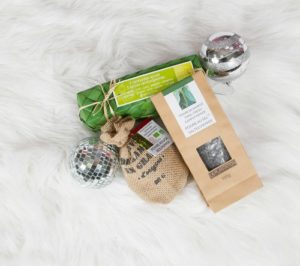 For the hostess that enjoys more spice in their life, Natalie Best suggests this collection of Kampot peppers from La Plantation. Made from locally sourced, raw ingredients from Cambodia, the company helps families of farmers, as well as children in need of education and school supplies. Other products are available on their site.
Featured below is another Fleur et Sense creation: the single preserved rose Holiday Bowl. This would make a perfect addition to the holiday table this Christmas.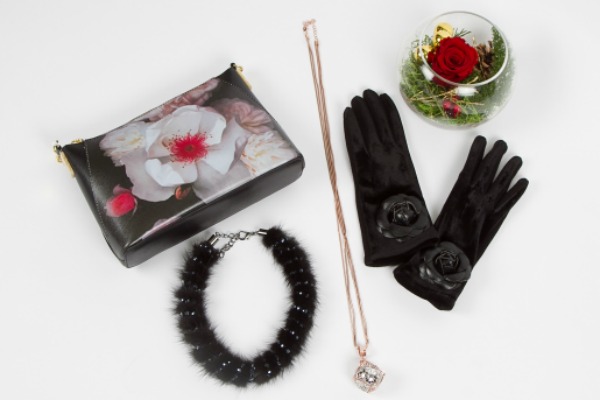 Getting Decked Up
Whether you are trying to find that perfect accessory to your outfit of the day, or your are looking for a fashionable gift for a loved one, here are some suggestions to make things sparkle.
Lauri's Boutique is a local shop that prides itself on excellent customer service and helping women find their best personal style. Owner, Elizabeth Kehoe, carries the most beautiful pieces from all over the world, and combines that with top Canadian fashion designers as well. You can find everything from casual tops and jeans to formalwear gowns and high fashion coats. Shown here: black floral Ted Baker purse ($215.00), fur necklace with beads ($42.00), black velvet gloves with leather flowers ($26.00). For more information, visit the Lauri's Boutique website.
Chrissanthi Nastopoulos is a Fifth Avenue Collection jewellery stylist. The company began in Canada and has grown worldwide. You can find a wide selection of high-end fashion jewellery that is nickel, lead and cadmium free, as well as other accessories to suit every style. There is something for every budget too, which is great for gift-giving (necklace shown above). To see more visit Chrissanthi's Facebook page.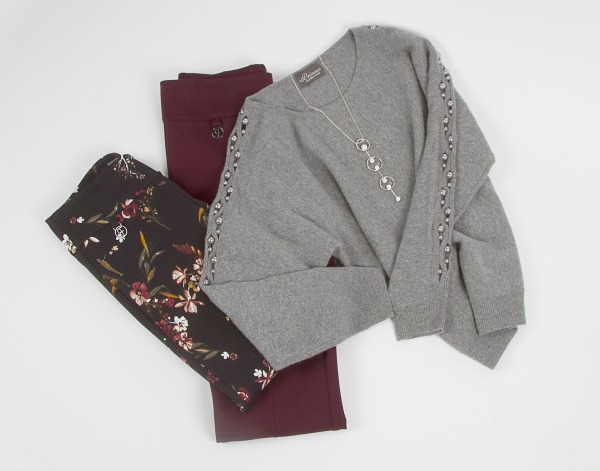 Casual does not have to by any means be boring, especially for the holidays. Adding a little bling and some out-of-the-ordinary patterns gives a casual look a big dose of style. These choices above are great for an office party, brunch out with friends and family dinners at the house. Shown above, Princess Goes Hollywood cashmere sweater from Lauri's Boutique and Delicate Sparkle necklace from Fifth Avenue Collection.
My favourite Raffinalla pants are a perfect fit every time (shown above, Ponte pants in burgundy, $155 and Floral print pants, $149). They have so many beautiful pieces you will want to add to your wardrobe (even winter jackets and coats!) Raffinalla has upped my wardrobe for the better. To read my complete obsession with Raffinalla, read my post here. Proudly Canadian, the brand is designed and produced in Montreal. Their popular "perfect fit" pants are available in regular, petites and plus sizes. To start shopping online (shipping is across Canada and the brand can be found is retail stores in Canada and the US) visit their website.
All pictures for this post were taken by photographer, Tina Wentzell, of Kreative Memories Photography.