Father's Day is just around the corner, and one of my favourite companies is making the future real friendly for one lucky papa! TELUS is giving away one lucky reader a Samsung Galaxy Note 3, perfect for the tech-savvy dad.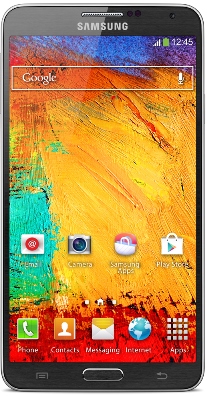 I was given a chance to test-drive a Note, alone with the Galaxy Gear watch a little while back, and I have to say, I loved it! What I loved about the Note was the size.
Here's my take on it. Smart phones and tablets are a part of every life now, and I love both of them. But there are lots of times when I would love to have one gadget instead of two. A tablet tends to be too big, bulky or heavy in my bag or purse for every day. And the smart phone is so useful for checking e-mails and text messaging, but it can be annoying texting on a small screen of a smart phone.
The Note is a perfect combination of both. The screen is a great size (full HD 1080 x 1920) to view shows, read mail or text. The Note also takes incredible pictures, replacing any need for a separate camera as well. Another great feature is the stylus that comes neatly hidden on the side for, you guessed it, note taking. I liked the feature because even though I am a gadget girl, I still love writing things out. And an application in the Note allowed my notes to be accurately converted into a digital text. And I'm just going to say it, it is really cool.
I took the Galaxy Note with me and my family to the Montreal Biodome to see it in action, alongside the Galaxy Gear watch.
I was able to take great pictures of my family and the animals of the Biodome. While I held my twins' hands, I kept the Note in my backpack. I wore the Galaxy Gear watch to snag some clear shots of my kids and the animals. If you have the chance to add an accessory to the Galaxy Note, the Galaxy Gear watch is very cool. My family was calling the watch a "secret inspector gadget" – they loved it! My kids looked at the pictures I took after and were blown away to see the shots I took.
The absolute coolest thing about the Galaxy Gear watch was the ability to answer a call. At the end of the Biodome visit, after we had a lunch, my kids wanted to visit the souvenir shop. Taking twins inside a very busy souvenir shop filled with people in the afternoon on a weekend in Montreal is…challenging. When the rest of my family stayed back at our lunch table with our oldest, and I was in the shop, my husband tried to reach me. What happened next was amazing. Keeping both hands on my twins, the Galaxy Gear watch vibrated. I managed to answer the call and talk clearly into the watch, all while holding onto my kids. What a great feature for parents! So, my suggestion is to add on this very cool and useful accessory, now at a pretty descent price, if you purchase the Galaxy Note 3. To learn more about the Samsung Galaxy Note 3 and Galaxy Gear, visit the TELUS website here. And to be up to date with all the awesome stuff that TELUS does for communities, like #GiveWhereYouLive, visit the TELUS Facebook page and www.givewhereywelive.ca.
Giveaway!
Ok mamas, now is your chance to win a Galaxy Note 3 for Father's Day. To enter, follow the instructions in the Rafflecopter form below. For those unfamiliar with Rafflecopter, it's real easy, just enter as many ways as you can for a better chance to win. The giveaway is open to Canadian residents only, and the deadline to enter is on Father's Day at noon. One lucky reader will be able to announce to a papa that they are going to get a Galaxy Note 3 for Father's Day.
Good luck to all!!