Recently, I was invited to attend a special event at my local grocery store.
You may have seen my post on social media about the getting-together of Tracy Moore, Chef Tom Filippou and Chef Martin Patenaude. The team have been going across Canada with President's Choice as an initiative to get Canadians to #EatTogether (that's the hashtag to look up;)). I can't think of a better way to connect with others then by breaking bread. Family meals are so important in our home, and we welcome friends often to enjoy a meal with us. With Canada's rich heritage and multicultural landscape, the initial video made by President's Choice really spoke to me.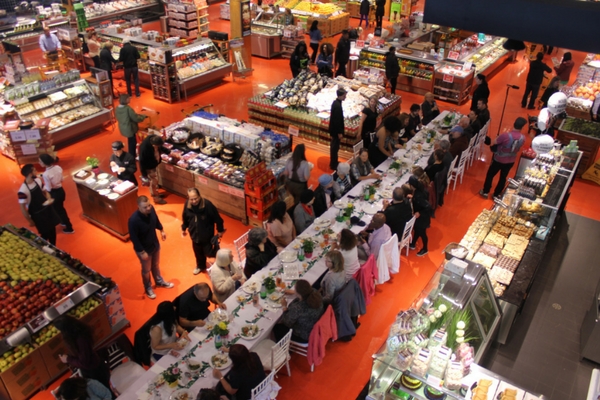 My local Provigo was decorated with a long dining room table with enough space for many guests. Only a few of the people who sat down had heard the event was taking place, and to most, it was a complete surprise. It was so delightful to see everyone getting this surprise invitation to sit down for a delicious lunch as they came in to do their Saturday groceries.
First, I spoke with Chef Martin.

I took my place and enjoyed this delicious food and great conversation.
After the meal, I spoke with Chef Tom.
Next came dessert for everyone, even those who were just coming in the store! The Provigo staff handed out cake for all their customers as they came in. At our table, we got to try the maple pie.
And just when I thought it couldn't get better, this happened:
Isn't Tracy the sweetest? 😉
So Canada, eat together. Because it's good for the soul, because it's fun, because you learn about your community. Enjoy some good food and celebrate our special 150th year!
Disclosure: I was compensated by President's Choice to facilitate this post. All opinions are honest and my own.