There are some things that I can honestly say have no rhyme or reason in my mind. I am a person of faith and I believe in God, but sometimes, it's hard to stay strong and know that we are not meant to have all the answers as mere humans. It's unfair at times. It's downright heartbreaking. It is hard to keep going and keep going strong. But with the faith and love of your family and friends, you carry on.
I have been agonizing over this post for weeks, because I wanted to say just the right thing. But to be honest, I cannot think of the right thing to say. All I wish to do is direct you to an incredible mama, Heather Oliver-Hamilton. This is her blog. Her words are real and raw and what every mama feels about her children. Her story is difficult and inspiring all wrapped together.
I met Heather last October. She was on a panel at the ShesConnected Conference I attended. I had read her blog before the conference. I knew of her for some time. So I can't say I didn't know the tragedy that fell on her and her family. But the moment Heather began to tell her story at ShesConnected, I don't think there was a dry eye in the room.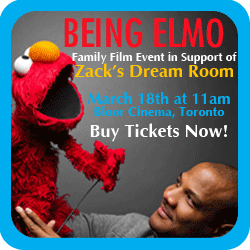 If you live in the GTA and are able to attend this event, I encourage you to go, have fun and watch a great movie. It will support Heather and her mission to raise money for the hospital room in honour of her son, Zack. For details and tickets, click here.
If you cannot attend, but are able to make a donation, please do so. And please spread the word to everyone you know. For so many reasons, you will never look at Elmo the same again.