Back-to-school is a hectic time of year. Here are my best tips for how to simplify school lunches to ease-up your morning routine.
It's been a little while since the kids have been back to school. It's also about the time where most mamas I speak to tell me they are at their wits end trying to figure out a new and healthy lunch for their kids.
I have never put that pressure on myself that every weekday should have a new and exciting element to the school lunch. Because let's face it, not all new or different choices will be eaten, no matter how awesome they look. Your child wants a cheese sandwich every day of the week? No problem. Basically, if it ain't broke don't fix it.
Time-Consuming Pinterest-Worthy Lunches
The problem these days is that some are putting WAY too much effort into doing the necessary tasks in creative new ways. Pinterest be damned! You do not need to Bento your way through the school year. Unless that's your passion. In that case, by all means, enjoy!
Easy Steps to Simplify School Lunches
Similar to a post I wrote last year, I am sharing even fewer tips in getting lunches done simply. Follow these steps and you will have happy kids that will finish their meals, promise.
Be Basic – Why would I stress myself out and try to recreate a Disney character with vegetables and sushi if I know my child would never eat it anyway? Exactly. Make lunch simple enough that your child will enjoy it.
Simple can be Healthy – Find a way to make their favourite food healthy. My oldest could eat cheese sandwiches every day of his life. And you know what? There isn't really anything wrong with that, provided the cheese and bread are healthy choices. A good multigrain bread, hummus instead of butter, and a slice of low sodium cheese and he has a healthy alternative to the old-school version.
Easy Access – My child told me he likes bananas for his recess snack. Why? Because he wants to peel his banana, eat it, throw out the peel and get to playing on his break. The easier the snack, the faster he can go out and play! Smart kid, right?! I remember hearing recently in a comedy that the apple is the lazy mom's snack for kids. Why?! Let's not beat ourselves up for giving healthy choices, or try to redesign to look fashionable.
Advance Prep – I will never be a morning person, so waking up at the crack of dawn every morning to make three lunches from scratch is not an option for me. Instead, I make the sandwiches at night before bed and freeze them. Yes, a cheese sandwich can be frozen. By the time my child sits down for lunch, the sandwich has thawed out. I also prepare fruit and veggies in advance in the fridge for about half the week, and place them in big containers. It makes it easier in the morning, and sometimes the boys choose what they want to fill their own individual containers!
Go Green – Each morning, I take out reusable bags and fill them up with veggies or snacks for each child. Each boy gets a filled reusable water bottle (with water), and a sandwich in another reusable bag or box and they're good to go. When I buy snacks for the kids, I try to buy bulk where I can to avoid unnecessary packaging. Once you start, going green for lunch becomes routine.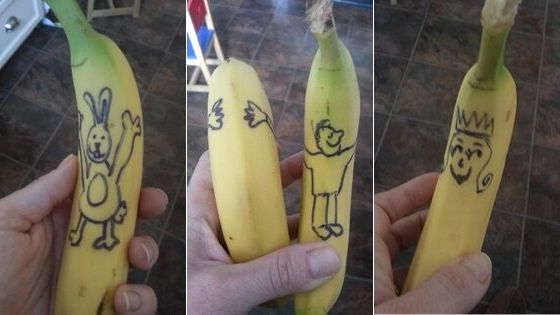 BONUS:
A special touch –Do a little something every once and a while (not every day) in their lunch that is a special. On my children's first day of school, I pack a plasticized picture of us all together and place it in their lunch boxes. It's like giving them a hug from home. Other times, I'll add a few stickers to the inside of their lunch box, or a bananagram – a little drawing on the peel to surprise them. The point is, I have fun with it and it's special so they really like it.
In conclusion, Pinterest can lead to self-deprecating feelings of inadequate lunches. Pay no attention to unreasonable back-to-school boards. While they might spur a creative idea in you and bring out a passion you didn't know you had, for the most part it can be damaging!
Just remember, a little bit goes a long way, and you've got 180 lunches to make each school year.
Hope this helps!
If you would like more suggestions on lunches and healthy snacks, let me know in the comments below. We're in this together, mama!
In the meantime, check out my other back-to-school blog posts:
11 Back-to-School Books for Young Children
Starting School in an Eco-Friendly Way
Getting Ready for Back-to-School