In celebration of Canada's 150th birthday, TELUS has begun an incredible campaign to encourage people to volunteer. As always, TELUS has its Days of Giving campaign, but this year it's been amplified with the hashtag, #MillionHours. TELUS team members are embarking on this ambitious goal of donating one million hours of community service.
All across Canada, TELUS members are giving back in every way you can think of, and with their big hearts, they are making a big impact across the country. Now the challenge from TELUS is to help them by joining in this positive change for the #Next150 years of giving.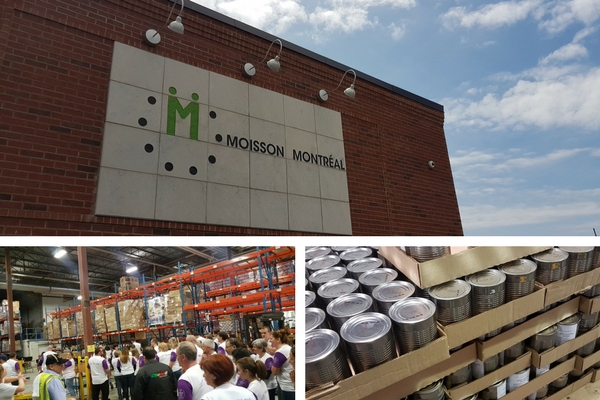 I was not only happy to participate, I was honoured. Montreal's team of TELUS members organized a day of preparing food baskets at Moisson Montreal. Moisson Montreal is a non-profit organization that gathers food donations and basic products all year long, free of charge, and distributes them to community organizations on the Island of Montreal. For more on the organisation, you can visit their website.  I met Marie Houle, new to the Montreal team, and we got straight to work after a great pep talk by Montreal Moisson and TELUS.
Here is a glimpse inside Moisson Montreal and the TELUS members giving of their own time for their community:
You can take the pledge to donate your time as well by clicking here. To read more about this amazing initiative, and what others are doing to make a difference in their community, click here.
Disclosure: I am a #TeamTELUS advocate this post has been sponsored by TELUS. As always, all opinions are honest and my own.