While my family and I were at Walt Disney World, we got the inside scoop on so many incredible new additions to Walt Disney World. The first big announcement was the addition of Toy Story Land. While most fans already know that this addition is coming to the Hollywood Studios park, as bloggers, we got the chance to speak directly to the art director of Toy Story Land, Ryan Wineigner, while we were there! He took the time to share his joy with us about this amazing new area that has so many wonderful things to see, do and a great place to eat as well. Here is my interview with him, and a view of the Toy Story land model.
I don't know about you, but I have a few ideas of what the toys will be in this land, and I'm really excited to see them up close and in a big size!
Here are some fun facts that Disney recently released about Toy Story Land:
More than 400 toy blocks fill Andy's backyard.
In Toy Story Land, Andy's footprint is about 25 feet long or the equivalent of a size 240 shoe.
It would take a Green Army Man roughly 12 steps just to travel the length of one of Andy's shoeprints.
You would need a backpack the size of a school bus to carry the Buzz and Woody figures that tower over Toy Story Land.
The weight of the Slinky Dog Dash track and support columns weighs almost as much as 125,000 gallons of milk.
Together Rex and the Jenga Tower are as tall as 7½ Green Army Men standing on top of one another.
During our conference time at DisneySMMC, Bob Chapek, Chairman of Walt Disney Parks and Resorts spoke to us about all the new developments to Disney and showed us a clip of the Slinky Dog Dash ride and it looks like this new ride will be a fun addition for the whole family! We also got to see the actual vehicle up close. And our amazing Pixar themed dinner had all the fantastic characters there for us to take pictures with. The DisneySMMC kids had the best time with the green toy soldiers, and so did we! (To see more, you can visit my Instagram story)
To mark the occasion, Mickey and Minnie have new Pixar themed outfits and I must say, I matched them pretty well!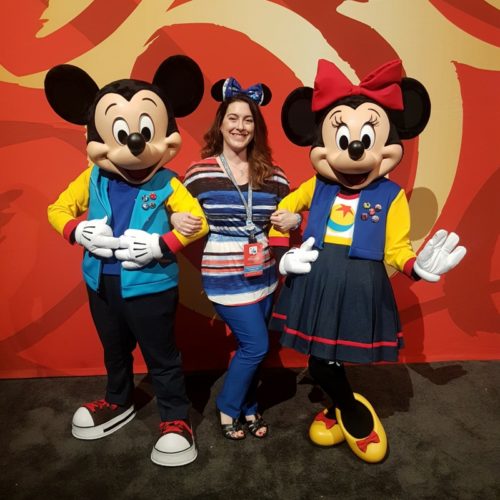 I'm really excited for this new addition to Hollywood Studios for families. It's going to be a great place for all ages. Toys Story Land officially opens June 30th.
Disclosure: I was invited with my family to the exclusive Disney Social Media Moms Celebration. As such, I am provided with various discounts and products. I was not requested to write this post, but am more than happy to share my new-found Disney knowledge with my readers. All opinions are honest and my own.