Something you may not know about me is that I am a car enthusiast. Since I can remember, I always took great notice in the details and designs of cars. I would fantasize when I was young, what dream car I would own when I had enough money. I would admire new cars when they came out and would rate them according to my personal list of favourites.
That, and I'm a gadget girl. I just love the bells and whistles that new technology has brought to cars. For me, when I'm watching movies like James Bond or the Italian Job, the best parts are the cars. Now that I'm a mama, I appreciate great technology in the safety of family cars as well.
So when I was asked by Ford to come along with them to the NAIAS (North American International Auto Show) in Detroit, I said sure! What an honor it is to be chosen as one of the 15 Canadian bloggers (and 120 bloggers from around the world) attending with Ford.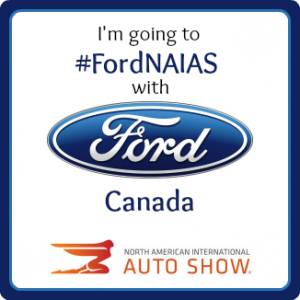 Close to 800,000 people attended the NAIAS last year and if it's anything like the buzz I have been hearing and reading, this will be a fantastic event. With Ford, I will be attending as media and receiving the first look at the auto show before it's open to the public! I can't wait to share my experience with you on my return. Until then, you can follow my trip on Twitter with the hastag #FordNAIAS.