A while back I was invited to a breakfast meeting to get to know the brand, Skinfix. I actually already had met the brand a couple of years earlier at a conference in Toronto, but since then, Skinfix received a new look and the branding really fit the products so much more.
Getting to know the product lines in an intimate setting gave me much more understanding of the products, the company and the great story behind this proudly Canadian brand.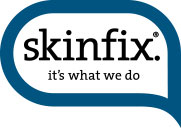 The Story
The family recipe of Skinfix products dates back to around 1850 when Thomas Dixon created the perfect combination of ingredients and began selling the skin healing ointment in his store in England. The recipe travelled to Canada when Thomas' son emigrated to Halifax in 1871 and the tradition carried through to present day with Karen, Thomas Dixon's great, great, great granddaughter. The creams helped many people with their skin problems, and the popularity of the products were mostly through word of mouth (thus the talk bubble as the logo image).
After the breakfast meeting, we were sent home with so many products to try, and try I did. I was more than happy to get our family into the Skinfix routine mainly because of the ingredients that were NOT in their products. Skinfix prides itself in having products free of parabens, sulfates, phthalates, scrubs, frangrance, alcohols and acids.
As a mama, I have become an expert in reading the fine print of products, especially any cosmetic creams and lotions for myself and my children. Skinfix meets my standard, and then some.
It's been some time now that the boys have transferred to the body wash instead of a bar of soap when taking their bath or shower. It took some getting used to simply because it is not a bar of soap and it doesn't create as many suds as a bar of soap either. However, the body wash is a nice change to their washing routine. There is no strong fragrant smell, and there is no residue on the skin at all.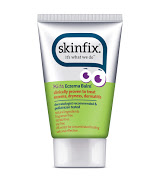 We've also been using the lotion and cream. My older son suffers from a mild eczema on his hands in the winter (like his mama). The Kids Eczema Balm really helped. It's thicker than a regular cream and there is a slight odor to it (not a perfume, just the smell of the ingredients), so it took some getting used to. But the balm made a big difference in his hands very quickly.
I also had the pleasure of trying out the hand cream. It stays in my purse now and I use it all the time. I feel a difference when I don't use it now. My hands long to be pampered and smooth with the Skinfix cream.
The Skinfix Baby Line
With my new baby niece in the crawling stage, she was the perfect product tester for the baby line. I had my sister try out the products on her and she shared her experience with me.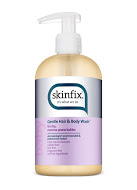 The Hair and Body Wash: Not only does this formula use natural botanicals, it is free of nut ingredients, fragrance, soy, parabens, phthalates and sulfates that won't strip away baby's natural moisture, promising a no-rash bathtime solution.
"The hair and body wash was nice and light. I really enjoyed it. I also liked that there was no strong fragrance; something I try to avoid in products for her. I love the convenience of the pump! It makes it so easy when washing baby."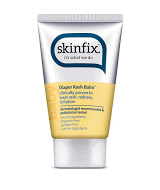 Rash Free Bottoms: Clinically proven to heal diaper rash in just one application, the Skinfix Diaper Rash Balm soothes redness with zinc oxide and healing botanicals, while replenishing essential moisture with emollient protective oils. Formulated without nut-ingredients for those babies with tree-nut allergies.
"The cream is nice and thick and moisturizing. With all the moving around she's doing lately, this diaper rash cream is exactly what she'll need."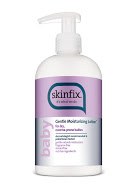 Gentle Lotion: Specifically formulated for dry, sensitive and eczema-prone baby skin, the Skinfix Gentle lotion is the key to a regimen that keeps baby skin healthy and supple. This silky lotion is infused with vitamins, minerals and natural soothing botanicals that quickly absorb and banish dryness on contact.
"The lotion was light smooth with no residual stickiness. I, again, loved the pump because it makes applying the lotion that much easier with a squirmy little one. I also noticed a little bit of lotion goes a long way. There was no strong perfume to the lotion, which I also appreciated."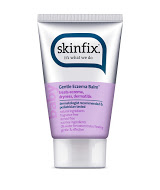 Gentle Eczema Balm: Formulated with 2% colloidal oatmeal and emollient oils, this nut-free balm has the magical ability to calm and relieve both babies and moms.
"This was the major winner for us. She has been suffering from seborrheic dermatitis and with one use, her cradle cap had improved!"
When I was young I suffered with psoriasis up until I was a teenager. Having a product like the Skinfix Eczema Balm would have helped so much. I'm grateful to have gotten to know these products, and to introduce them to my sister and baby niece.
To learn more about Skinfix and their other incredible lines for skin products, as well as what stores near you carry their lines, visit their website.
Disclaimer: I was compensated for my review of the Skinfix products. The opinions of my sister and myself are honest and can never be bought.