When you think of Hallmark during the Christmas season, the first things that may come to mind are unique ornaments, beautiful holiday cards and gorgeous wrapping. But tucked in every Hallmark Crown Store, there are some very special gifts ideas for pretty much any occasion.
I like to swing by the store around this time of year to pick up all of the above, but also check for unique teacher's gifts, and also hostess gifts. I'm lucky enough to be invited to different holiday get-togethers and family dinners with friends, so I enjoy finding something that is just perfect for their personality.
With all the different choices at Hallmark, I know I won't have to go aimlessly searching around the shopping malls for a sweet and thoughtful gift.
Here are some suggestions I think would be perfect for a hostess: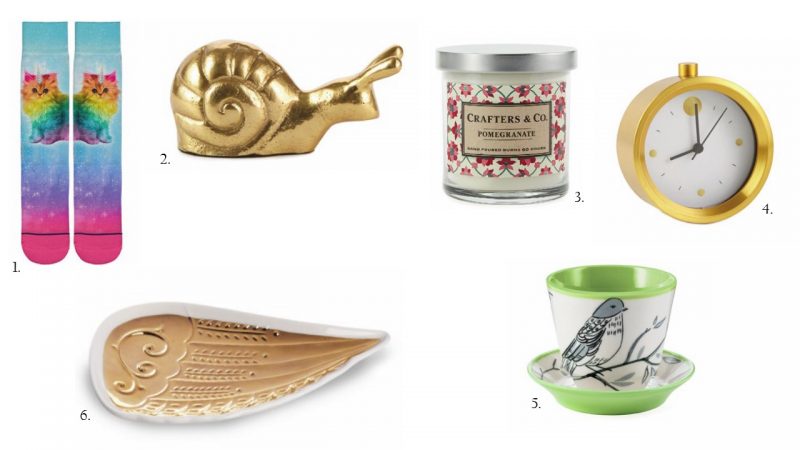 Unicorn kitty socks, or Caticorn socks – are you kidding me?! These are awesome. A very unique gift for a unique friend that loves to let loose and have fun. But let's face it, I kind of want these socks for myself and I don't even like cats! If you're feeling extra festive, I have seen unique socks used as wine bottle covers too. 😉 ($12.95)
Snail paper weight – for the writer or the friend who loves puns, this is a decorative addition to an office space or front entrance to keep a handle on 'snail mail'. ($24.95)
There's something about pomegranate that sets the Christmas mood for me. The Crafters & Co. votive is pretty to look at and will give a sweet smell to the home. ($19.95)
A little luxurious and modern, this Polka Dot Clock is a nice addition to a friend with modern style. ($19.95)
For the romantic, this angel wing ceramic plate is a beautiful addition to the home. It also makes a thoughtful gift for someone missing a family member this Christmas. You could fill the plate with some cookies too. ($19.95)
For the tea lover, this green tea cup is a nice gift. And if you want to add a little something more, I sometimes include some tea bags, chocolate or a cute African violet plant inside.($19.95)
These are just some of my favourite gifts available at Hallmark, but I actually had to cut it down to fit a sweet collection for this post. There are a lot of other ideas, so I recommend you go check them out for yourself.
Visit the updated Hallmark Canada website as well for more ideas.
Happy gift-giving!